Subhash Sapru, APSA, PPSA
---
September 2021 - Petals
Original
About the Image(s)
While going through some of the images made during my last visit to Washington DC in 2015
I found this image of flowers made at a garden. As I did not like distractions around these petals,
I just played with the image. Processed it in Topaz and then in photo shop. Cropped it from sides to reset
its composition. generally I do not shoot flowers, but somehow I like my image and thought of posting here
to know your opinion.
it was made with Nikon D800 and Tamron f/2.8 during day light.


---
5 comments posted
---
---
---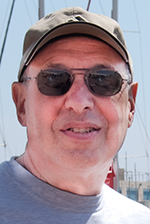 Howard Frank
I think the crop helps the eye to focus on what's important. the center is nice and sharp and it really pulls the eye in. &nbsp Posted: 09/18/2021 14:18:49
---
---
---
Ham Hayes
To me this image is more about color than the flower. The purple-magenta hues are great and perfectly accented by the yellow..stunning! One minor suggestion is to finish cropping out the green on the right edge...that is a distraction to my eye. &nbsp Posted: 09/18/2021 15:29:29
---
---
---
Peter Cheung
The cropped version is very nice. Beautiful colors and very nice sharpness. Well done. &nbsp Posted: 09/18/2021 15:39:33
---
---
---
Bob Scott
Nice. I find, however, that making it this large makes the stamens (is what those are)--the yellow parts in the center fuzzy. Focus appears sharper on the left of those. I would want the focus best on the yellow and then falling off onthe edges

Great color &nbsp Posted: 09/20/2021 12:55:53
---
---
---
Helen Sweet
You have the yellow part (and I'm not going to research at this late hour what it's called) in just the right position. Its contrasting color and sharpness also make it stand out from the softness and patterns of the petals. &nbsp Posted: 09/23/2021 01:18:22
---
---
---
Please log in to post a comment