Howard Frank
---
May 2021 - Splish-Splash, taking a bath
About the Image(s)
This painted bunting was captured at the Laguna Seca ranch in South Texas with my Nikon D500 and Tamron 150 to 600 lens. Settings, manual with auto ISO. 1/1250, 400mm f/8.0. It was processed and cropped in Lightroom and sharpened with Topaz Sharpen AI.

I only took approximately 12,365 images in 4 days. I am still trying to get through my first round of deletions.
---
3 comments posted
---
---
---
Subhash Sapru
Its beautiful,
Howard.The
colours of the bird, the ripples in water and droplets in the air make me keep watching and admire the moment you have
captured.Its
background goes well with the bird.
Secondly, What made you click so many shots within the given time period. No doubt the burst mode of D500 is fantastic but when I bought lens for it, I instead went for Nikon 200-500 f/5.6. Comparatively, Tamron has a bit longer focal length and is lighter yet I preferred for the same brand.I had in my mind the dust issue with Tamron lens as a friend of mine has got it cleaned many times because according to him the lens sucks
dust.And
the area where we live gets dusty winds, especially in the Summer. No doubt he takes a lot of precautions but still he had the issue and discussed it with Tamron officials, who just got it cleaned for him.
Any way people are happy with it and am sure you too are. &nbsp
Posted: 05/03/2021 20:34:41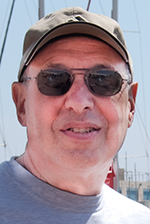 Howard Frank
I have some Nikon Lenses 70 to 200 and 80 to 400 and both are fine. I also have several Tamron Lenses including the 28 to 300, 24 to 70 and 150 to 600. For my use they have also been fine. I have not had a dust problem. The reason for so many shots, is when birds are moving quickly, you have to take a lot of shots to make sure one or some are sharp. Also I did a lot of birds in flight close in. Many of the shots have wings clipped, distractions, and/or blurry as well as quickly changing light conditions and differences between birds with dark backgrounds taking off into light skies.

Several of folks in our group took many more images, some as many as 30,000. Some had Canon Mirrorless cameras with eye focus that shoot silent up to 30 frames a second. &nbsp Posted: 05/03/2021 22:12:02
---
---
---
Helen Sweet
Howard, I never imagined such a colorful bird! So sharp. . . feathers and catch light. Love the water droplets of this decisive moment. Congratulations! I'm surprised the background is soft at f/8. Is that b/c the 400mm makes it seem closer? Cutsie title. &nbsp Posted: 05/04/2021 13:38:51
---
---
---
Please log in to post a comment