Steve Estill, EPSA
---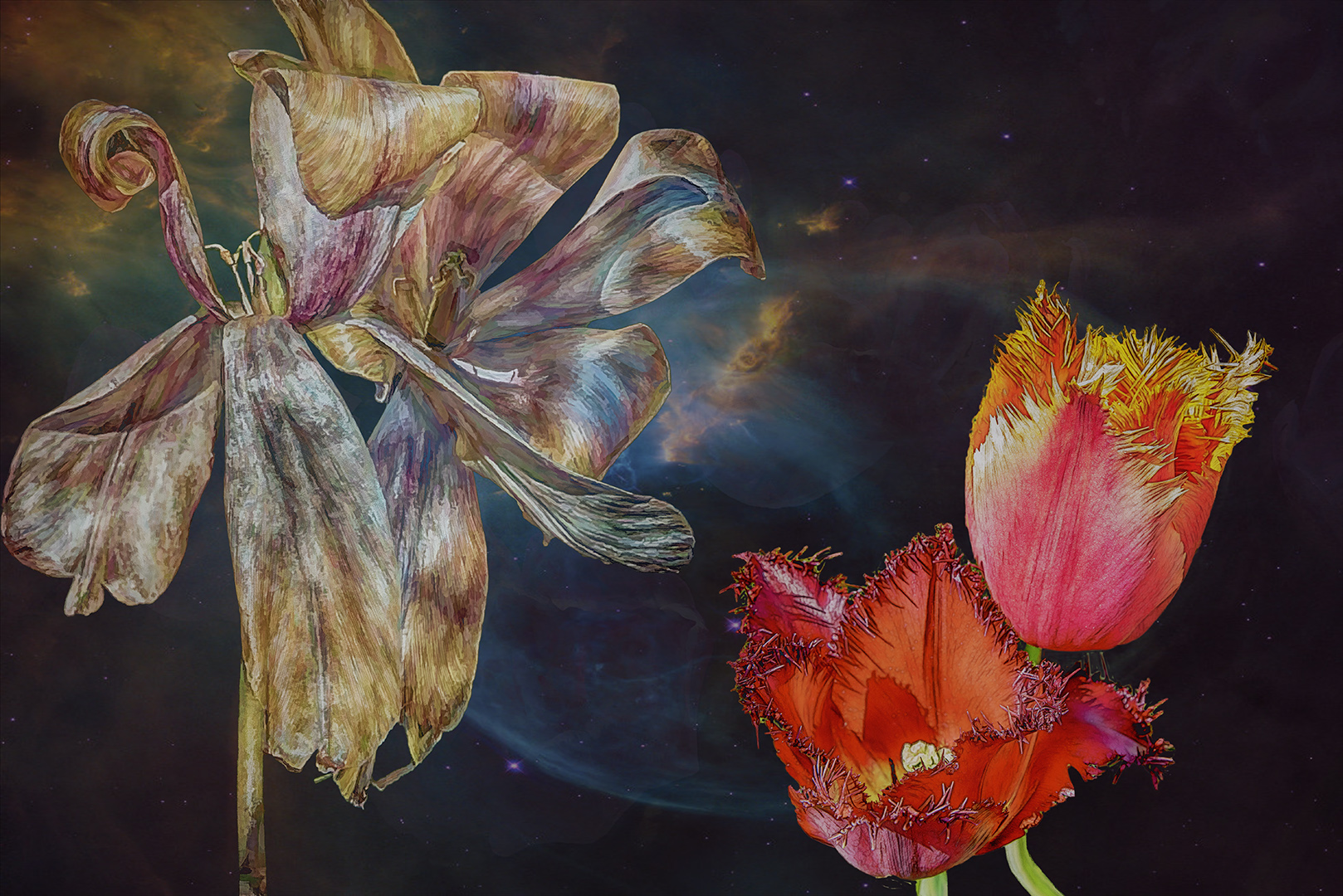 June 2022 - Waxing and Waning Tulips
About the Image(s)
In a similar vein to April's image of the daffodils / amaryllis, where the old and young were featured, I thought I'd use Tulips, as it's been their time of year. I used one that was at the end of it's flowering with ones that were in full bloom.
I started with a background image of one of the flower beds (Original 1) where lots of tulips were blooming, used Gothic Glean preset in Topaz Studio 3 with the 'impression' overlay, then darken / lighten centre in Nik Color Efex Pro 2. I then stamped up. Because I wanted a dark background, I reduced its opacity with a black colour fill layer below it.
The 'old' tulips (Original 2) were selected (using the 'remove background' tool) then merged into a single later. This was treated with Nik HDR Efex Pro 2, Structured 1 preset, then Topaz Studio 2, Golden Madona with Impression overlay. Finally, I used Redfield Quad Pencil > Early reflections preset at 80% opacity.
The 'new' tulips (Original 3) were selected (using remove background) and duplicated. The bottom layer was treated with Nik HDR Plus > 'Natural Bright' preset. The top layer was treated with Redfield Quad Pencil > B&W in screen mode at 67% opacity.
The stack was stamped up and given Topaz Studio 2 texture, 'Far Away Galaxy', which virtually hid the background layer, but I liked the look of it. The flowers were then brought back on top at reduced opacity and there we have it.
I gave the tulips different treatments so that the younger blooms were separate from the older ones. All a bit of experimentation with plugins. The final image was accidental.

---
9 comments posted
---
---
---
Georgianne Giese
Stunning, Steve! I especially like the treatment on the red tulips, as well as that other worldly background.
Question: I've not seen the "remove background" tool. Where is it? &nbsp Posted: 06/05/2022 13:23:40
Steve Estill
Thanks Georgianne.
The remove background tool is located in the 'Quick Actions' dropdown which appears below the properties panel. This dropdown doesn't appear with a background layer - the layer maust be made into a working layer (double click it in the layers palette) to unlock it. &nbsp Posted: 06/05/2022 15:33:54
---
---
---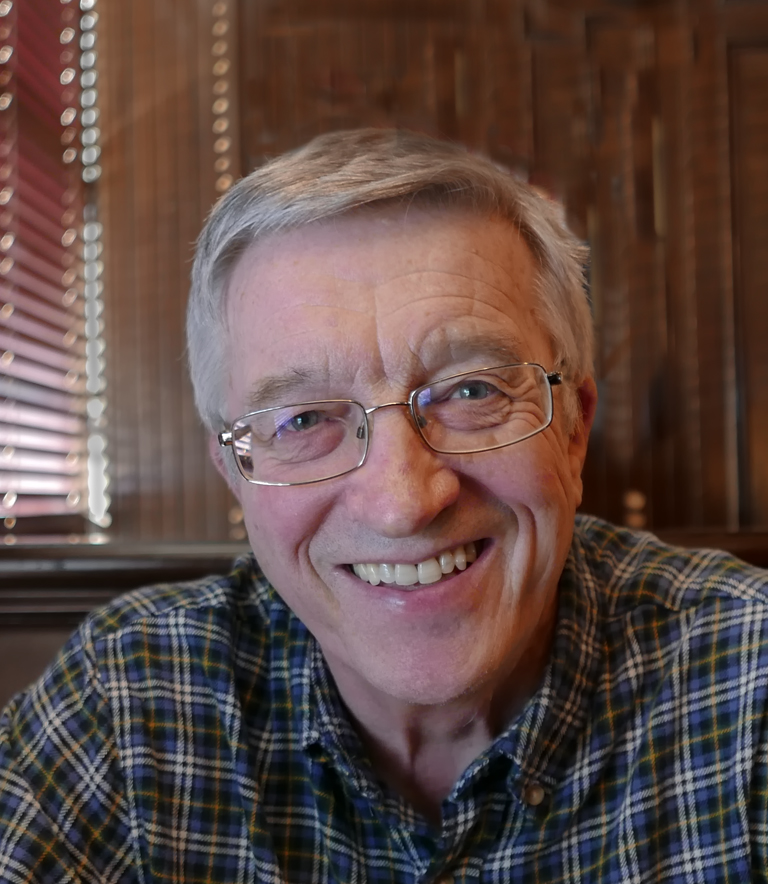 Gunter Haibach
Really like the 'young/old' story line. Also the treatment of both, however individually. I'd like to see the older tulip tie in a bit more with the younger - like adding a bit of red. I made a crude attempt to paint in a bit of the red. See what you think. I also like the creative background - well done. &nbsp
Posted: 06/13/2022 09:35:23
Steve Estill
Thanks Gunter
I like that! &nbsp Posted: 06/13/2022 14:55:40
---
---
---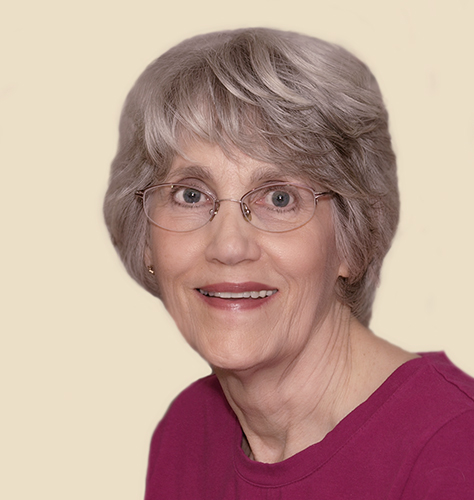 Candy Childrey
Good job, Steve, with the use of plugins to create fading tulips vs fresh ones. Your treatment works well to show the past prime tulips and fresh blooms. I think I would like to see the same type of tulip rendered at past prime and fresh. Your background works well and is quite interesting. &nbsp Posted: 06/18/2022 13:10:10
Steve Estill
Thanks Candy
I would have tried with the same flower but the weather was against me - so much wind and rain that it was impossible to get before and after shots of both flowers - maybe next year! &nbsp Posted: 06/18/2022 16:22:40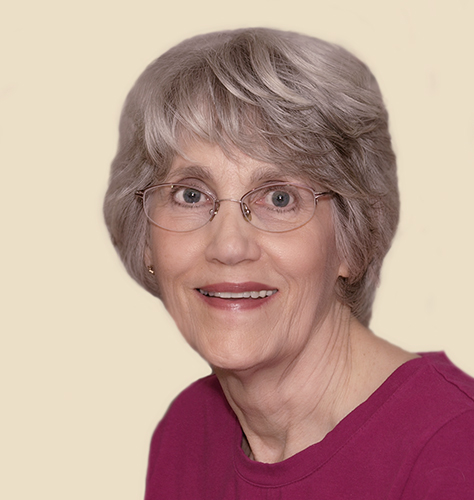 Candy Childrey
I certainly appreciate the rain problem. We have had our share of it recently. &nbsp Posted: 06/20/2022 14:29:45
---
---
---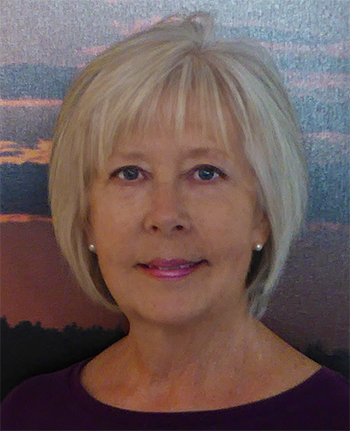 Jan Handman
Your garden must be a wonderful place to spend time with your camera after all your hard work of getting it to grow so nicely. Another interesting treatment Steve. Since I made my feelings known about past-prime flowers last month, I won't belabor the point again. I think the lower center flower in Original 1 is a stunner with its lovely color and ed petal, so I would love to see that one in your composite. The tulips with the frayed edges are so cool and the colors so vibrant. The other-worldly background works well here. Nicely done! &nbsp Posted: 06/18/2022 16:49:19
Steve Estill
Hi Jan
Sorry about the 'past it' flower. I just love the textures they produce - I'll try to make up next month as the peonies are looking good just now.
The garden is a good place to be, full stop! &nbsp Posted: 06/18/2022 17:47:21
---
---
---
Please log in to post a comment