Gwen Neff
---
May 2021 - Cat House
About the Image(s)
I was thinking about a whimsical image, that would work in something like a children's book, when I started the process of creating this image.
I started by choosing three photos, one snowy roof birdhouse and two photos of my 13-year-old cat. I first pulled the birdhouse photo into photoshop, duplicating the layer, and doing a bit of healing on a healing layer. I duplicated the healing layer and added a sharpen edges filter on the layer. I selected the birdhouse and tree, created and named a path, and inverted the selection to select the background. I filled the background with an 85% gray color to give a cold gray snowy day feel to the image. It needed something more, so I opened up SmartPhoto Editor presets and added the snowy winter sky. Still wasn't satisfied, so I added a bluish gradient layer at 50% to add color and also a cold feeling. Still felt it needed a bit more, so I opened the image up in SmartPhoto Editor again and added the vignette that framed the area and pulled my around the birdhouse. Finally I selected the parts of the two different cat photos, placed them each on their own layer, resized them and moved them to where I wanted them on the house. I also added small amount posterization filter to each of the cats on their layer to make them fit in more with the birdhouse and tree. Finally, added my signature.

---
6 comments posted
---
---
---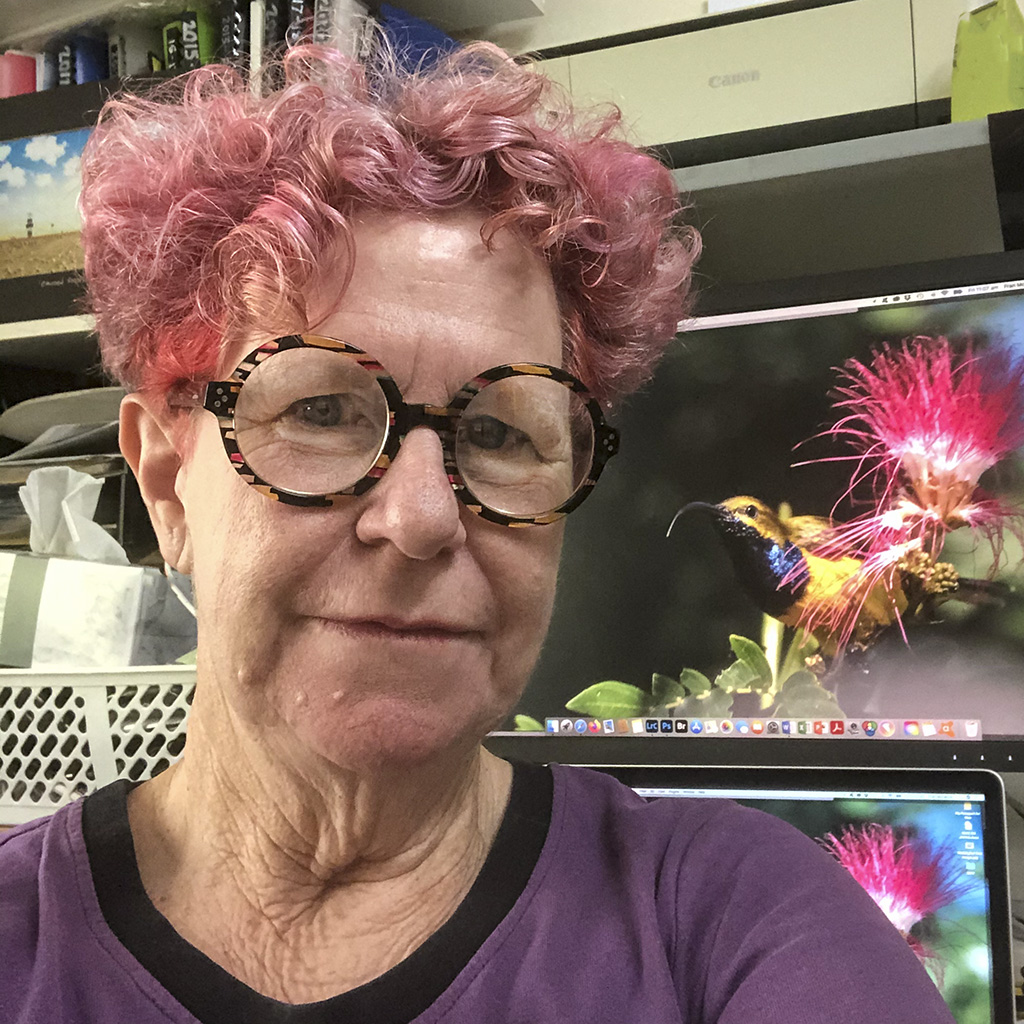 Fran McFadzen
All that work on the background is impressive. It looks great. But in my opinion, the cats are not well incorporated into the image. They just look a bit stuck on the front, instead of being integrated within the image.
I do love your idea though. (Except that feral cats in Australia are terrible predators of wild birds and have been known to climb into nests to eat chicks, as well as the adult birds - so that makes me feel a little awkward with cats at a birdhouse).
Anyway, I had a go at getting the cats more involved in the image. Attached. Thoughts? &nbsp
Posted: 05/01/2021 20:46:10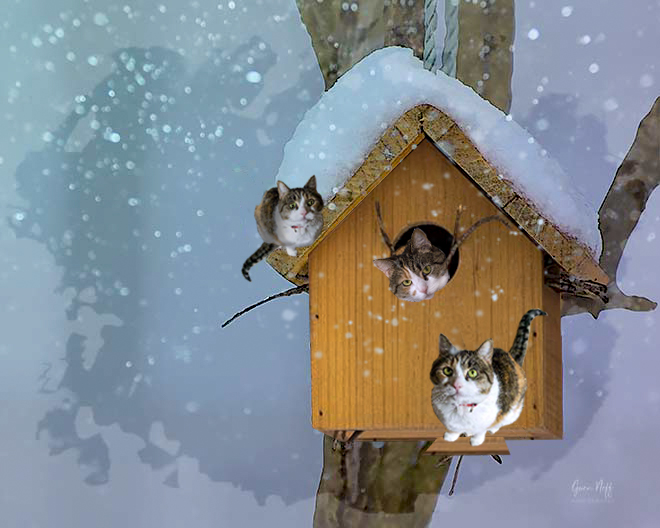 ---
---
---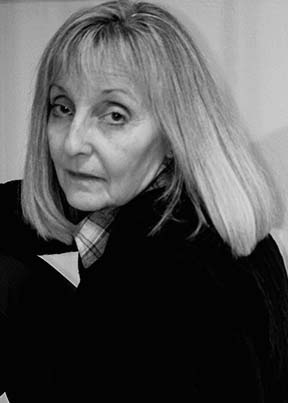 Gwen Neff
Hi Fran,

Thank you for taking a look at my image, making suggestions, and having a go at getting the cats more involved. I think your result does make the cats fit in more with the image. I like it! I'm going to play around with it a little more myself. I' sure there are feral cats in the US that are predators on wild birds as well, but if it make you fell any better the cat in the picture in my 13 year old girl who mostly spends time ed up in her bed. Thank you again!

Gwen &nbsp Posted: 05/01/2021 21:30:54
---
---
---
Steve Estill
A good fun image. As Fran said, the background work is excellent.
Your work is good, but I think maybe some added texture would blend the cats into the image. I tried one from Topaz Texturiser very quickly. It's also got a vignette to try and focus more on the cats.
These are just my ideas - your image is good without them, but it's good to play! &nbsp
Posted: 05/06/2021 16:27:56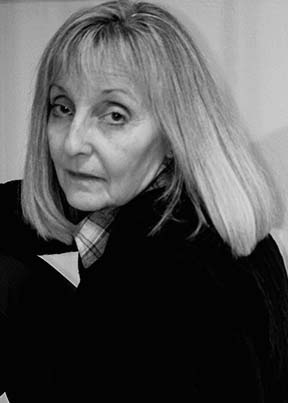 Gwen Neff
Thank you Steve! I agree and will do a little work when I get the chance. &nbsp Posted: 05/06/2021 18:04:50
---
---
---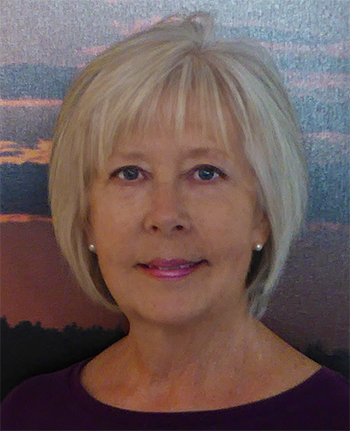 Jan Handman
This is a creative concept Gwen. I too like your background treatment. You did a nice job of cutting and pasting the cat from your originals to the final. To my eye, three cats is too many. The cat inside the bird house is the one best integrated into the image, so I would keep only that one. I tootled around a bit with your image. I thought maybe having the one cat larger would add to the drama. I also added a few shadows to help the cat seem more grounded with the bird house. I'm a big fan of using realistic shadows in composites to make them more believable. Just a different interpretation of your idea. I think it's fun that you used your own cat for a whimsical composite. Nicely done! &nbsp
Posted: 05/10/2021 14:54:46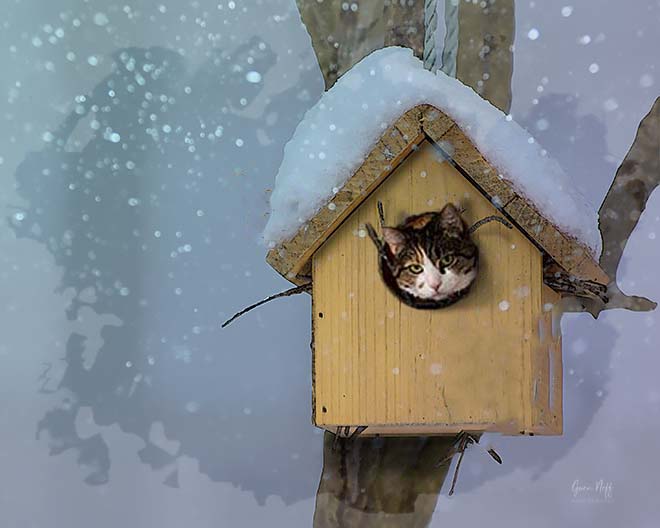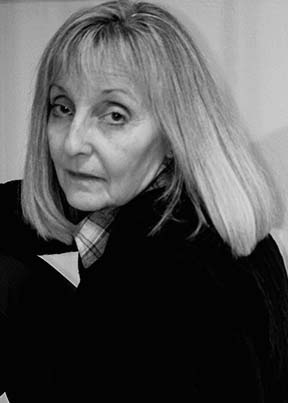 Gwen Neff
Hi Jan,

Yep! I think you hit the nail on the head. I do like it better with only one cat and the added shadow. Thank you for taking the time to help me work this image out.

Gwen &nbsp Posted: 05/10/2021 16:43:52
---
---
---
Please log in to post a comment