Lin Sun
---
October 2021 - Kanas Lake
About the Image(s)
There is a Lake named Kanas located in north most of XinJiang Province in China.
The immense and peaceful lake suddenly turns torrential at its only exit.
It was cloudy and showering at the time, and I just returned from a boat trip to the center of the lake.
Comparing to the vast and calm mountain lake scenery, this place gave me a more realistic impression of Kanas.
And it was very cold even in July. At that place we can see deep snow on the hillside just besides the road.

Camera: FUJIFILM X-T4, Lens: 16.0-80.0 mm f/4.0, ISO 320, 16 mm, '/5.6, 1/210 s. Handheld shooting. Boosted color using the Mac pre-installed software Photos.

---
14 comments posted
---
---
---
Francois Venter
Hi Lin. This is a very nice colourful image. Love the flowing water. I would suggest a couple of things to improve the composition. Watch out for branches that pops into he frame like you see on the top right. Also watch out for spall bright parts on the edge.(Bottom left and right). It tends to distract the eye. You settings look go for hand held. I would suggest going is0 400 next time and shutter speed maybe 1/125. that would have allowed you to go to a smaller aperture like f11 to get more depth of field. Hope the suggestions help &nbsp Posted: 10/06/2021 11:51:19
Lin Sun
Thank you for your comments and suggestions.
I did take another picture with no branches on the top right, but the sky occupied too much space and changed the color theme as half green and half gray.
And yes for the aperture, but actually in the original resolution it's OK for all the POI with almost every drop of water very clear to see, where the shutter needs to be fast. &nbsp
Posted: 10/08/2021 20:38:06
Arief Rahardjo
In my opinion your 2nd frame better. &nbsp Posted: 10/08/2021 21:42:59
Lin Sun
---
---
---
Arief Rahardjo
I found form, rhythm in your composition. The only distracting as Francois mention is the branches at the right side. I didn't know the situation, but, those branches actually can be used for creative framing if you move little bit to right. Green color gradation in fir tree was nice. Your image inspired painter to copy it as painting. Nice image. &nbsp Posted: 10/08/2021 20:14:14
Lin Sun
Thank you for your comments. And you are right about the branches, I also wished to have a little more branches there to help with framing and use F/5.6 to blur it. But just as you concerned about the situation, if turned more rightward, the torrential river surface would be smaller in space and weaker in strength. It was really hard to get a perfect position. &nbsp Posted: 10/08/2021 20:54:55
---
---
---
Bob Patrick
The image is a good starting point, as is. To me the rocks are the story. I felt there was too much white water with no foreground element. So, I got rid of the small stick, cropped out the left side, cloned and burned in the hot part of the sky, tweaked the brightness and contrast. So, now that I have ruined your picture, here's what not to do.
It was a good shot. &nbsp
Posted: 10/09/2021 11:01:28
Lin Sun
Thank you for your comments and efforts trying to improve the image. The stones were captured in other photos. But it seems impossible to emphasis on the stones while showing the space and its torrential background at the same time. I believe you have done the best for this. &nbsp
Posted: 10/15/2021 11:03:39
---
---
---
Marilyn Peake
I like your second photograph of the scene a lot! I agree with the discussion above that the branch in the first photo is distracting. The rushing water seems to be the main story and that water is impressive. &nbsp Posted: 10/09/2021 17:14:18
Lin Sun
Thank you for your comments. I'll try to understand why most of you more like the second image. It's a very interesting and valuable input. &nbsp Posted: 10/15/2021 11:08:04
---
---
---
Raymond Zurschmitten
I like the picture with the beautiful colors and the successful composition. Comparing the images, I like the second image (without branches in the right foreground) better. It would be interesting to see this image in 16:9 format. &nbsp Posted: 10/12/2021 03:35:13
Lin Sun
---
---
---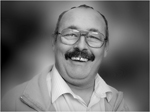 Paul Hoffman
The story of is all about he open space and how that expanse of water falls suddenly into the rapids. To capture an image that depicts all of this is very difficult. You have done quite a good job with this, the branch as said is not needed and gets in the way of the view. Big sky's for me are good for images like this as that is part of the image, the wilderness is full of big sky's.
Your second image is much better and more open and shows off the space much better and allows the viewer to get the feeling of open space. &nbsp Posted: 10/15/2021 06:11:28
Lin Sun
Thank you for your comments and input. Now I understand why you like the second image. With this in mind, I can better accept the big sky now. Thank you. &nbsp Posted: 10/15/2021 11:17:25
---
---
---
Please log in to post a comment