Bob Patrick
---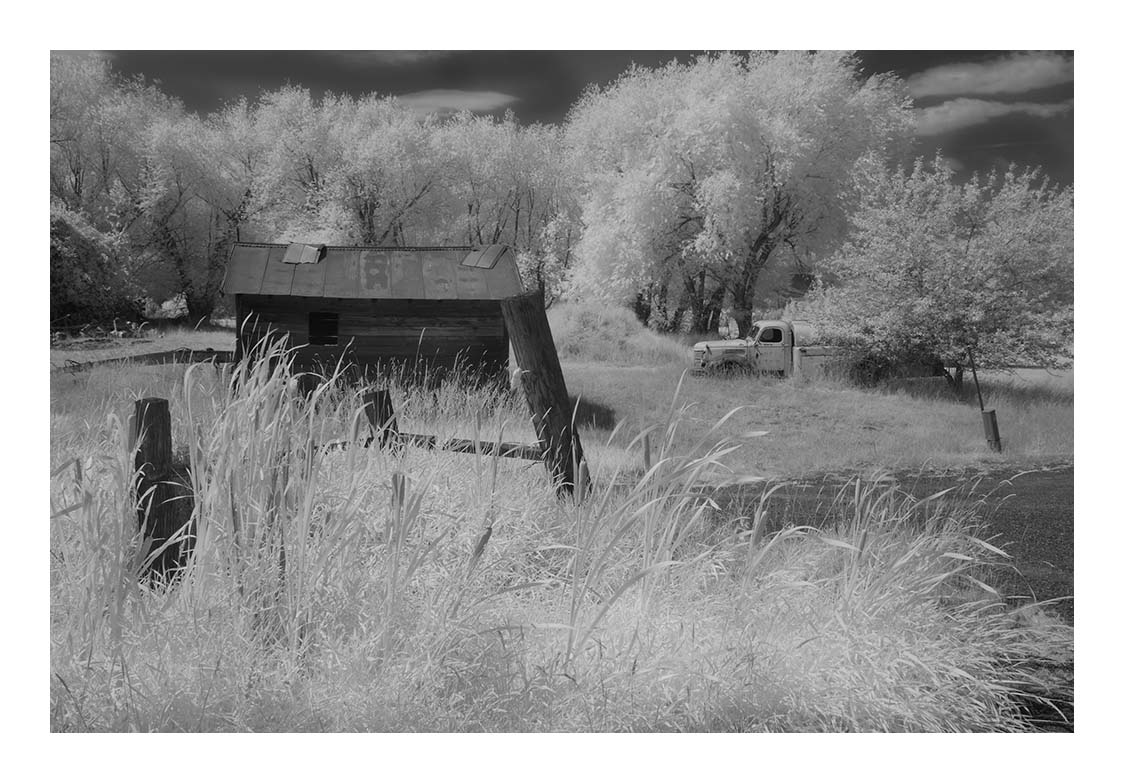 September 2021 - Storey's Oil Truck 3
About the Image(s)
Storey's Truck 3

Aug. 17, 2021. Fuji X100 V converted to 830nm IR B&W. ISO 160, F11, 1/160 sec.

A descendent keeps her father's oil truck around for sentimental reasons. The location is about a mile from home. So, I use it from time to time to experiment.
830nm B&W IR is not as versatile as I had hoped. Or, maybe it is just the operator. This shot was adjusted for contrast, and some dodging and burning in were employed.

---
9 comments posted
---
---
---
Bob Patrick
Yep. The dark tones dominate this one. 830nm B&W is quirky. Starting to think I should make another modification to this camera. (One lesson I learned the hard way, is once a camera is modified, the manufacturer will never touch it again. Also, Since Lifepixel did the modification, a competitor also refuses to touch the camera. I'll probably send it back to lifepixel for conversion to "Super Color" 590nm.) &nbsp Posted: 09/08/2021 11:28:47
---
---
---
Lin Sun
I recall that you once posted a similar picture. What I mean similar is this kind of IR filter and similar scenes. I know they are similar scenes also because you explained by yourself.
I didn't comment at the first time because it really took me some time to think 1) why you are posting similar scenes, 2) what you wanted to express by the IR filter, which is monochromatic but not a simple black and white style.
I guess, the two questions are both due to the IR filter concealed way much details of color. So even though in reality they might be quite different because at least they are in different seasons, but after filtering there only left a kind of sense, like in a dream with real world, or in a world with real dreams, leaving a large imagination space to the reader.
The grasses, the trees, the house, the car, and even the cloud on sky, are so real but with unreal white and black. Also, you might wanted to express peaceful feeling inside, so you chose this monochromatic one instead of those colorful filters. Moreover, the place itself might be very peaceful. At least it looks like that in the picture.

In short, a world with real dreams is what I read from your picture. And it's the first time I got this kind of feeling and understanding. Thank you for your sharing. Great work!
&nbsp Posted: 09/08/2021 00:32:24
Bob Patrick
I don't get out much, anymore. Limited subjects that attract me in this County. By the new year, I should have more free time. If I can afford the gas, maybe I can expand my range.

There is a portrait project I wish to try with this camera, but the model and proper location are hard to find. &nbsp Posted: 09/08/2021 11:32:11
Lin Sun
Yes, photographers need time and cars…which I don't have either now so I can understand the limitations and am worrying about what to share for next month….
I also appreciate your courage of using IR filter to take monochromatic pictures which actually are taken very well. I tried but gave up very quickly for not willing/dare to loose colors. &nbsp Posted: 09/22/2021 01:13:22
---
---
---
Marilyn Peake
It's an interesting photograph. I'd recommend cropping out the bottom of the photograph as far as the base of the left gate post to eliminate the bright spots in the grass. That way, the eye is drawn into the scene, rather than to the bright areas. &nbsp Posted: 09/12/2021 16:24:37
---
---
---
Raymond Zurschmitten
Very nicely composed image with special IR touch. I also like the beautiful clouds. However, the truck is somewhat lost in the bright environment. Without IR filter, the truck could probably be brought out better, but then the fascinating IR effect would be lost. I would also like a little more sky. &nbsp Posted: 09/14/2021 11:10:46
---
---
---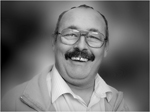 Paul Hoffman
This is a nice IR image, well composed and nice tones for an IR, your black could be a touch deeper. I have read the other comments and I don't mind the truck, it is fading away in to foliage and I get that feeling from the image. But I do have two big problems. First the big white border, on a print it works a dream and sets the image off, on a digital image it fights the IR effect on the screen and is a bad choice. Second is the outstanding eyesore in the frame and that is those posts, they seem to block the image you want to see which is the hut and truck sitting in their surroundings and the posts have become the main focus of the image. So I had a quick go at taking them out. Remember it was quick. &nbsp
Posted: 09/15/2021 05:14:43
---
---
---
Francois Venter
Hi Bob. This is still something I need to do. I love the IR image. From other images that I have seen the whites seem a bit dull and the blacks too light. So probably saying that the contrast can be higher like other people have said. The car did disappear a bit for me in the image. But the image with the house and then the grass and trees is strong enough to stand alone without the car. Very nice image &nbsp Posted: 09/21/2021 11:17:13
---
---
---
Please log in to post a comment