Lin Sun
---
September 2021 - UT Arlington Sunrise
About the Image(s)
This sunrise was recently taken on campus of UT Arlington, the university I'm enrolled in for a PhD program. The huge tablet with two A characters in blue at the rightbottom corner is a symbol of UT Arlington. The big vault at left bottom is AT&T stadium. With these symbols, the location can identified as authentic.

However, my picture for this month is still a non-POI image. I learned in last month from most of you that POI is very important for a picture to be appreciated, and I really appreciate your comments and advices. The reason that I want to share this picture is for the stories behind, but mostly personal stories so I wonder if readers would be interested. In short, this is a sunrise that I supposed to see one year ago, and I had been personally preparing for this venture since mid-2016. It was indeed a bumpy journey towards here. I never could be here if without the help of lots of warm heart people but most of them are anonymous to me. And it was them helped me keeping the faith, which is just like simply believing the sun will always rise.

---
7 comments posted
---
---
---
Lin Sun
Parameters: Fuji X-T4, Carl Zeiss 50mm 1.4 ZF.2, ISO 160, 50mm, F/11, 1/110s, -2 ev, a tripod, a focal-reducing-adapter, and a GND0.9 filter &nbsp Posted: 09/06/2021 13:55:29
---
---
---
Arief Rahardjo
Option-1
Composition of this image can be improved if you take it from lower angle. When shooting landscape with the late sunrise I would suggest hide the sun behind the tree. You can observe next time (must practice and lot of observation). I attach the example.
Option-2
Point of interest on your image was overcast of the sunrise. How about take it earlier when the sun still in horizon ?
&nbsp
Posted: 09/07/2021 07:49:17
Lin Sun
Thank you for your advices. I know your suggestions are very good. I like those moments too that the sun light poured through the crevices between woods at the time of dawn or dusk. But it's a different emotion which is kinda like tranquility. What I tried to express with such a huge sky and a shining sun, was a kind of feeling mixing energetic, surge, steady, and peaceful, or a kind of temperate fury. And this kind of stunning energy was steadily sweeping out the darkness and clouds in the sky and was taking the world back, like a restrained but powerful release after a long time of repression......I'm not sure if you'd like to appreciate that kind of emotion......
As for your second advice, I tried. Before taking this picture I took a whole week to try different parameters and to wait for a wonderful sunrise. But the camera didn't get a good output (the first and second picture), while my cell phone got a nice one but not precise (the last picture). And all of them are not dramatic enough to express that kind of emotion mentioned above.
Maybe using the sun as a POI was actually a bad idea.
Anyway, thank you for your comments and thoughtful advices. &nbsp
Posted: 09/07/2021 23:54:51
---
---
---
Bob Patrick
Good composition, but something needs to be done about the hot spot. Burn it in, or crop it out, but that has to go. &nbsp Posted: 09/08/2021 11:18:52
---
---
---
Marilyn Peake
Congratulations on starting a PhD program at UT Arlington! That's fantastic! What is your PhD in?

I understand what you're saying about a majestic sunrise representing what you were feeling at the moment. Your story is wonderful. However, for a photograph to allow most people to appreciate it, certain artistic rules of perception usually need to be followed. The blinding bright spot in the sky will tend to draw the attention first. Then, looking around the image for interesting features, the viewer notices that buildings are blocked by the trees. The objects most visible look like a sign, a trash can and some other similar object. I know that's not what you wanted the POI to be, but that's probably how it would be perceived by most people. &nbsp Posted: 09/10/2021 22:44:03
---
---
---
Raymond Zurschmitten
As the description says, this image has an emotional note with memory value. Without a description, when viewing this image, the rising sun dominates, which makes the foreground appear dark despite the GND filter. I would have taken the photo right at sunrise with a closed aperture, which shows the sun with beautiful rays. When developing, the details in the foreground can be emphasized with the luminance mask. &nbsp Posted: 09/14/2021 10:50:19
---
---
---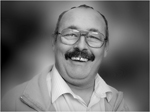 Paul Hoffman
The camera is a funny thing, it is very good at catching those first movement of light and the first glimpse of the sun each morning, but as soon as the sun has got its hat on and come out to play the camera throws all its toys out of the pram and has a fit. Your eyes can struggle but your brain get this wonderful emotion from this fabulous sight, but how long did it take for the spots to go away and your eye to settle back to normal, well thick how your camera feels.
The only way to capture this correctly will need more work. You have done the right thing by stopping the image down with the filter, I may even have tried a polarizer as well. Then take two or three image, one for the sky, another for the sun and a third for the foreground and tone them together in PS. This way you control the glare and the contrast and not being controlled by the sun.
Well done on you for going for a PhD. Brave move and I wish you many successes. Its hard work but an enjoyable time.
&nbsp Posted: 09/15/2021 04:17:34
---
---
---
Please log in to post a comment