Tom McCreary, APSA, MPSA
---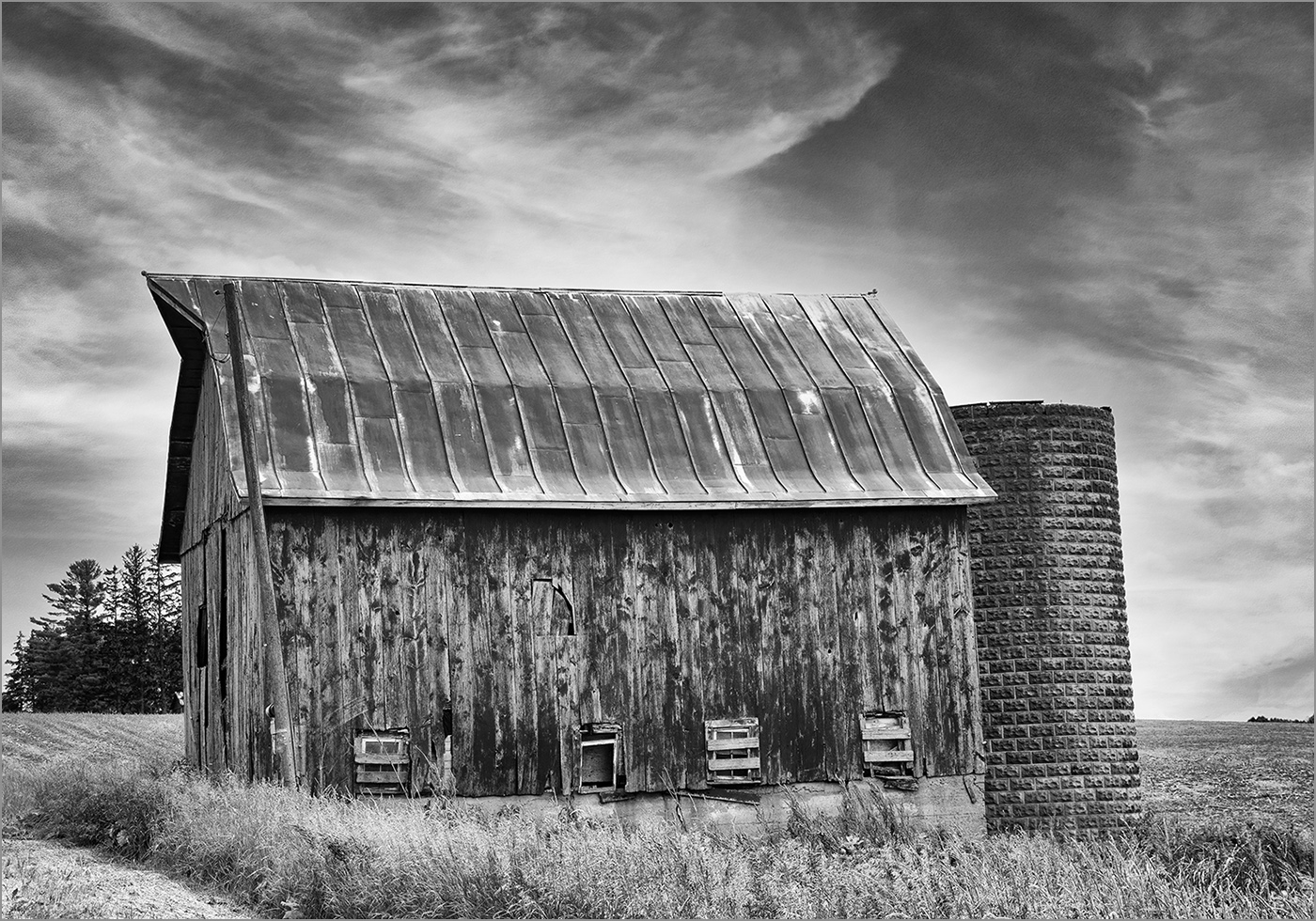 May 2022 - Wisconsin fading red barn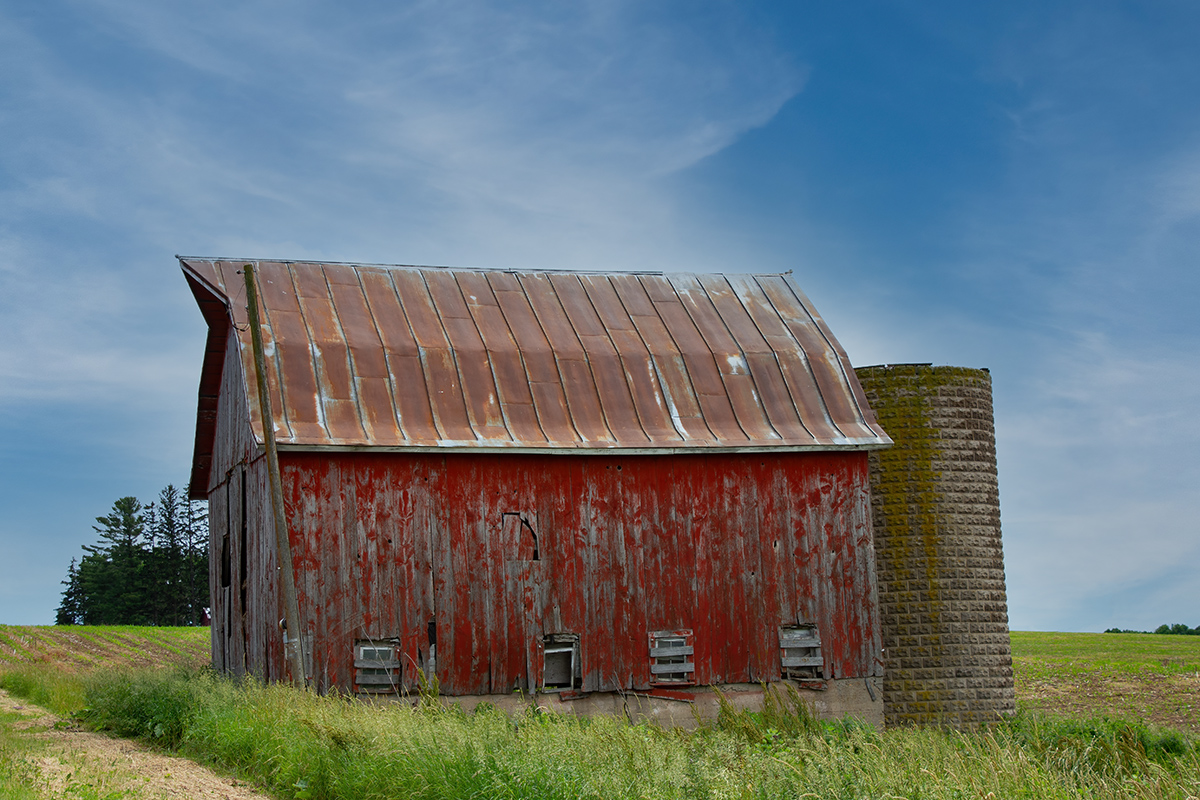 Original
About the Image(s)

Wisconsin Fading Red Barn

This was taken a few years ago. It was taken with a Nikon D7200 and Nikon 18-300mm lens at 40mm, 1/320 second, f11 and ISO 200. I added the sky in Photoshop from one that I had taken at another time. I converted to monochrome with NIK Silver Effects Pro. Did I overdue the contrast on the side of the barn? I have included the color version.
---
4 comments posted
---
---
---
Lynne Hollingsworth
You did a nice job and I don't think the contrast is overdone. Although I know the image is straight, the way the silo (?) leans against the barn, the horizon on the right being lower than the left and the lower part of the roof not a straight line, the image has an odd feel to it. Your conversion to mono is a good choice and I do like it better than the color. &nbsp Posted: 05/04/2022 19:23:11
---
---
---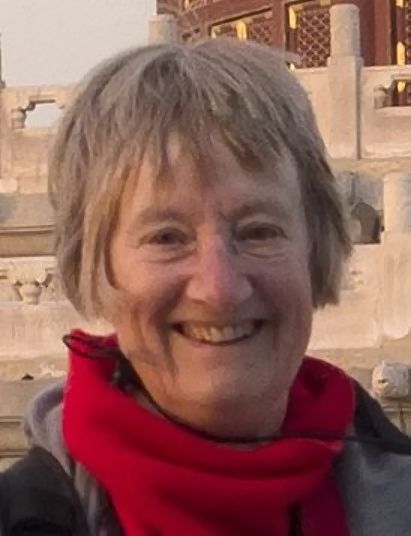 Diana Magor
I don't think it is overdone at all. In fact, you should know by now that I would go even further with the contrast to get the black much darker especially on the sky. The overall image looks a bit grey to me. I did have a go, putting the original into silver efex wet rocks. I used control points to increase the sky contrast and then reduced the effect on the side of the barn. I tried reducing the grain in the sky but it still looks too grainy to me.
I agree with Stephen, that the mono version is preferable to the colour which just looks a bit ordinary. &nbsp
Posted: 05/05/2022 05:27:32
---
---
---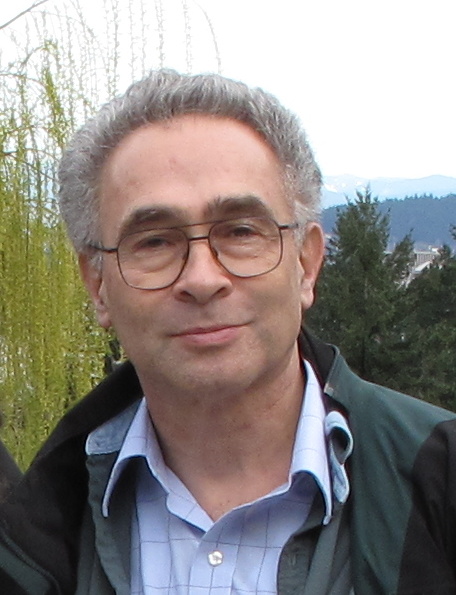 Stephen Levitas
I see you are continuing to give us a great tour of old buildings, and now one that is starting the process of falling down, with that little lean to the left. That lean is to me the entire story here, of life (of a building in this case of course) and decay. &nbsp Posted: 05/07/2022 17:44:35
---
---
---
Wes Odell
I think the image would be improved if it were to have more contrast as in Diane's rendition. And, like others, I generally prefer mono vs. color. And I do so in this image.
wes
&nbsp Posted: 05/10/2022 10:10:11
---
---
---
Please log in to post a comment