Jerry Biddlecom
---
October 2021 - Thunderbirds
Original
About the Image(s)
Possibly my last large outdoor gathering before the pandemic set in, this
shot was taken at the Homestead Air Reserve air show in south Florida. This
show featured the Thunderbirds, the air force aerial demonstration team.
It was a beautiful fall (by Miami standards) day and virtually cloudless. I
thought I would try flipping the shot to show the planes soaring upward instead
of plummeting toward the ground, strictly on aesthetic grounds — perhaps it
seemed more dynamic that way. Taken with my Nikon D500 with 70-300 mm lens
set at max with a shutter speed of around 1,200/sec. I had to be careful to
keep in mind the sunlight bouncing off the bright white parts of the fuselage
of each aircraft, so as not to blow out the highlights. I like the way the planes
stood out from the background, the sun striking them at just the right moment.
---
3 comments posted
---
---
---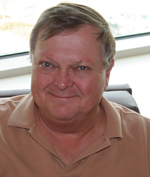 Al Swanson
A super shot of the F-16s. I think your rendition from the original is extremely well done. By reversing the direction to an upward motion you draw more attention to the airplanes projection. Do you remember what your ISO was? A very good shot and modifications indeed. The only suggestion I might have is to crop just a bit from the bottom to reduce the length of the contrails. &nbsp Posted: 10/09/2021 10:28:44
---
---
---
Joseph J Zaia
Excellent capture and recomposition of this image. Diagonal lines towards the right always create more drama. In this case it emphasizes the power of the Thunderbirds. I agree with Al on cropping a bit from the bottom or at lest compose in a way that will avoid the left contrail coming out of the left corner. Can you recapture the beautiful blue sky tones of the original? &nbsp Posted: 10/10/2021 07:57:38
---
---
---
Peggy Reeder
This is an excellent capture and I like how you have sharpened the planes so they are very crisp. And an uneven number always makes a stronger composition. I like the flipping of the photo, but I think I prefer a bluer sky.
&nbsp Posted: 10/16/2021 15:41:45
---
---
---
Please log in to post a comment