Ham Hayes
---
August 2022 - Columbia Tributary
About the Image(s)
A fast-running tributary of the Columbia River near Invermeer, British Columbia caught my eye on a recent trip. Taken with a Nikon D750, ISO 1800 f/11.0 1/1000 s 24-120mm Nikkor at 24mm. My experience has been that HDR imaging can produce highly saturated color over a more extreme dynamic range than a single exposure image, thus yielding watercolor painting like images. For the final image, there are 5 images ranging from -4EV to +4EV, using Nik Collection HDR Efex Pro2. To add some texture, I overlayed that image with a random pebble pattern (my office wall), using Affinity Photo. Besides other observations, I especially would like your preferences on the textured vs un-textured image.

Images
      Wall - 1, This is the original background texture image.
      Columbia Tributary Original, This is the original central exposure of a five image HDR set.
      Columbia Tributary - Inter, the 5 image HDR composite image(+/- 4 EV).
      Columbia Tributary - Final, Combination of the HDR and Texture images. This image is the final submission.    
---
7 comments posted
---
---
---
Fred Giese
In my humble opinion, both are very nice. The textured one definitely looks like a watercolor thanks to the wall. One thing I did notice between Org 1 and Org 3 was some haloing around the top of the trees on the left side. I think it is caused by the clouds moving behind during the various shots. I know you can get rid of it by using just one image, but am not an expert on HDR (more like a beginner). Good job Ham.
&nbsp Posted: 08/04/2022 17:18:38
Ham Hayes
Thanks for your feedback, Fred! I had another HDR image for another group that showed some haloing as well. Interesting observation about the clouds being a factor. I'm still a novice at this technique, so that phenomenon is on by study list. &nbsp Posted: 08/04/2022 17:36:02
---
---
---
RH Samarakone
What a lovely location for photography!

You have done well in creating the HDR, applying the texture, and cloning out the people. Personally, I would prefer the texture / grain size to be smaller, but that's a personal choice.

I am wondering about the blue cast that you have got on the mountains and the rocks... was it intentional or was it because you increased the saturation too much in converting to HDR? Perhaps tone it down a bit, at least on the rocks, that might make the image better in my opinion.

Good job! &nbsp Posted: 08/04/2022 20:45:51
Ham Hayes
Sam, The blue cast is interesting. I've attached histograms comparing the total image with just the bottom half. This supports your observation. The foreground was under cloud cover which could explain the effect. I'll try filtering the color temp for that region of the image, along with working on the haloing Fred and Angela commented on. &nbsp
Posted: 08/06/2022 11:49:03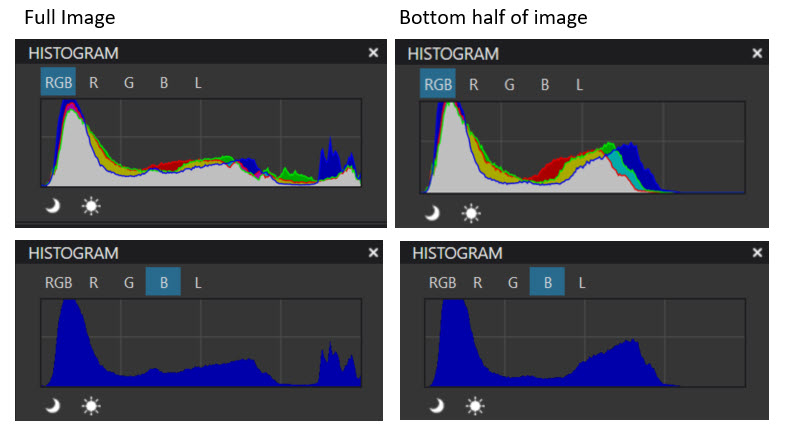 ---
---
---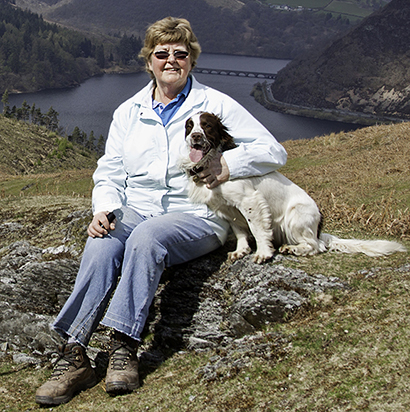 Angela Bonner
Looks a great place to visit for taking images.
Glad you shot it in portrait which helps to give the image depth. I like the texture you have used but think I would have slightly lowered it's opacity as, for me, it is a bit too prominent.I agree about the haloing that Fred spotted which could be easily got rid of.
Also, in my opinion, I think the colours are a bit too saturated so the image doesn't look natural?
Well done!! &nbsp Posted: 08/05/2022 07:51:57
Ham Hayes
Angela, thanks for your comments, I'm not fully happy with the texture I used, and I am looking for a texture that is more in line with artist papers used in watercolor images. &nbsp Posted: 08/06/2022 11:52:32
---
---
---
Shirley Ward
Your explanations are way over my head, but I like the end result... I sold all of my Nikon cameras, lens, etc. about 10 years ago. as they became too heavy for me to hold, and now shoot only with a very nice Panasonic Lumix SZ100 point and shoot camera... which has many nice features to use... I love the textured mood of the final image, which almost looks like a painting. &nbsp Posted: 08/07/2022 15:19:44
---
---
---
Please log in to post a comment