Ham Hayes
---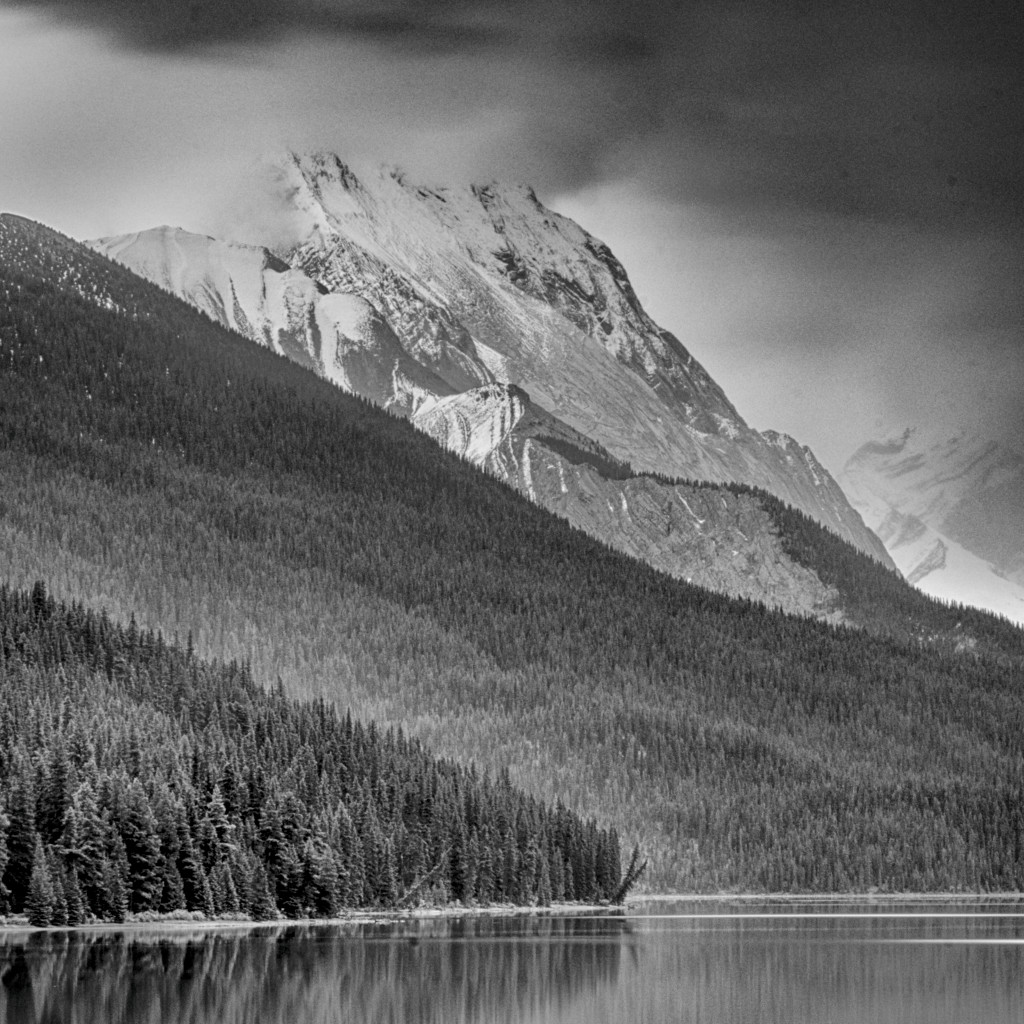 June 2022 - Mountain
Original
About the Image(s)
Description: Taken in the pre-dawn light, my original image of Leah Pk feels flat and lifeless, compared to what I had really felt and experienced. The vision I had was of a brooding massif, supported by a vibrant forest. Processing included cropping, B&W conversion and de-hazing with DXO Photolab 5, then HDR tone compression using Nik Collection HDR Efex Pro 2 to get the detail, contrast and graininess desired for the mood. Shot with a D500, 18-200mm Nikkor, ISO 100, 15 sec exposure at f/22.
---
This round's discussion is now closed!
6 comments posted
---
---
---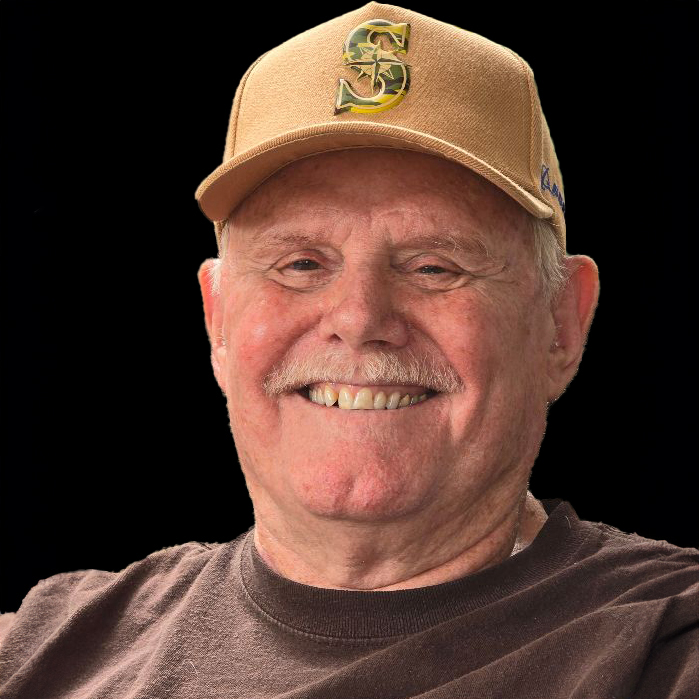 Bob Wills
Hi Ham,
I'm not sure I should be the first to comment, as I too am new to this group. Lake Malign and Jaspar are a terrific location (except for the mosquitoes.)
I enjoy the original image composition more than the cropped version. You may have lost the appearance of a level image, but that is just my feeling. I like the distinct layers in both images, but the detail in the B&W forests compete for my attention. The triangles are more pronounced in the original, and though the waterline is centered, for me it works better. I think that the HDR tone compression makes the B&W image flatter, and I would consider D&B back most of the layers.
You have a good image that I think could be made better. It is your vision though. I am attaching a tone mapping image of what you have. Our eyes are drawn first to the lightest areas, and then to the sharpest areas.
&nbsp
Posted: 06/12/2022 13:53:20
---
---
---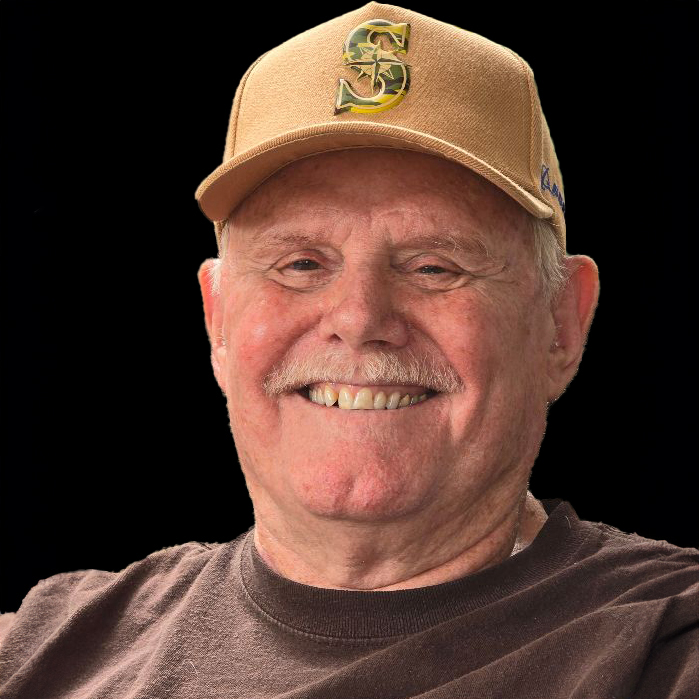 Bob Wills
Ham Hayes
Bob, thanks for your thoughtful observations and additional possibilities! I had to sit with the original for a while...searching for the feeling I remembered when I captured the image. The compression, contrast and exposure possibilities are many...all conceptually valid...and this was seemed a best fit to my feelings. Not to worry about being first. That happens only once.
Looking forward to future dialogs on B&W conversions.
Ham &nbsp Posted: 06/13/2022 23:44:28
---
---
---
RH Samarakone
Hi Ham
Interesting B&W conversion.
Personally I like to tonal variations in your original, and the reflections in the waters. I wonder if you had a picture taken in landscape format?
I have taken the liberty of doing a B&W conversion in ACR, with more contrast, and with a slightly different crop. Two things that compete for attention in the image are the reflection of the clouds at the bottom right, and the white object in the waters.
Sam &nbsp
Posted: 06/13/2022 21:54:45
---
---
---
Fred Giese
Hi Ham,
Looks like a beautiful area to photograph in. I have to say that I too like the original image better. I think, because of the lack of true black or true white is the reason for the flat feeling.
&nbsp Posted: 06/14/2022 12:01:32
Ham Hayes
Fred, et al. Thanks for your observations. In looking at the histogram for this image, it looks like the tonal range is over compressed. I expanded that compression and increased the contrast a bit. The black point are the foreground trees and the white point is the snow field on the mountain. I really appreciate the feedback and detailed comments...they are definitely helping me see things I missed! &nbsp
Posted: 06/20/2022 21:55:50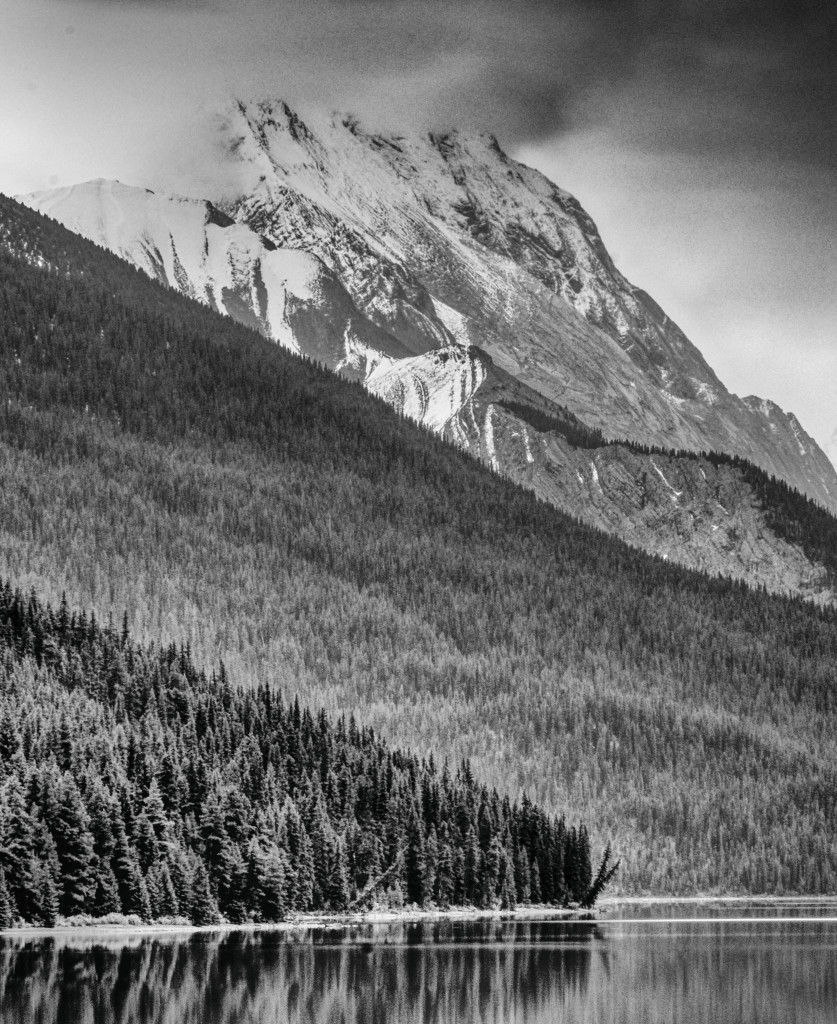 ---
---
---