Ian Ledgard, GMPSA, EFIAP/p, AWPF, GPU-Cr4
---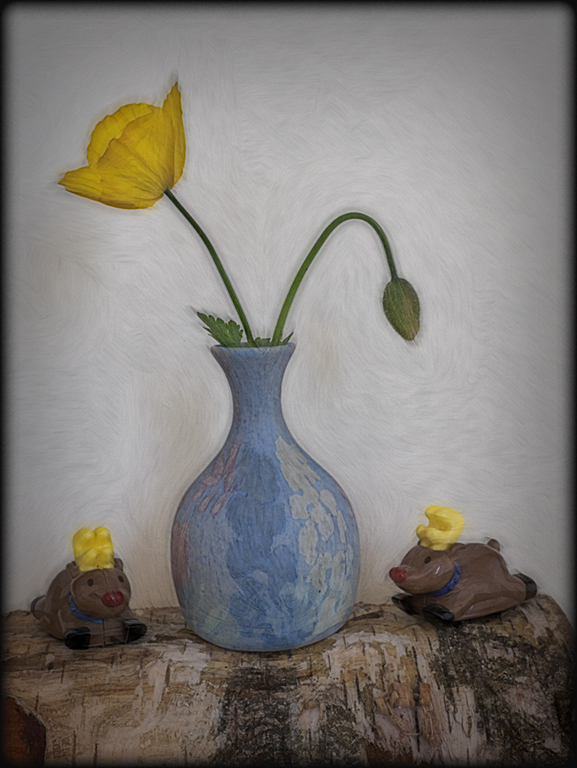 June 2021 - Poppy and friends
Original
About the Image(s)
I tried playing around with attempts at still life. A poppy from my garden in a small vase,stood on a birch log,with two reindeer which jumped out of Christmas crackers.
After adjustments in camera raw I cropped to portrait format. Then in Topaz Studio 2 looked at lots of variations before opting for Abstract flux reducing opacity to 55% . Then added filter glow followed by vignette.
Back in PS I used the sponge tool at 30% to brighten the poppy. Finally the border is inner glow in black.
---
9 comments posted
---
---
---
Jerry Funk

(Groups 20 & 64)
It's interesting to me that you followed the rules and had an odd number of flowers in your original but saw more natural beauty in removing one. I like all you have done with this creative image.
My only suggestion is to simplify the composition further by removing the two reindeer.
I've never had the patience to do table top photography, but maybe I can use some of your techniques and apply them to iris exhibition photos that I captured last week. They were all displayed on table tops. Hopefully, I can find an attractive vase to clone in and maybe even a contrasting log from my collection. That my fifth project idea that I've gotten viewing DDGs this month.
&nbsp Posted: 06/08/2021 07:08:15
Ian Ledgard
Think you are correct about the reindeer. As I view the image now they are distracting but they were not when I created the image!!! Shows how helpful it is to have others commenting on our work and just what Digital Dialogue is about.

So now you have five new projects on the back burner Jerry - hope to see some results soon. &nbsp Posted: 06/09/2021 09:14:27
---
---
---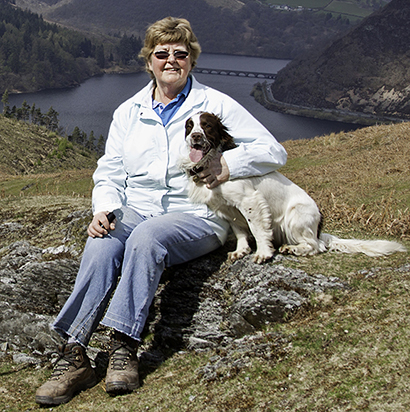 Angela Bonner

(Group 81)
Really like what you have done here and agree in taking out the second poppy even if it then means you have an even number as hated by judges(!!).
I agree with Jerry and would leave out the Reindeer as I find their yellow antlers distracting. Like the subtle border and must give that a go!!! &nbsp Posted: 06/08/2021 07:22:06
---
---
---
Jim Hagan
I like the image with the two flowers - one open and one in bud. However, I also agree to remove the reindeer as I feel they are a distraction from the flower image. &nbsp Posted: 06/09/2021 08:39:27
---
---
---
Gerald Fleury
Ian. I agree with the reindeer suggestion and breaking the rules as Jerry mentioned. Is it possible you can explain more about how you created the border with an inner glow in black? &nbsp Posted: 06/10/2021 16:08:39
Ian Ledgard
The border was created using the FX option ( at bottom of the layers box) in Photoshop cc.
Clicking on fx shows a drop down menu with a number of option one of which is 'inner glow'. This opena window where you choose the opions that suit you image, colour , opacity, noise size etc. In this case I chose black as the colour. It is acoice I often use for my images. Hope that helps. &nbsp Posted: 06/10/2021 16:46:24
Gerald Fleury
Thanks Ian. &nbsp Posted: 06/10/2021 16:49:47
---
---
---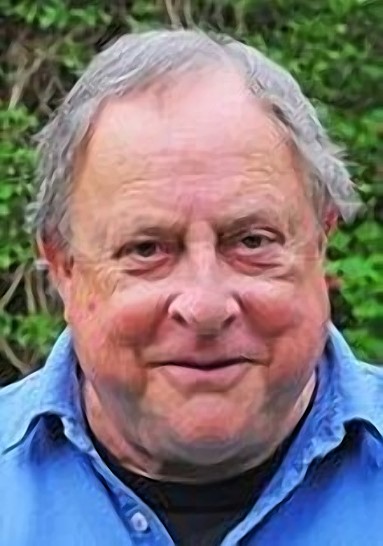 Mike Cowdrey
The final image of the flowers and vase is super. I, too, see no need for the rather odd reindeer. Perhaps reduce the opacity of the outline around the flowers, stems, and vase very slightly, since once noticed it feels slightly too strong for me. I love the feel of the whole image though. Great job! &nbsp Posted: 06/11/2021 01:10:46
---
---
---
Andrew Hersom
I like the treatment which works well. I don't think the little figures add anything and could be removed to advantage. &nbsp Posted: 06/16/2021 02:47:33
---
---
---
Please log in to post a comment