Paul Swepston
---
June 2021 - One Cloud
About the Image(s)
Camera: Nikon D500
Lens: Nikkor 16-80mm
ISO: 100
Exposure: 1/400 sec @ f9.0

Using a tripod, took three images separated by two stops each and created an HDR image using Nik HDR Efex Pro 2. Cropped.
---
8 comments posted
---
---
---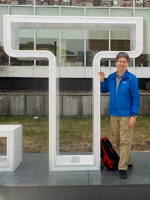 Timothy Morton
That is wonderful power cloud, and makes me how you didn't get wet on your way back home. &nbsp Posted: 06/06/2021 05:45:11
---
---
---
Paul Swepston
I took it from my upstairs window. &nbsp Posted: 06/06/2021 11:30:24
---
---
---
Barbara Dunn
You are so fortunate to have such a beautiful view right out your window. Very effective illustration of the topic, and not easy to find one cloud and an isolated storm. &nbsp Posted: 06/15/2021 10:57:02
Judith Ponti-Sgargi
Paul
This is a powerful image with the rain pouring down.
For me, the main parts of the image are the turbulent sky and downpour. I think you could increase the visual impact but reducing the amount of water in the foreground, increasing the contrast, and burning some areas. In my VF attached, I cropped, burned the water, applied a luminosity mask to target dark areas in the sky and burn them, an to burn the orange area. The rain fall really popped.
I am studying monochrome this month and therefore converted your image to monochrome using the PS BW adjustment layer. This image also does well in monochrome and the downpour really stands out.
&nbsp
Posted: 06/15/2021 16:04:19
Paul Swepston
Thank you for the suggestion. &nbsp Posted: 06/19/2021 15:08:28
---
---
---
Wendy Stanford
Hi Paul, One cloud and what a cloud it is, looks like quite a powerful weather cell, the contrast and colour in the sky is very dramatic, nicely done HDR, well seen and captured, As experiment, I cropped the image and placed the land on the bottom third, reducing the water and making the sky the emphesis. &nbsp
Posted: 06/19/2021 07:22:50
Judith Ponti-Sgargi
Paul

You certainly have stimulated wonderful conversation with your image and are helping us grow. This is the true spirit of the DSG. &nbsp Posted: 06/20/2021 12:29:38
---
---
---
Fat Chen
It looks a powerful cloud and covered nearly whole sky ! I prefer lesser portion of water in this image. &nbsp Posted: 06/19/2021 23:57:35
---
---
---
Please log in to post a comment