Kerstin Köneke
---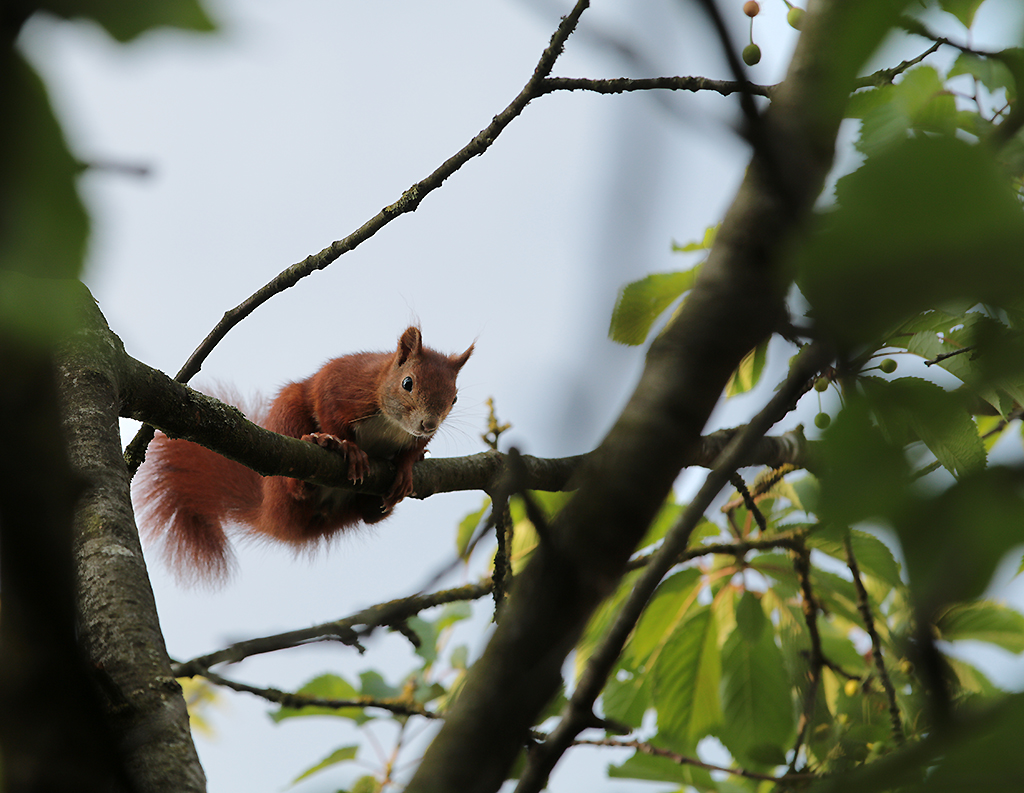 November 2021 - Triangles - Squirrel in Triangles
About the Image(s)
This shot was taken in my garden, where this red squirrel sat in my lilac bush spitting obscenities at me! "Hello, I only was inspecting the hazelnut bush." There weren't even any nuts hanging on it! And at least it is MY hazelnut bush (at least I planted it). So I did, what every real owner does: I SHOT the pesty obtruder right between the eyes as you can see! 😉 And I see a lot of triangles in the branches. How many do you see?

Technical information: Canon 40D, ISO 100, F/5, 1/250 sec., Canon 70-200 mm

I just cropped the picture on the left side a bit and brightened up some shadows.
---
This round's discussion is now closed!
5 comments posted
---
---
---
Carole Kropscot
Your adorable squirrel is positioned perfectly in the tree branch triangle. That bright area attracted my eye right away. And so did the sharpness of the squirrel's eye and body. I, too, see a lot of triangles in the branches, and now I'm seeing them in every tree I see! I see at least 16 triangles here! &nbsp Posted: 11/08/2021 11:09:38
---
---
---
Connie Reinhart
What a delightful catch! (I think you paid that squirrel a bag of peanuts to pose for you.) I wouldn't change a thing. &nbsp Posted: 11/15/2021 14:22:35
---
---
---
Gavin Tow
I have a squirrel that has a nest in my trees in the front yard. We sort of ignore each other now.
I like sharpness of the squirrel. I didn't count all the triangles but it's a lot ! I wouldn't change anything on it.

&nbsp Posted: 11/21/2021 18:06:30
---
---
---
Barbara Kuebler
Your squirrel is certainly the center of attention here. The image is nicely exposed and the green and rusty brown colors compliment each other. &nbsp Posted: 11/27/2021 15:13:20
---
---
---
Walter Ross
Best use of triangles! Great catch, literally! Love this and would not suggest a thing! Thanks so much for sharing this delightful photo! &nbsp Posted: 11/29/2021 13:04:09
---
---
---