Henry Heerschap
---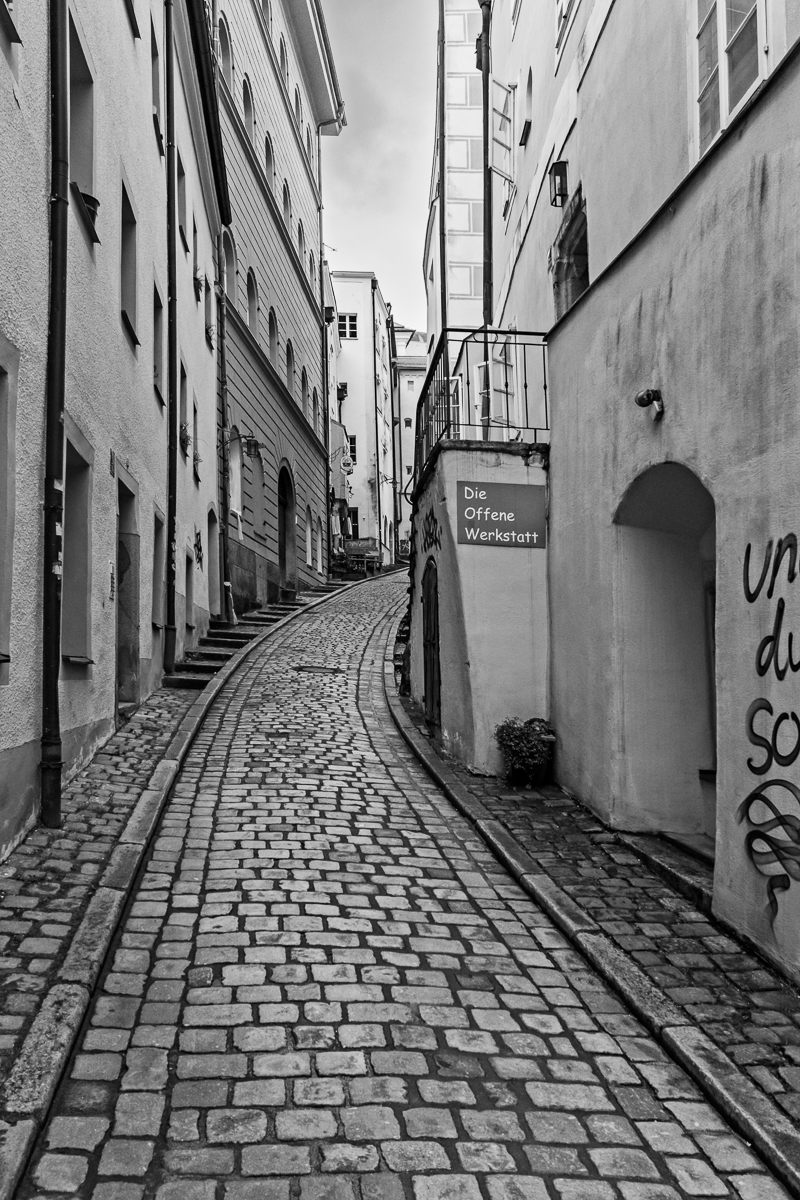 May 2022 - Passau Street
Original
About the Image(s)
My wife and I recently returned from a trip to Europe, including a river cruise along the Rhine, Main, and Danube rivers. Passau, Germany is along the Danube right on the Autrian border. It's a wonderful little town full of twisty little cobblestone streets like this one. Even though the town was swarming with tourists, I was able to wait until this particular street was empty and snap off a few images.
Cropped and straightened in Lightroom. I applied the B&W 09 profile as well as some exposure adjustments, noise reduction, and sharpening. I then took it into Photoshop for some dodging and burning.
Sony A7 IV, Tamron 28-200 f/2.8-5.6 lens, 28mm, f/11, 1/640 second, ISO 6400, shot handheld.

---
7 comments posted
---
---
---
Allen Tucker
Anyone confused by earlier versions can thank webmaster Tom Pickering for cleaning up my mess. &nbsp Posted: 05/06/2022 13:54:34
---
---
---
Jim Hagan
I like your conversion and the composition and leading lines are great. Wonderful image. I wonder if the German words should be cloned out. &nbsp Posted: 05/06/2022 14:39:06
Henry Heerschap
Thanks, Jim. I debated about the words but decided that I liked their location plus reinforces that this is a place other than my home.
By the way, the sign is for a gift shop and the words translate as "The Open Workshop". &nbsp Posted: 05/06/2022 16:24:11
---
---
---
Allen Tucker
Old streets impassable for cars are very appealing, a couple pedestrians could have added some life to the stones. Did you consider eliminating or including fully the graffiti on the wall? &nbsp Posted: 05/16/2022 17:58:43
Henry Heerschap
I thought about removing it, but decided that only including some of it turned it into symbols. I cut it off in the original photo. Should I clone it out altogether? &nbsp Posted: 05/16/2022 18:19:00
Allen Tucker
I can read German, so spent some attention trying to figure it out. Without that knowledge I probably would have ignored it. &nbsp Posted: 05/17/2022 17:46:24
---
---
---
Jim Bodkin
Great image, Henry.

I like the openness of the scene vs a people-clogged alley, but 1 or 2 people would have added to the interest and scale.

I first thought that the graffiti was a distraction, then considered the blankness of it being a bare wall, and finally ended up liking the graffiti there as a statement of the times.

Your patience was rewarded with a great image for your memory collection.

&nbsp Posted: 05/23/2022 16:38:49
---
---
---
Please log in to post a comment