Peter Hornbostel
---
November 2021 - Migrating Cranes
Original
About the Image(s)
Being on a photo trip with some photo guys on Darss/Germany, we could observe thousands of cranes coming back from Scandinavia. This place is a favorite rest on their long way through Europe to the south of Spain. In the evening they are flying back to places, where they are suppposed to be sure while sleeping – on some islands spread around. You may see them in the dawn – thousands and thousands in groups. There is one thing, cranes hate: humans. If they won't have a distances about 200 yards, they will fly away. Of course everybody want to take pictures. You'll see big lenses all over. This is a challenge anyway, cause the light is poor and the distances long. But rangers will keep an eye on the behavior. It's strictly forbidden to go in restricted zones. In daylight they are searching fields where they can take food, mostly rests of corn, they will keep distance (200 yards). If you want to take them, only out of the car (no enemies!).

This picture was an overflight of a few cranes. Taken with Canon R5, F/8, 1/800 sec. and ISO-1000. The lens had been rented: Canon 400mm 2.8 with double converter. I have experienced for the first time how accurately the AF works once having picked up the object – unbelievable. It follows every stroke of the wings.

I like the colored picture too, it's a good evening mood with black clouds. I decided to convert it to monochrome too, because the colors are poor.
---
6 comments posted
---
---
---
Henry Heerschap
I love the way you caught the birds in formation and the way they follow the line in the clouds. I do feel like it's darker than it needs to be. I've taken it into Photoshop, added a levels adjustment and moved the right pointer until I got a white point. I also flipped the image horizontally to have the cranes fly left to right. For whatever reason, that appealed to me more. &nbsp
Posted: 11/04/2021 14:22:08
---
---
---
Peter Hornbostel
Thank you much, Henry! Indeed, there is certainly a better line for the movement from left to right - according to the way we are reading stories. But I appreciate the dark. It's typical for the flight to the resting place - evening. Surely dued to the emotions I had taking this photo, a very personal feeling. &nbsp Posted: 11/04/2021 21:38:49
---
---
---
Jim Bodkin
I think that you captured the moment of action, Peter, with good composition, focus and overall exposure.
Most nature photographers I know would recommend your original orientation (facing left) so when most are viewing (in the same direction that they normally read: left-to-right), they will 'see' the head first, not the butt. Unless the composition is very unusual, I will always try to do this.
I like the overall exposure (darker skies), but felt the birds themselves could have a little more definition, without appearing unusual. In PS ACR I increased the shadows 20% and processed the image through my new best friend Topaz Sharpen AI (maybe too much sharpness!).
Your thoughts?
&nbsp
Posted: 11/10/2021 17:37:33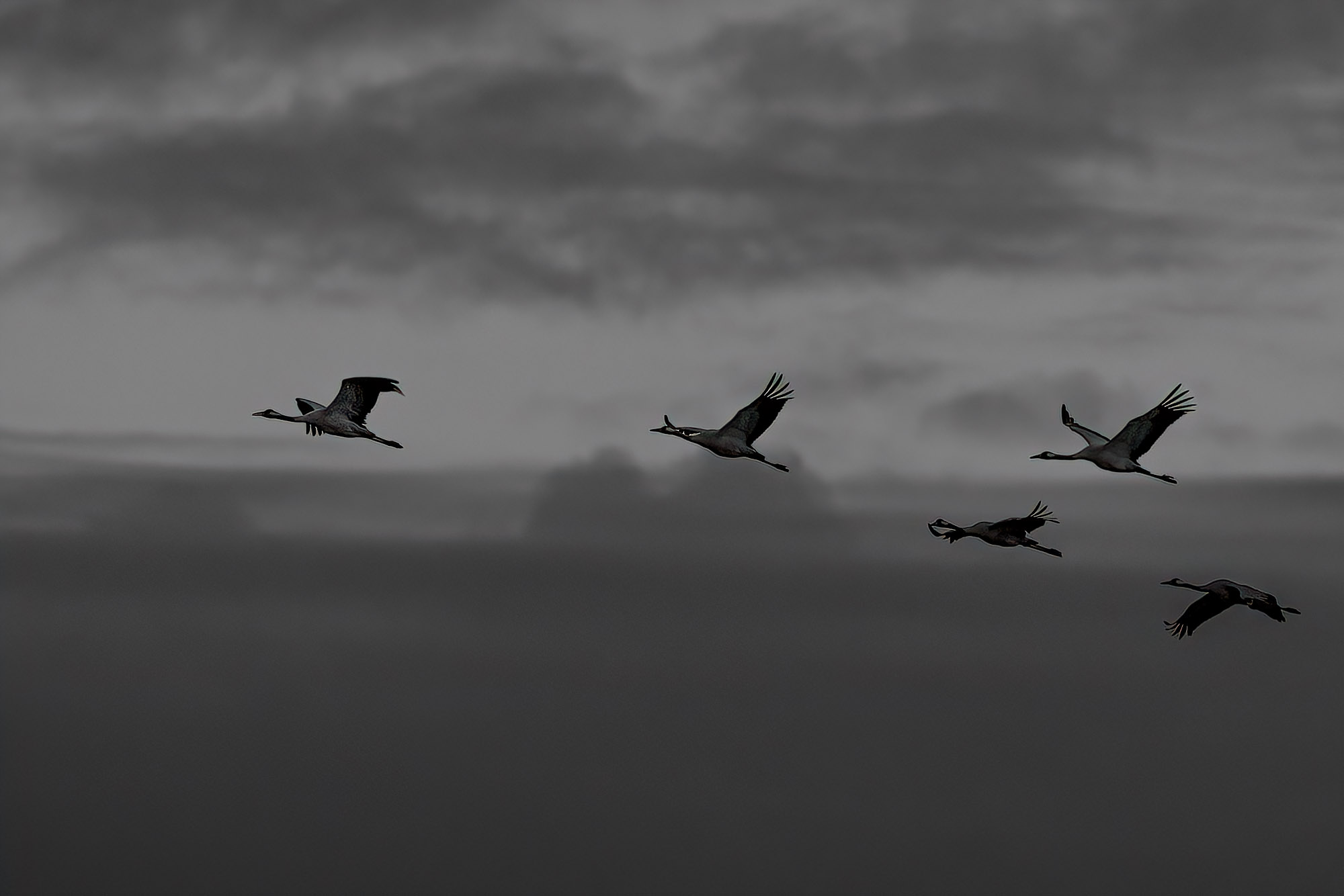 ---
---
---
Peter Hornbostel
Jim, I think the direction should be part of a story. In this case I can agree to the comment of Henry - good as well. Something new. It is correct, that as non Asian eye will follow left to right. And I want to see the eyes first. If you can. If not, the action may define the direction. For 60% I would prefer right to left.

As I first saw the photo, I was a little bit disappointed. reason was, that I could not see any detail of the birds. No wonder in this situation. More ISO wouldn't help, because the whole picture has only one basic tone and bringing out noise will destroy the view. So the camera can not take so much details in the dark.

With the second view I created a new photo. Show the outlines of the birds. One reason for monochrome conversion. Disadvantage is, that the blue will darken the picture much more than wanted. I think the photo is a good intension, but you can't get more out of it. A little more light intensity would be good.

I've heard about the tool Topaz Sharpen AI but I do not have it in use. The result is really phantastic, but just a little bit oversubscibed. Just for other applications I will keep this possiblity in mind! Thank you for your comment!
&nbsp Posted: 11/11/2021 04:36:44
---
---
---
Jim Hagan
I like your image and your composition. My only suggestions would be to try reducing the noise level of the background. &nbsp Posted: 11/14/2021 19:18:25
---
---
---
Allen Tucker
A successful capture of birds in flight requires a skilled photographer - especially in low light. In the low resolution rendering we see of Jim B's sharpened version there are bright halos at the edges of the wings that should be removed if present in the final image.

Interesting dialog on choice of direction. &nbsp Posted: 11/16/2021 14:00:41
---
---
---
Please log in to post a comment