Jim Bodkin, APSA, PPSA
---
September 2021 - Across Boyd Lake to the Rockies
About the Image(s)
In 2010 while visiting friends in Loveland, CO, I walked to their backyard to photograph the morning sun illuminating the Rocky Mountains across Boyd Lake. I was hoping for a spectacular shot with brilliant colors, but was disappointed with the muddled shadows and muted color. I thought that maybe I could process it into a good monochrome someday. I just watched a Tim Grey webinar on improving B&W images with LR Classic only, and wanted to try his 6 Stage technique using the profiles built into LR Classic on this long-waiting image.

The color image shown had some image clean up and Topaz DeNoise AI and Sharpen AI applied, but no other adjustments so as to have a good starting point. Tim Grey's process is to open the image in LR Classic and 1.) Open the Develop Module, and in the Basic panel, change from COLOR to B&W. 2.) Go to the Profile Browser, click the Grid View and select the Monochrome/B&W profiles and by hovering over each, choose the best one for your image [after down selecting to four, I selected the B&W Orange filter and decided on 97% amount]. Click the close button to close the filter browser. 3.) Click on the the B&W Panel to open and use the individual sliders to adjust the individual colors adjusting each to taste or use the Targeted Adjust Tool to select an area and move the mouse up/down to control the brightness of that area. Adjust to taste for the image. 4.) Go to the WB (White Balance) area of the Basic panel and adjust the Temp (Blue-Yellow) and Tint (Green-Magenta) sliders to taste. 5.) Set the White point and Black point on the histogram by depressing the Option [Mac] or Alt [Windows] key in the normal manner to set the min and max levels. Then use the Highlight and Shadows sliders to taste. 6.) Adjust the Dehaze (coarse adjustment), Clarity (medium adjustment) and Texture (fine adjustment) sliders to taste for the image. That is the process I used for the final image. Plus using the Brush tool to brighten the trees on the left-hand side.

I wanted to try this method as it is much different from my 'normal' method where I click on B&W, select monochrome and then go to the B&W panel and move the sliders or go to the Targeted Adjust Tool to taste, sharpen and maybe use the Brush tool to dodge and burn. While more involved and time consuming, the results are much better.

What are your thoughts on this method, especially since NIX Silver Efex Pro may not work on newer versions of the operating systems.

Image captured with Canon 7D Mk I, Tamron 18-270 mm lens at 109mm, 1/50 sec at f/22 and ISO 1250 on a tripod.

---
8 comments posted
---
---
---
Allen Tucker
You pulled an interesting mono image from a dull color photo. &nbsp Posted: 09/03/2021 00:07:16
---
---
---
Henry Heerschap
Jim Bodkin
Thanks, Henry. I was wondering if I should have brought out the lakeside trees more. I like your version.

&nbsp Posted: 09/28/2021 01:35:57
---
---
---
Albert Lee
Many photographers would recommend spending not more than 30 minutes in post-processing which I totally disagree. You're very meticulous detail, able to produce the different shades of grey on your monochrone image surely did wonders on an otherwise ordinary photo. I also kept thousands of RAW images in storage in my hard drive, knowing that one day some of them may turn into gems like what you did in this decade old photo. &nbsp Posted: 09/06/2021 19:45:29
Jim Bodkin
Thanks, Albert. I also have a backlog of images waiting for improved skills or better tools to give them a new personality.

&nbsp Posted: 09/28/2021 01:37:37
---
---
---
Jim Hagan
A very nice capture but, to me, very difficult to work with. There are dark areas along the water, little contrast in the mid mountains and very bright areas and little contrast in the mountains. In my revision I have attempted to create more interest by cropping off the bottom reflections and some off the left side so as to feature the mountain peak. In my revision I worked with each area of the image to increase contrast. &nbsp
Posted: 09/19/2021 17:02:32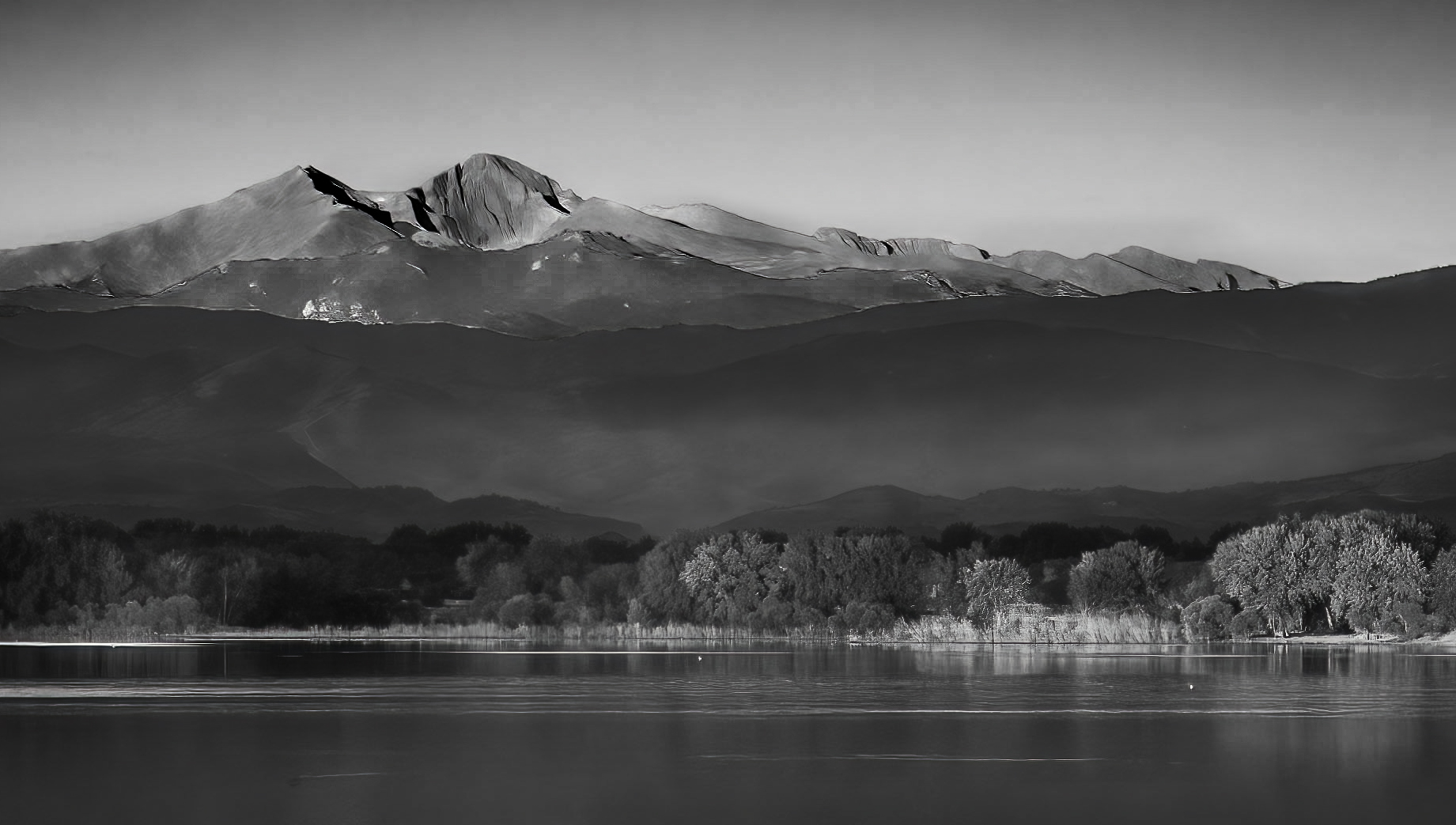 Jim Bodkin
Thanks for your insight, Jim. I always learn much from your 'lessons'.

&nbsp Posted: 09/28/2021 01:39:51
---
---
---
Allen Tucker
Cropping off the bright reflection helps the viewers attention flow from bottom to top through the layers of this image. &nbsp Posted: 09/21/2021 13:21:50
---
---
---
Please log in to post a comment