Meredith Bain
---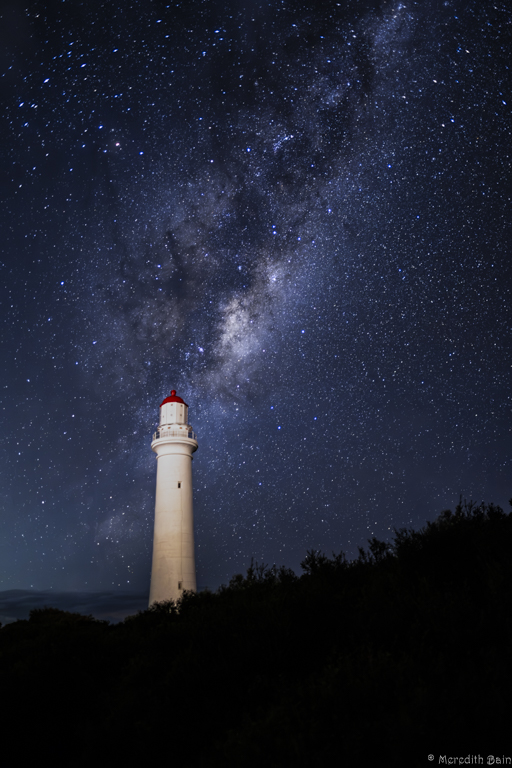 November 2023 - Milky Way, Split Point Lighthouse
About the Image(s)

This is by no means the most in focus Milky Way there is - and it was also a night which had wispy clouds which floated on and off in front of the stars and the lighthouse. I had to be vigilant to make sure the clouds weren't in front of the 'star'☺️ of the show or the lighthouse when taking the shot. This trickiness was also compounded by the fact that the lighthouse was beaming light out to sea and towards the Milky Way every 11 seconds for 4 seconds, giving me only 7 seconds to get the shot without the beam.

The shot here had some glow from the light which I was able to mostly remove using Photoshop's generative fill. For the rest of the editing I used a Youtube video by Adam Williams, Easy Way Photography to guide me - https://www.youtube.com/watch?v=3pFUG2nsaSw I have done and continue to do, some of Adam's course work to learn more about processing my images, especially landscapes.

Fujifilm X-T4, 16mm f1.4 @ ISO 2000, f1.6, 10 seconds, single shot.
---
This round's discussion is now closed!
5 comments posted
---
---
---
Rich Krebs
Great image of the milky way and light house. I will have to checkout the link. Our program tonight is night sky photography. &nbsp Posted: 11/13/2023 15:28:38
Meredith Bain
Thanks Rich. I hope your night sky session went well. &nbsp Posted: 11/15/2023 13:20:17
---
---
---
Diana Duffey
Meredith, this is an impressive Milky Way.... and a very difficult shot! You really captured it well! The lighthouse is a nice addition to your image. &nbsp Posted: 11/15/2023 17:39:55
Meredith Bain
Thank you Diana. I too think the lighthouse adds interest. &nbsp Posted: 11/16/2023 02:18:31
---
---
---
Donna Sturla
Wow, what a beautiful picture of the Milky Way and the lighthouse. Really lovely. Is there any way you could lighten the shadows at the bottom, below the lighthouse, so we could see what's there a bit, and tell where the bottom of the image is? Maybe the shadows slider in Lightroom or Camera Raw could help with that. Just a thought, I don't know how that would look but it's a possibility. Thank you for the link to the YouTube tutorial. &nbsp Posted: 11/16/2023 03:58:27
---
---
---