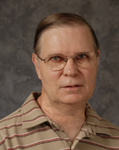 Tom McCreary, APSA, MPSA
I am retired and enjoying my photo hobby. I have been taking photos since my college days, mostly slides at that time. I really fell in love with photography when I saw the magic of an image coming up in a B&W base hobby darkroom at Ft. Sill, Oklahoma in the 1960's. As soon as I could, I set up my own darkroom, and when I married Carol, we combined our darkrooms. Three young kids took too much time and money, and we both kind of got out of the darkroom and serious photography. After the kids were grown, and we got back into photography, it seems like digital photography was taking over, and we started scanning slides or negatives and printing them on an inkjet printer. We never set up a darkroom again, and when Carol passed away, I sold my Epson printer. Now just entering digital images for competitions, and getting photo books made for scrap books.

I am an active member of the Oklahoma Camera Club, and really enjoy the monthly competitions that we have both in prints and digital. However, the COVID virus has kept me away from meetings for the few that they have had. I am switching from Nikon cropped sensor cameras to the Olympus 4/3 system. The much lighter weight of the telephoto lenses is the primary reason that I am switching. So far I like the quality and ease of use of the Olympus cameras. I use Lightroom to view and Photoshop to edit my images. I think that taking slides helped me in my photography, because as you know, what you originally captured is what you had. Now, my digital capture at least usually gives me a good starting point to bring into Photoshop. I am having fun at trying new things in creative EID.