Georges Dormoy
---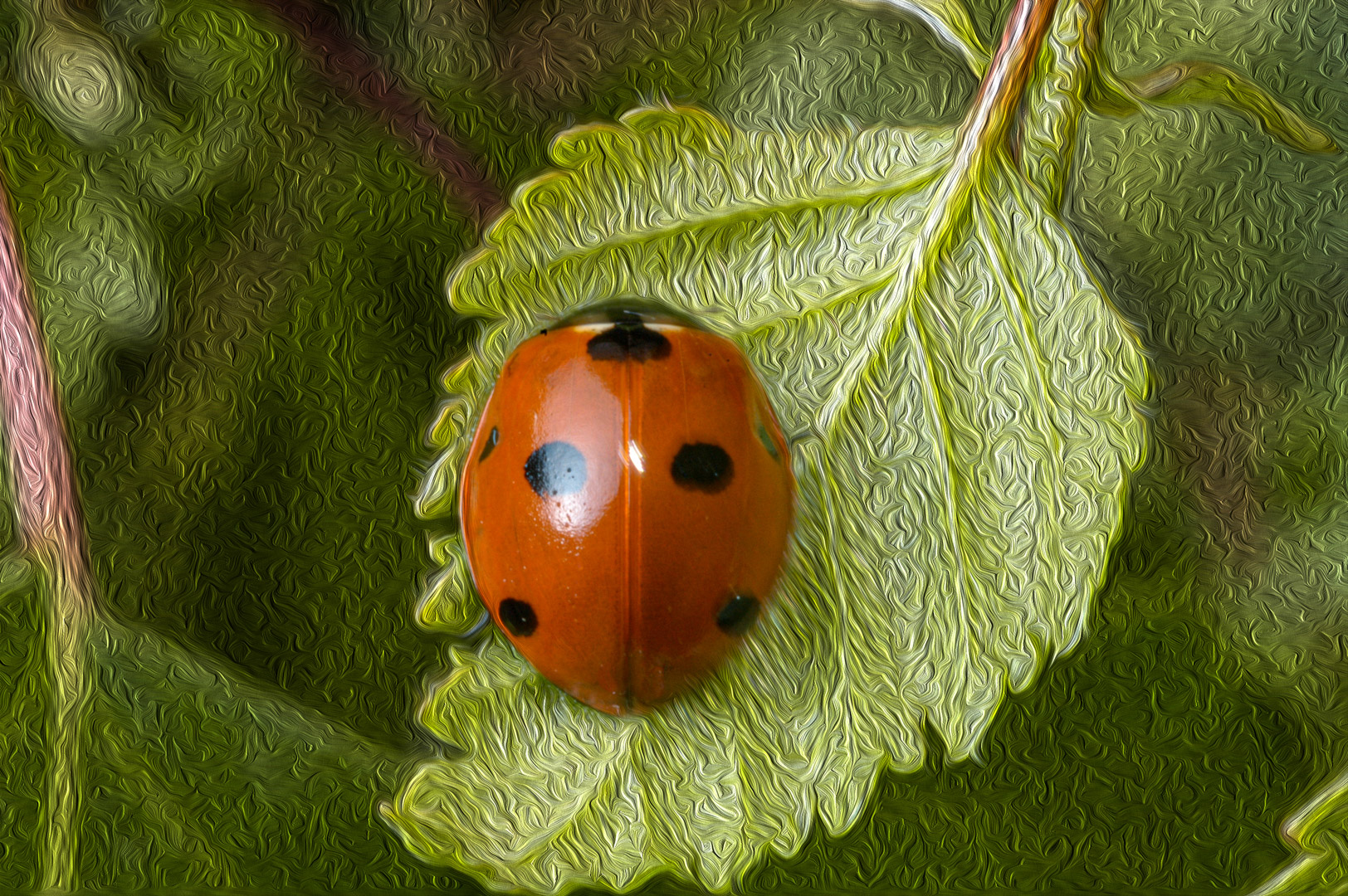 May 2022 - Ladybug Dream
About the Image(s)
This photo was taken with my Nikon D100 using the Nikkor 60mm macro lens and a macro flash (1/60, f/57, ISO 400). One can see the reflection of the left-hand flash on the bug. It was not too difficult to have a good depth of field using such small aperture, even if I take the risk of having chromatic aberration with that f/57 aperture. I hesitated to remove this bright spot in post processing because I felt that it was part of the picture to emphasize on the brilliance of the bug.
This picture would have been very common for me without some sorts of post-processing using Photoshop. So, I used the Photoshop liquify filter to make the surrounding of the bug irreal and also for limiting the impact of some stains I could see on the leaves. What I did is to import the photo in Photoshop, created a duplicate layer in which I used the liquify filter. But of this layer I erased all the area showing the bug and let show only this area from the original layer which is unaffected by the filter. Quite simple to do.

---
6 comments posted
---
---
---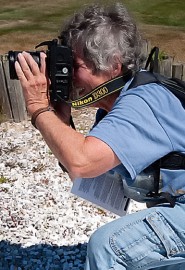 Janet DiMattia
Hi, Georges, This is a very appealing image of the bug and I do like the effect of the liquify filter. I did a small crop to get the bug out of the center and to remove the few distracting areas around the edge of the image. I did darken the bug a bit to somewhat reduce the reflection and darkened the top right area. And I do like the way you left the bug as close to natural as possible even though the whole image is now not a true Nature shot. Nice!
Janet
&nbsp
Posted: 05/09/2022 09:27:31
---
---
---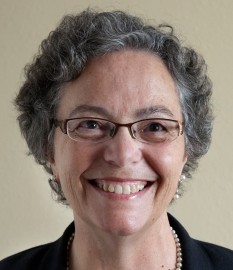 Charissa Lansing
Hi, Georges!
Oh my, Janet beat me to it as I was also darkening and cloning out the bright spots on the shell of the lady bird/bug!
However, I actually like seeing the pale green liquified leaf against a bit more of the darker green foliage as it lessen what I think might be too abrupt of a color contrast with the pale green. I would however crop away those side edges. Although their details provide some lovely framing and convey a sense of depth, they draw my eye away from the main subject. For me, the use of the liquifying filter adds interest and provides a complimentary background in texture to that of the insect's hard, smooth shell. Thanks for this creative shot!

&nbsp Posted: 05/09/2022 13:07:01
---
---
---
Georges Dormoy
Many thanks, janet and Charissa for your comments. &nbsp Posted: 05/09/2022 13:52:35
---
---
---
Dick States
I like the crop Janet made and how she darkened the leaf the beetle is sitting on. I'm not a big fan of that filter in this case. For my eye the liquify is just too much and becomes a distraction to the main subject. &nbsp Posted: 05/14/2022 20:26:52
---
---
---
Georges Dormoy
Hi Dick,
You may be right about the use of this liquify filter. May be too much. In fact I just realised another problem with this filter: It provides a liquified pattern very sharp whereas the bug which was not affected by the filter becomes out of focus and fuzzy when compared with the rest of the picture.
I think that in the future I will slow down my enthusiasm for such effect. &nbsp Posted: 05/16/2022 16:12:11
---
---
---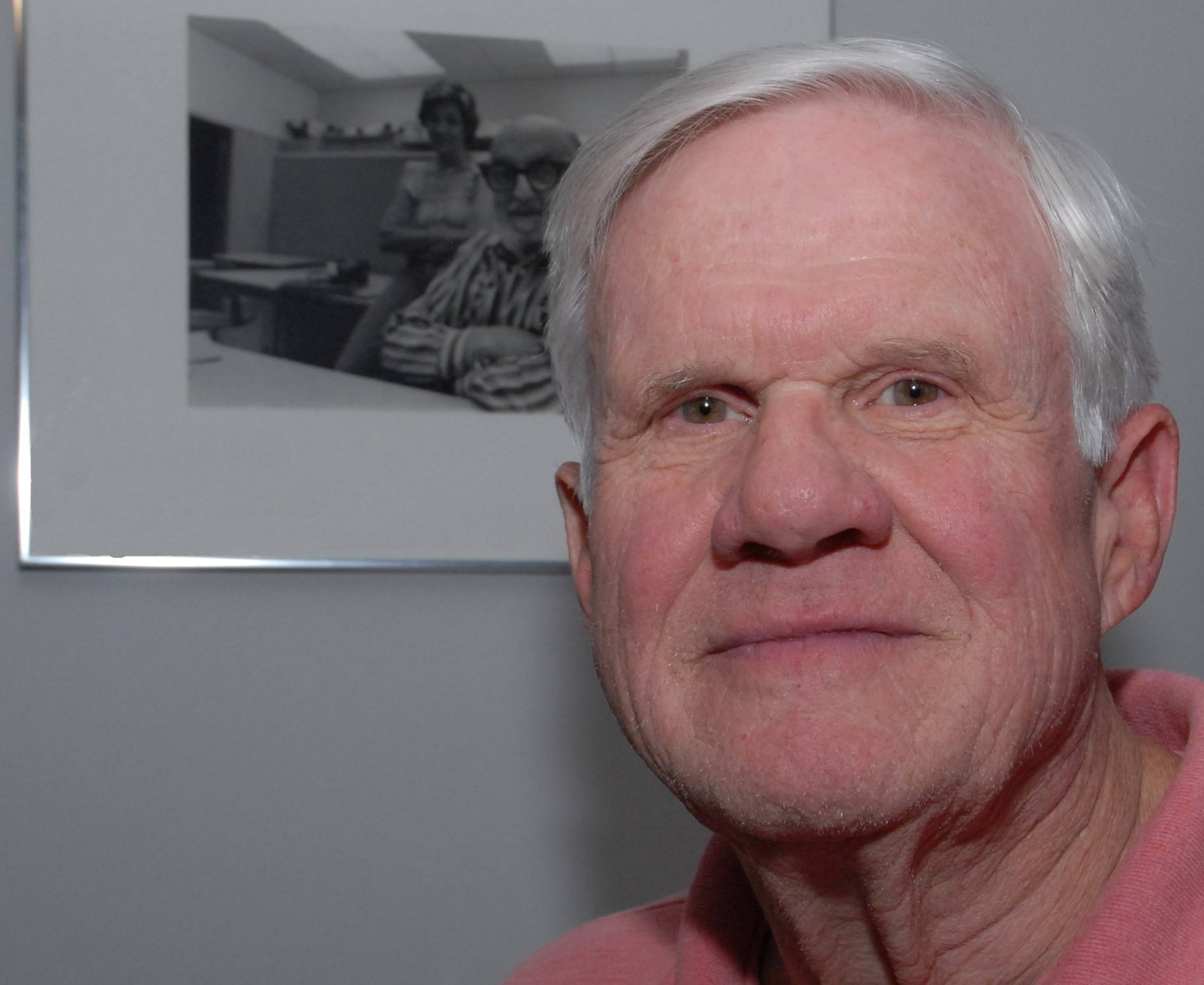 James Silliman
Once again, the liquify filter technique is very interesting. You disguise any distractions in the leaves and bring the viewer's attention to the ladybug. Janet's cropping suggestion is very effective and removing the light spot does not detract from the image. I look forward to seeing more of your liquified images. &nbsp Posted: 05/20/2022 22:19:33
---
---
---
Please log in to post a comment