James Silliman
---
January 2022 - Untitled
About the Image(s)
This image was captured on a trip to Alaska. While photographing Alaskan flora, I managed to come upon a bee working for nectar. Unfortunately, I did not record the type of flower. Exposure information include an aperture of f/22 at 1/125 second. I was using a Nikon D200 with a 60mm Macro lens. I used minimum manipulation in the final image, crop and vignette actuated the image
---
4 comments posted
---
---
---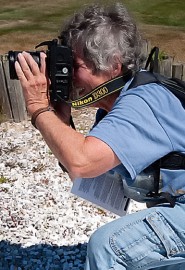 Janet DiMattia
Hi, James.
Good capture of the bee looking for nectar. Since that is the subject of the image my suggestion would be to crop off the top of the to just above the bee. That would leave enough of the flower as the blue tone compliments the color of the bee. That might help to keep ones attention focused on the bee.
Janet
&nbsp Posted: 01/14/2022 08:44:57
---
---
---
Dick States
Hi James.
I agree with the comments Janet made. I too feel a crop would benefit the image. A crop would remove some bright areas and white areas that to my eye are a distraction in the image. I might also do a flip to change the composition.
I have found it best to avoid very bright to full sun light when doing images such as this and close-ups of flowers. This creates too much contrast from being almost blown in the bright areas to little or no detail in the shadows. I would like to see more detail in the bee and less in the flower petals in this image. I feel it's best to shoot these kinds of images on overcast days or use a diffusor so there is less contrast.
I have included a cropped version; I may have cropped a little too much. I also flipped the bee and also brightened the bee to bring out the yellow more.
See what others think. &nbsp
Posted: 01/14/2022 19:51:16
---
---
---
Georges Dormoy
Great picture. But I find the patterns of the blue flowers a little bit distracting above all when they create some shades due to the orientation of the light.
I agree with Dick for the cropping to reduce the upper area of the photo.
I would also suggest some post-processing treatment (lightroom) with a brush to blurr the blue petals and soften the constrast so as ti limit the distraction from these petals. &nbsp Posted: 01/16/2022 11:57:22
---
---
---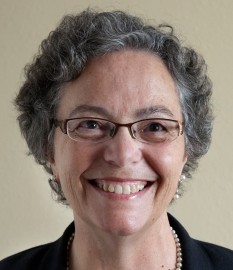 Charissa Lansing
Hi, James.
The lovely color tones and textural contrasts appeal to me and the subject matter of a bee searching for nectar is interesting. Seeing the lighting focused on the bee draws my eye to its details.

I also agree with the idea of a tighter crop around the bee to avoid distracting my eye and highlighting the bee. Dick's compositional and brightening suggestions look good to me!
&nbsp Posted: 01/19/2022 09:45:23
---
---
---
Please log in to post a comment