Tom Chen
---
January 2022 - Amegilla calceifera
About the Image(s)
I was exercising in the park early in the morning, and I found the footprints of the blue-striped flower bee. I immediately picked up the camera to take a picture. It was like hypermotion. I was constantly picking nectar among different flowers. It was really difficult to take a clear picture.
This is shot with nikon Z6 and 24-200mm lens,ISO500 aperture f8 shotter 1/400 second.
---
5 comments posted
---
---
---
Dick States
Great shot. Love the detail in the bee and flower. I'm sure the bee was moving from flower to flower so the wings would be in motion and the wings show motion. Nice lighting and a great background.
I would crop on the right and left sides to remove the light lines which to my eye are a bit of a distraction. See what others think. Great shot. &nbsp
Posted: 01/05/2022 07:33:17
Tom Chen
Thanks to Dick for helping me cut it out to make the whole subject stand out more clearly. &nbsp Posted: 01/06/2022 00:46:33
---
---
---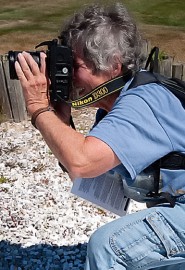 Janet DiMattia
Hi, Tom,
Wonderful capture of the bee and flower! And Dick's crop is also very effective.
You have a lot of nice detail in the bee and flower which keeps my eye circling around the bee and flower. Color tones of the image are lovely.
Janet &nbsp Posted: 01/10/2022 09:24:08
Tom Chen
Thank you Janet for complimenting my work. I didn't use a macro lens or flash this time, and I'm very satisfied with the detail. &nbsp Posted: 01/13/2022 01:03:55
---
---
---
Georges Dormoy
This is technically a very nice picture with sharp details, I can see through this photo the high benefits of Nikon Z6 and the Nikkor lens 24-200mm. I am wondering what focal length was used (presumably 100mm). In this situation I agree with Dick to crop the photo so as to remove some distracting element and made the format vertical, which is more compatible than horizontal for this type of subject.
I am really amazed to see that the subject is all in focus, even with an aperture of f8, which generally does not provide so much DoF. &nbsp Posted: 01/16/2022 11:44:47
---
---
---
Please log in to post a comment