Karen Botvin
---
October 2021 - Havana Falls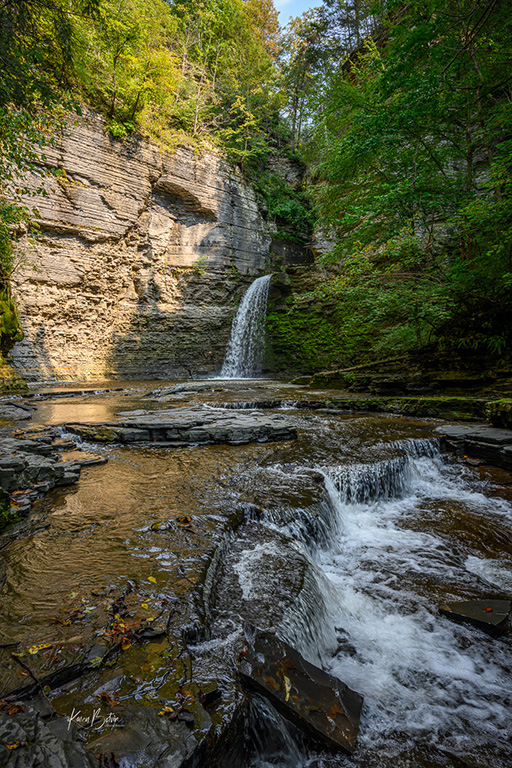 Original
About the Image(s)
This month I'd like to submit 2 different images of the same landscape subject as I am trying to learn more about landscapes and how others view them. It will be a very helpful exercise for me. Both images were taken with my Nikon Z7 and the Z 14-30mm lens. Typical adjustments were made in Lightroom to adjust shadows and highlights and to assign my camera profile. I like both of these images but for different reasons. But I think I now know why folks say to leave your images sit for a while before editing because I find the reason I like these images is closely related to my experiencing the place and how it made me feel. This is an area in the Finger Lakes in central New York state. I am in awe as to what the glaciers have created so many years ago. Please give your honest feedback so that I can consider it as I do more landscape photography.
---
11 comments posted
---
---
---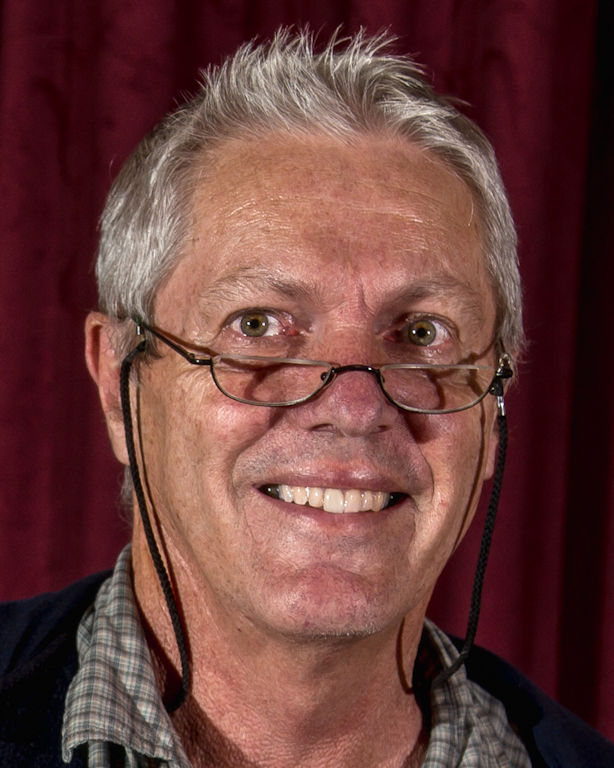 Martin Newland
Hi Karen.
I am not the greatest landscape photographer, but I have been around landscape photographers to know that the direction of the light and the time of day are all important with this kind of photography.
In this case; is there a time of day when the light falls on the falls rather than the rock face? If so that is the time when you should be taking the image.
But as so often happens, you only have limited time at a particular location, then call on photoshop to help.
I would firstly clone out the rope/vine hanging above the top falls, it is distracting. I would darken the rock face (blue area and this might be done in camera using a graduated Neutral Density filter across the top left hand corner) and lighten the water in a triangular area (red area) so that the eye is led up to the top falls &nbsp
Posted: 10/03/2021 18:24:05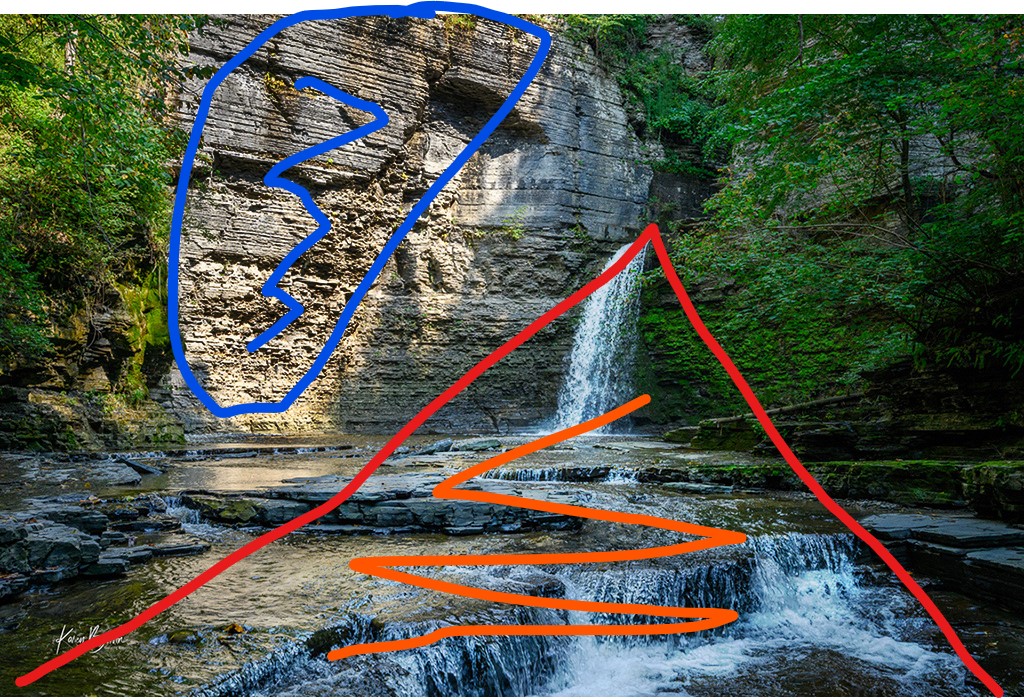 Karen Botvin
Wow, Martin, that is very helpful! I can easily lighten up the water, but I'm not sure how I'd move the sunlight. You are absolutely correct though, had the light fallen on the falls, I would have had a better image. I do have the PhotoPills app, but I really can't figure it out. This place is about 1,200 miles away from my house so another outing will have to wait until next year. Thanks so much for your insight. Any opinion of landscape over portrait versions? &nbsp Posted: 10/04/2021 05:19:06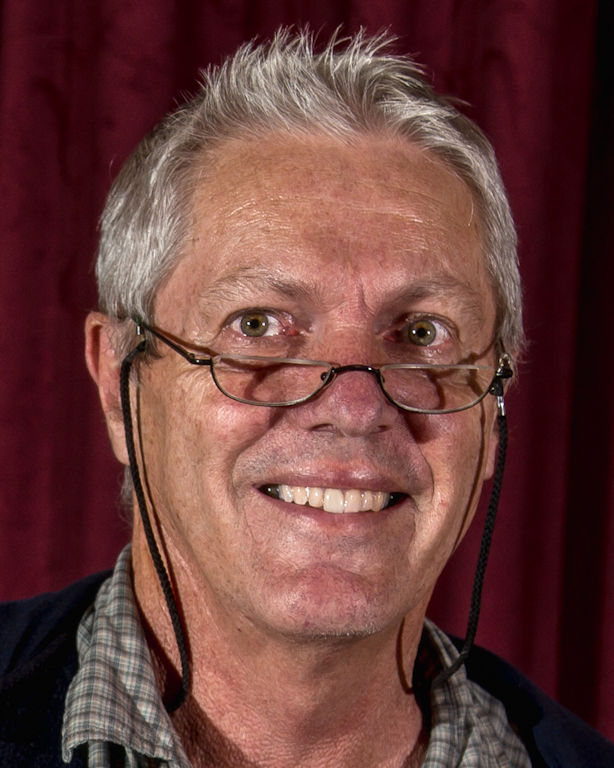 Martin Newland
I prefer landscapes to be in landscape orientation, but that is only my personal preference. There are no hard and fast rules.
I think your second image works well as a portrait. &nbsp Posted: 10/04/2021 07:23:45
---
---
---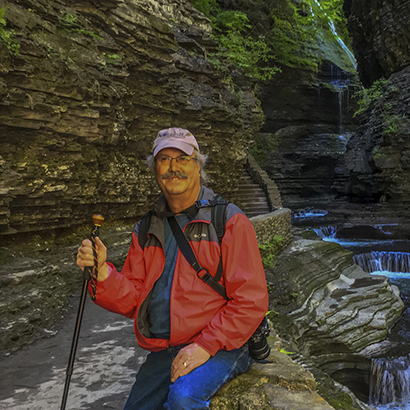 Jim Wulpi
Karen,
This image works well in either Landscape or Portrait mode, but I think I prefer the Landscape mode better.
I feel that a different angle - off to the left - if it's possible to get there - might eliminate the straight on view of the sedimentary rock wall that is very uneven in the way the rock has eroded over the course of years. That in itself is distracting to me. I realize we only have so much control over things, but if the waterfall could be viewed and photographed more "head-on", and the rock wall is viewed as a side wall, the scene could be shot in a completely different way. &nbsp Posted: 10/04/2021 19:59:14
Karen Botvin
Thanks for your observation, Jim. You're correct in that we only have so much control. I was limited by the cable fencing to keep one out of the water. When I took this shot, I had a double subject in mind. I was fascinated by the rock face and I wanted the waterfalls. Practice, practice & more practice. I need to be clear in my subject. With this particular image, I wasn't so sure about the format because what I've read is that if your subject is vertical, shoot vertical. Since, at the time, I also wanted the rock face I shot landscape as well. Since everyone's comments and a bit of reflection, I've changed up the vertical image to something that I believe incorporates everyone's comments, except that it is vertical. Oh and I've also found that the correct name is Eagle's Cliff Falls in the Havana Falls State Park. What do you think? &nbsp
Posted: 10/11/2021 10:38:25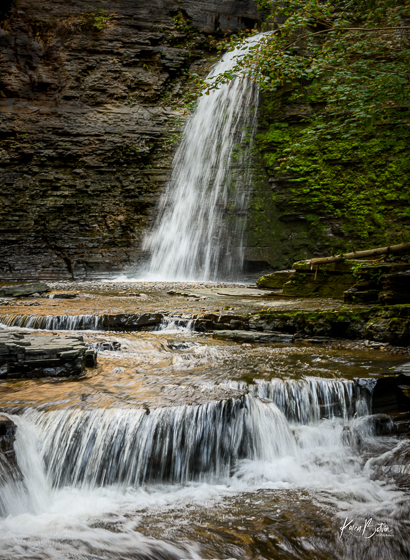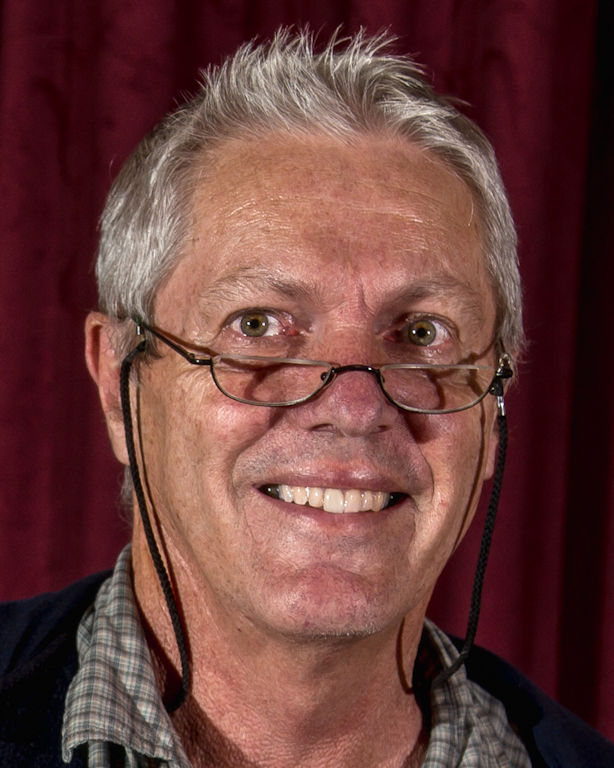 Martin Newland
Karen, I think this is great! It has become a really powerful image with foreground, middle ground and background. Well done &nbsp Posted: 10/11/2021 17:10:15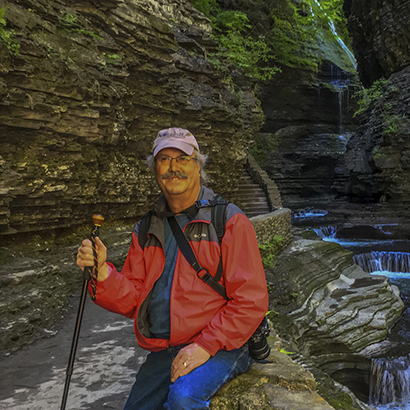 Jim Wulpi
Karen,
Well done. The simplicity of this single element is a much more powerful image. &nbsp Posted: 10/12/2021 21:52:39
---
---
---
Shirley Pohlman
Karen, I believe each of your images will work. On the landscape, I would suggest you crop about half from above the falls and a good portion off the left. That, I feel, will make the two sets of falls appear to be closer together and result in one center of interest. Of course, work on the brightness on the rocks and add some dimension to the greenery on the right by changing some of the tones. I would crop some off the top on the portrait falls. I do like the angle on that for the lower falls. We all have our own opinions of how the water should look. My personal opinion would be to have a little softer than you have by longer exposure. Would suggest that you use polarizer or neutral density filter to help with the brightness. Have fun! &nbsp Posted: 10/06/2021 21:00:08
Karen Botvin
Thank you for your comments, Shirley. I appreciate your insights. I hear you about the look of water. I find it difficult to strike a balance. I don't care for the really smooth look, but I do like to see it a bit softer then I have. Yes, this was hand-held and should have been on a tripod. There was limited walking space on the rock path back to the falls so I didn't bother. Perhaps when I go there again, I will try to find space for the tripod and a polarizer. Please see my comments in response to Jim and my updated image. Feel free to add to your comments. Thanks again, Shirley. &nbsp Posted: 10/11/2021 10:45:02
---
---
---
Jaqueline Whalen
This looks like a really lovely place to problem solve in! Great scouting to find the waterfall. I have to say that both images are good and that the suggestions to change the brightness of the rockface is spot on.

I like the vertical orientation of the image the best. I think that this photograph leads the viewer into the image and down the stream to the pool of water at the bottom right. It makes me feel as if I can almost hear the water flowing and it adds an element of sound to your experience of the image. &nbsp Posted: 10/09/2021 14:43:43
Karen Botvin
Thank you, Jaqueline. Please see my response to Jim. After reflecting on both images and everyone's responses, I re-establishing my subject. I like the vertical orientation as well. Thanks so much for your feedback. &nbsp Posted: 10/11/2021 10:47:36
---
---
---
Please log in to post a comment