Jaqueline Whalen
---
June 2021 - Our Heritage
Original
About the Image(s)
This is a composite of two photographs. I submitted it for an assigned subject with a camera group and it got very bad marks. I wanted to see what you all think of it. I was trying to tell a story with the piece but somehow it did not seem to work. Let me know what you think.

The photograph of the Father and child was taken with a Canon 1D X.
1/1000 sec at f/11
Lens was Canon 28-300
Focal length was 190mm
ISO 400

The Gravestones photo was taken with Canon 5DS R
ISO 200
Focal length was 24mm
1/125 at f/8.0

The work on the photos included cropping, sharpening. Then I layered the two together, changing the opacity of the Father anad Son to allow the othe photo to blend through. I am showing two versions that have a different crop to see which one works the best. My choice is OurHeritage2 jpg.


---
13 comments posted
---
---
---
Shirley Pohlman
Wish I had the something like this for our CC competition this month for motion. I do like the crop of the "original" because it just brings the child in closer. I think the child is so sharp and colors vibrant on either. I love the action of the water movement. I wondered at first about "why a cemetery" until I read your title. I believe your layers have been done well. If you can add a little space to the top, I feel it wouldn't appear so tight but no big deal in my opinion. I do think you have portrayed well the story of the next generation coming. &nbsp Posted: 06/05/2021 14:15:52
Jaqueline Whalen
Thank you Shirley for your comments. You can read below my explanation to Karen about the "back story" of the picture. it has been fun to explore some different ideas and presentations to see what happens! &nbsp Posted: 06/08/2021 10:21:03
---
---
---
Karen Botvin
Jaqueline, I love the action of the father throwing the young boy in the air. You captured the shot at just the right moment, on the boy's way down. As for the crop choice, I like the image that's showcased rather than the one marked original because there is more of the father showing and the image doesn't feel cutoff. As to the gravestones and pool image...it almost feels like mixed metaphors to me. Gravestones are generally quiet, somber places, while the swimming image is happy and carefree. IMO, the two don't mesh very well together. Hope that helps a bit from an outsider's point of view. &nbsp Posted: 06/06/2021 13:31:52
Jaqueline Whalen
Karen, you are correct and I think that is why this photo did poorly in competition. However, it is really a lovely story behind the pictures. The gravestones are my parents and grandparents, and my grandson and his father are able to play so happily because of the cottage that was a part of our heritage from the people in the graveyard. So, not somber at all but very joyful. Probably needed to express it in a different manor. But, I wanted to explore the idea and see where it went! &nbsp Posted: 06/08/2021 10:19:27
---
---
---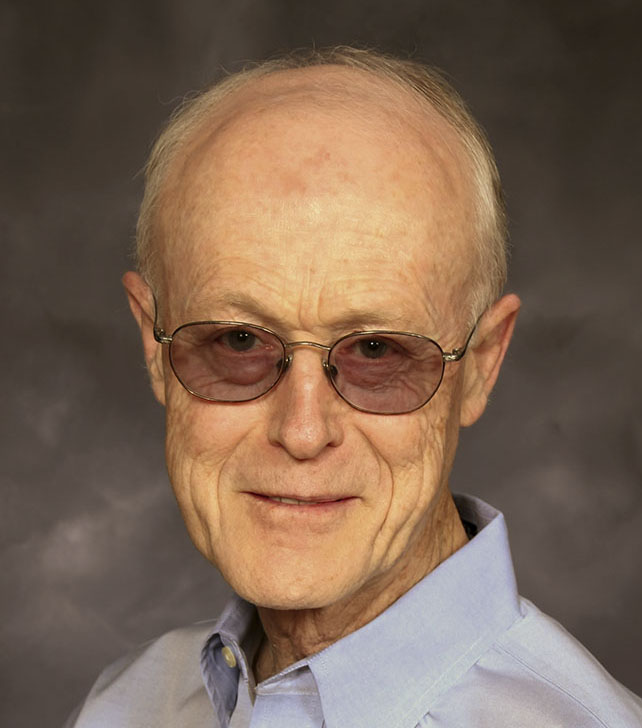 Piers Blackett
Nice image full of expression, and contrast in the story. Also the lighting and capture is impressive I agree with Shirley about it being tight at the top - so adding an inch or so with content aware might work. Since the gravestones are part of the story they don't show well and take a few seconds to recognize what they represent - so I would selectively darken and clarify them slightly. &nbsp Posted: 06/06/2021 19:19:56
Jaqueline Whalen
Thank you for your comments. I had not thought of darkening the gravestones individually to make them clearer. It was difficult to get the correct balance because if I took the opacity of the top photo too low a cross hatch pattern would appear. I am sure there is a way to prevent that but I did not know how. You might have suggested the correct solution. &nbsp Posted: 06/08/2021 10:15:41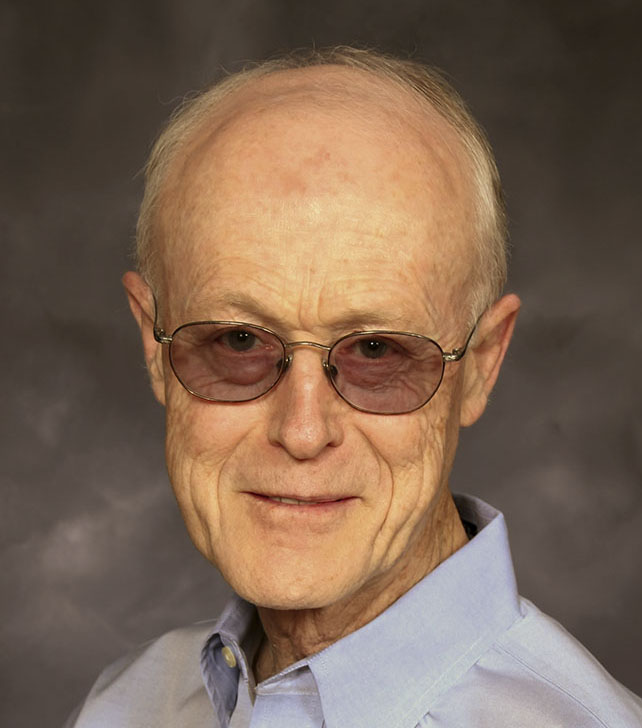 Piers Blackett
Obviously you would know your way around the image better that I would, however I have tested the concept of using masks on your double image (jpeg) to achieve a desired effect. My steps were to create a background layer and to reduce exposure using the camera raw filter, then to use an adjustment layer for brightness/contrast to bring it to the the level you want, then with the second layer of the original I used a brush alternating between black to reveal and white to conceal the background layer. Then I used the crop tool with content aware to to add space at the top. There was a slight problem with the splash over the stones being too dark so used a very small white brush over the mask. &nbsp
Posted: 06/08/2021 14:30:38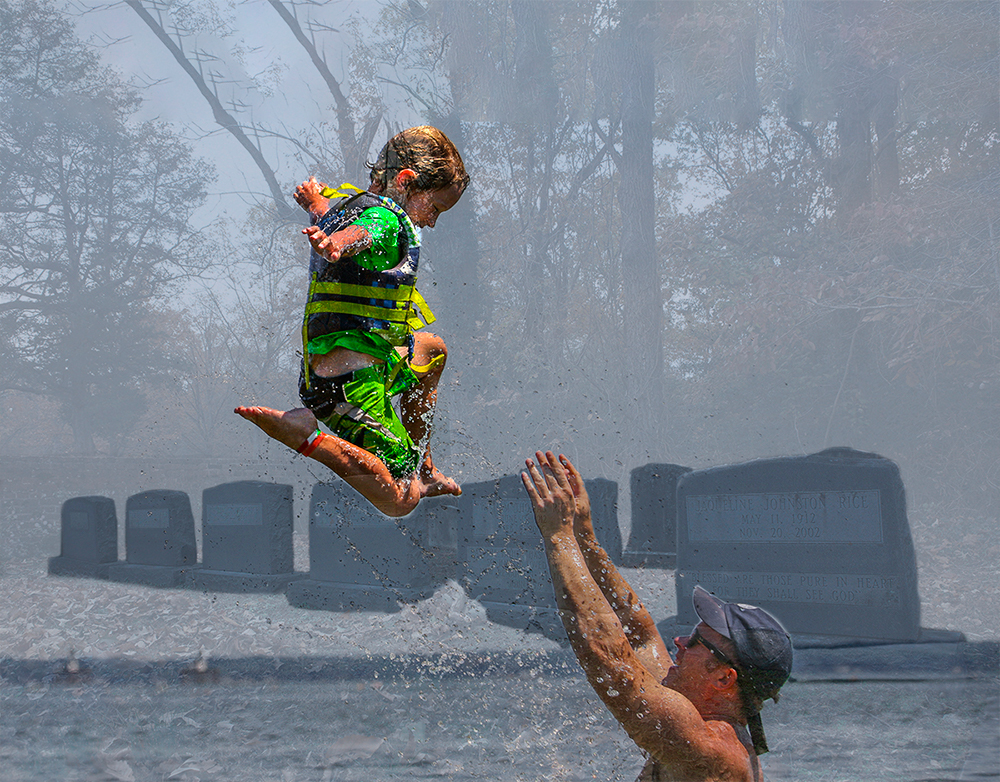 Jaqueline Whalen
So interesting, Piers! Love to see what you have done. I am going back to the image and give it a try! &nbsp Posted: 06/08/2021 15:41:10
---
---
---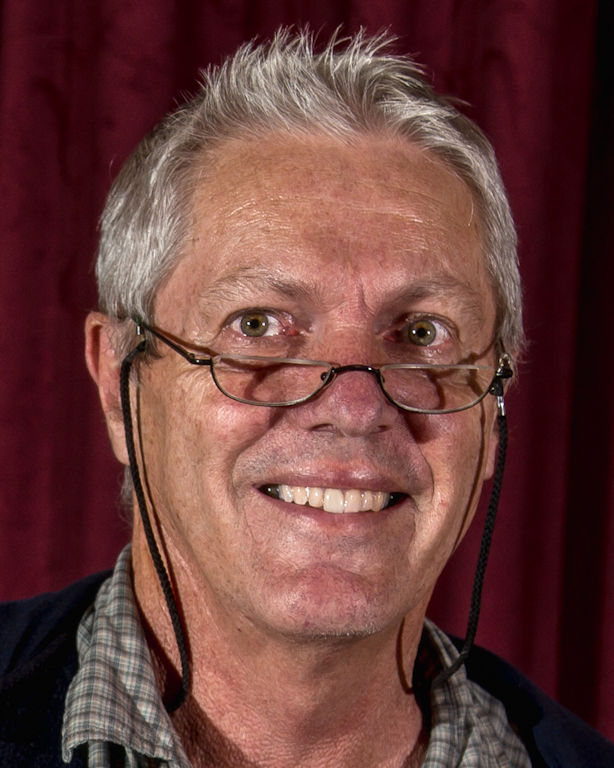 Martin Newland
This is a nice image. It is sharp and there is plenty of action about it.
However, I am confused about the story. At first I thought the image was taken through the glass wall of an enclosed swimming pool with a graveyard beyond. Then I wondered if the graveyard was a reflection as I could see parts of the trees and tombstones passing through the head of the child and the forearm and cap of the father.
I thought the child was jumping into the father's arms, and I couldn't understand why there was so many water droplets surrounding him until Karen's comment that the child was being thrown upwards..... and finally I could not understand why someone would build a swimming pool so close to a graveyard.
As I said; it is a nice image but it leaves me confused! &nbsp Posted: 06/14/2021 19:55:11
Shirley Pohlman
I think perhaps the confusion is in the title. Maybe something like "The Next Generation" or "Family Tree Continues" (branches...." &nbsp Posted: 06/17/2021 14:58:18
---
---
---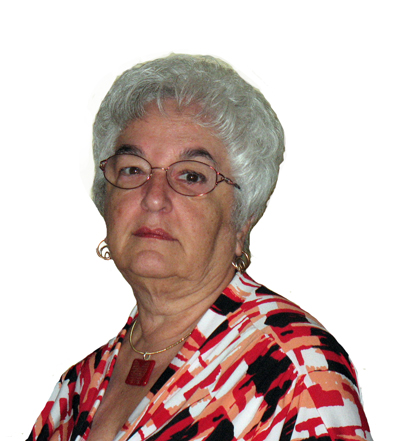 Bev Caine

(Groups 48 & 80)
The image is a wonderful action shot but I find the child a bit over-sharpened. I do find the background choice a bit confusing, which might have added to your poor reviews. I think a better choice might have have been a pool or beach background. &nbsp Posted: 06/17/2021 05:29:15
---
---
---
Jaqueline Whalen
I just wanted to thank you all for the wonderful feedback! I think from the varied responses there would be a different way to portray the story than what I have chosen. Maybe too much of a mixed metaphor and too much left for the viewer to figure out. Anyway, maybe I will take a look around and find a different way to portray the story of this wonderful place that my father left for his family to enjoy. It has been interesting and I am really glad I posted this! &nbsp Posted: 06/17/2021 16:29:16
---
---
---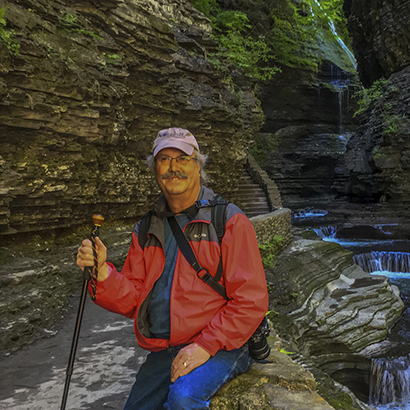 Jim Wulpi
Like the others, I, too, was confused by the disconnect between the joyousness of the father/son making great memories, and the somberness of the graveyard. One is bright and crisp, the other pale and somber.
Your description adds a bit of clarification and artisitc license to this project, but, to the average person viewing this image, not knowing the backstory, it just seems muddled.
I love the effort, though. &nbsp Posted: 06/21/2021 20:41:17
---
---
---
Please log in to post a comment