Sophia Schade
---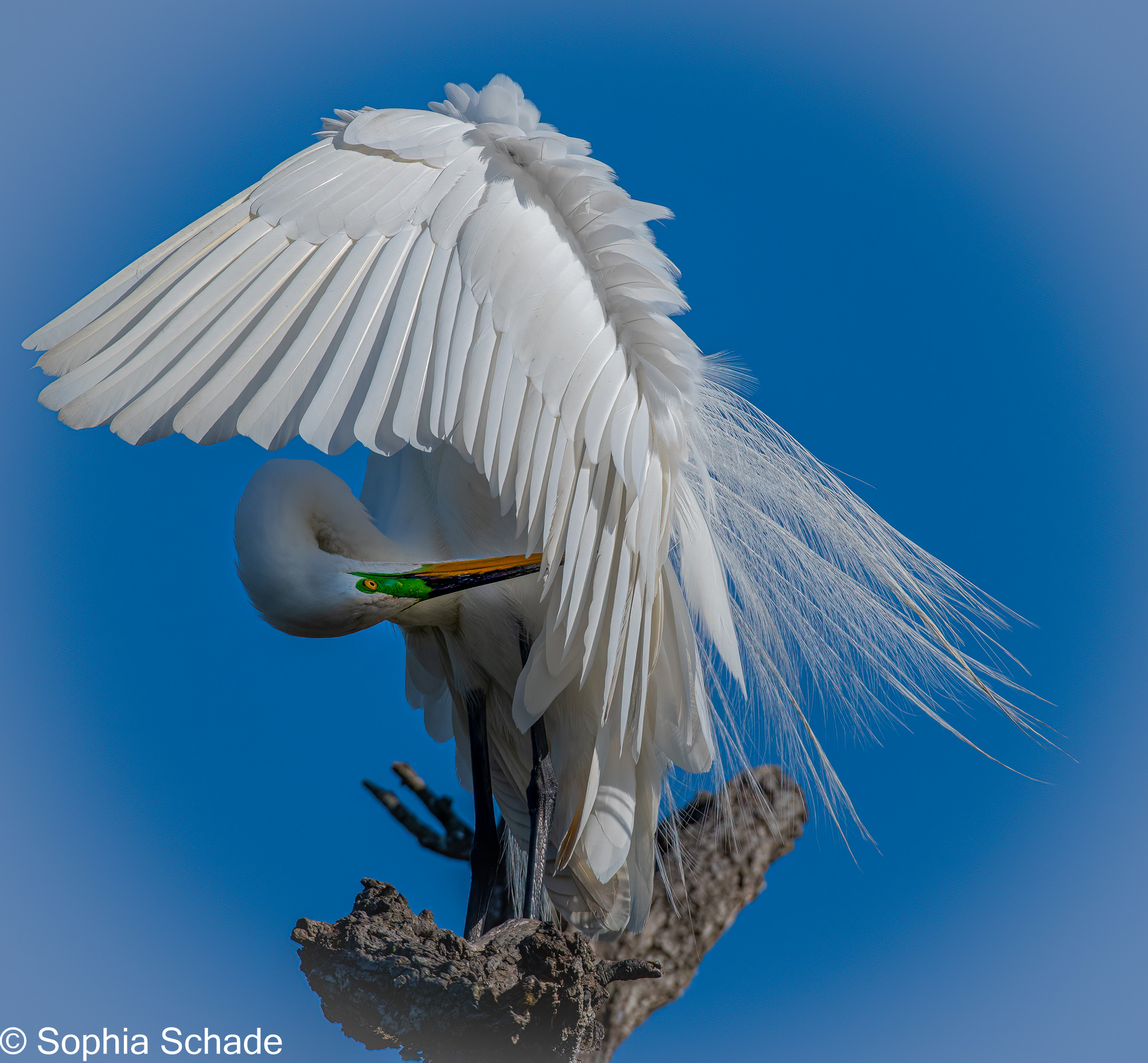 April 2021 - Great Egret Preening
Original
About the Image(s)
Happy spring everyone. As you all know I love bird photography and just returned from the St. Augustine Alligator Farm. During the month of February numerous birds build their nest and in mid-March to mid-April the chicks start to hatch. They have a rookery 200+ nests very close. They offer photographers hours, so I was able to enter the park one hour prior to the public. I took this photo of Great Egret Preening on March 25th 2021. I took about 1000 photos that day of various birds and about 100 of this particular egret to get this one shot. I took this photo 4 years ago when I started to get serious about bird photography and wanted to capture it better.
My settings were as follows: Time taken 9:32 AM (that morning the fog was heavy and it had just starting to clear up). ISO 640, Exposure 1/2500 second at f/8, Focal Length; 450MM Using Nikon D500 and Nikon 200-500MM f5.6, Handheld.
As you can tell from the original photo it was a bit noisy and the white a bit blown out... The goal was to get the photo as clear as possible and have the true colors of this beautiful bird especially the eye during mating season. I did the following post processing:
Step 1 : used Topaz DeNoise AL
Step 2. used Topaz Studio 2 to do the following (Used Dehaze, Used HSL Color Tuning and finally AL Clear)
Step 3 - back in Lightroom to crop and following adjustments..
Reduce exposure to -.53
Contrast+5
Highlights+45
Shadows+45
Whites -90
Blacks -12
Texture +21
Added Vignetting. Also used the brush to bring more light in the eye.
Thank you in advance for all your feedback on how to take photos of white birds without blowing them out.
---
6 comments posted
---
---
---
Jeffrey Pawlan
Sophia, that is worthy of a magazine cover.

I do not think there could be a better photo of a Great Egret.

&nbsp Posted: 04/01/2021 10:49:25
Stanley Selkow
I agree with Jeffrey, Sophia. And I really like that the egret's body is in shadow which makes the wing jump out even more. Brilliant. The only question I have is whether the slim aura on the egret's body just on top of and just below the its beak is an artifact of processing. &nbsp Posted: 04/01/2021 14:20:57
Sophia Schade
Thank you, yes.. I need to slow down and fix it.. &nbsp Posted: 04/15/2021 19:49:24
Sophia Schade
Thank you.. need to fix based on Stanley's and Thorro's comments and will repost. &nbsp Posted: 04/15/2021 19:50:16
---
---
---
Thorro Jones
Sophia what a beautiful photo. The egret's eye and feathers are nice and sharp. I also like how you used Vignetting on the blue sky to further emphasis the bird. My only suggestion would have been to turn on the "Auto Mask" when you used the brush to lighten the egret's head and eye. When you brightened the egret's head and eye the brush carried over into the shaded body feathers on either side of the head. This effect makes the photo look unnatural. &nbsp Posted: 04/03/2021 10:31:38
---
---
---
Andy Pollard
Hi Sophia, wonderful image and i cant add anything to what others have said &nbsp Posted: 04/20/2021 12:54:08
---
---
---
Please log in to post a comment