Matthias Haug
---
February 2021 - The Drumlins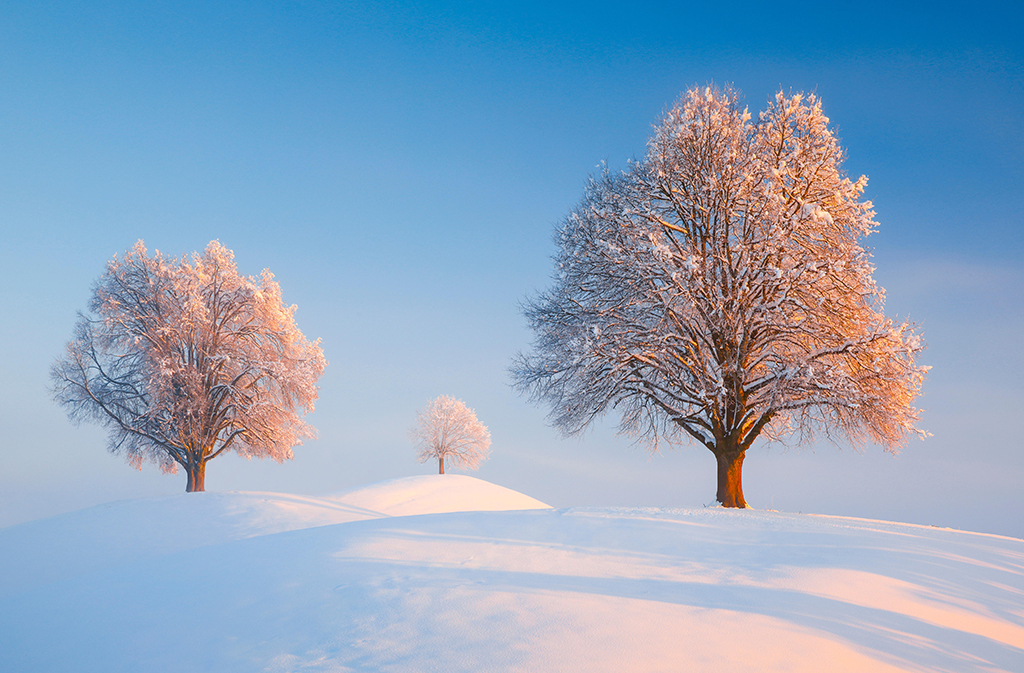 The Drumlins
About the Image(s)
Image Data: Canon EOS 5D Mark IV; Sigma 70-200 f/2,8; 5 sec at f13, ISO 100, ND gratuated filter (soft), tripod
This photo was taken on January 19, 2021 in Switzerland in the canton of Zug. Close to the city of Hirzel is an area with small hills, called drumlins. Linden trees are planted on top of these drumlins. The idea of the picture was finding a position to work out the perfect geometrie of this place (triangle) and to capture the light of the so called "golden hour" in the snowy trees.
The image processing was done with Photoshop. Only slightly increased the contrast as well as brilliance and contrast.
Any suggestions to improve this photo are appreciated.
---
6 comments posted
---
---
---
Thorro Jones
Matthias you did a great job capturing the geometrie of this place. More than that you captured the feeling of peace and quiet of the place. I also like how you captured the warm light falling on the trees and snow. As currently edited all the trees seem to have equal importance. When looking at the photo my eyes are unsure of where to look. If you flip the photo horizontally with the shadows coming in from the bottom left corner your eyes are drawn into the photo and the largest tree becomes the focal point. I think this creates a more dynamic winter scene, see attached edited photo. I also cropped a little off the top of the photo to reduce the amount of the sky and darken the exposure to bring out the texture and warm glow on the snow. However, this is just another way to edit the photo to create a different feeling. &nbsp
Posted: 02/02/2021 09:23:14
Matthias Haug
Thorro Jones
Matthias I love the edits you made to the photo. It makes me wish I could visit this place and enjoy the serenity you captured in your photo. &nbsp Posted: 02/04/2021 13:35:15
---
---
---
Sophia Schade
Matthias, spectacular photo, I wish that i took this photo. I truly don't have any suggestions, Thorro did a great job! Again, Bravo, spectacular!!!!! &nbsp Posted: 02/05/2021 19:59:05
---
---
---
Jeffrey Pawlan
This has a very soft and aetherial feeling to it. You have done an excellent job. Perhaps you could license it to Disney Studios to use in one of their animations.
&nbsp Posted: 02/12/2021 19:08:48
---
---
---
Wanda Krack

(Group 28)
Three hills and three trees.......awesome find! I like your edits, although the original is wonderful too. &nbsp Posted: 02/25/2021 09:20:18
---
---
---
Please log in to post a comment