Stanley Selkow
---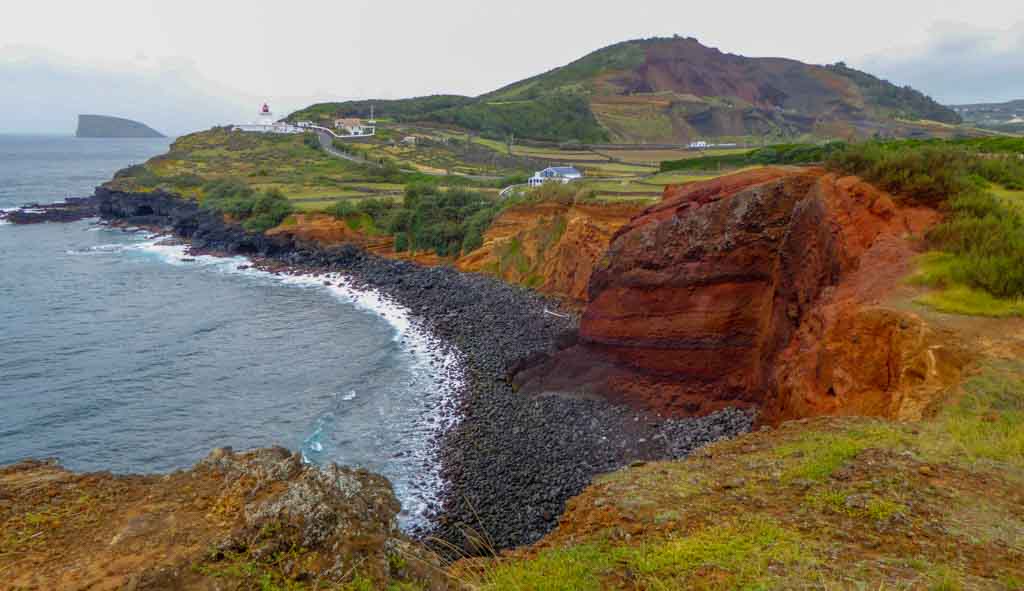 January 2021 - Terceira, Azores
Original
About the Image(s)
I was struck by the red cliff face, and the way it was framed by the greens and browns of the hills and the blues of the ocean and the sky.
The camera was a handheld Panasonic DMC-ZS40. Exposure 1/160 Sec at f/3.3, ISO 100, focal length 4.3 mm
The picture was lightly processed in Lightroom by cropping and rotating to align the horizon. The rocks on the beach were extracted from the shadows.
---
5 comments posted
---
---
---
Sophia Schade
I so wish I was there! I can close my eyes and hear the waves breaking. Very nice photo. Love the composition. My opinion is to crop a little off the right side and if possible open the left side a bit so the rocks don't touch the edge. As a new photographer looking other photos and learning I have learned to watch the edges. One more suggestion is to bring some texture/color on sky. &nbsp Posted: 01/04/2021 08:24:19
---
---
---
Thorro Jones
Stan the colors in this photo are wonderful. I love the reds of the cliff, the greens of the plants and the blues of the ocean. The leading line of the left cliff and the dark beach rocks lead your eyes up to the lighthouse in the background. Cropping the bottom foreground moves the cliff edge closer to the viewer. I just wish that the photo had a greater depth of field. The f/3.3 does not allow enough of the photo to be in focus so I am not sure what I am supposed to be looking at. &nbsp Posted: 01/04/2021 13:49:28
Stanley Selkow
Thanks, Thorro. You inadvertently feed my frustration. Although I've worked in and visited many wonderful places over the years, I've just been "into" photography for about a year. So as I go over my 1000s of pictures I've accumulated from incredible places, I see all the things I'd do differently, and wish I'd had decent equipment (traveling light, and with many students, and in some places where I didn't want to flaunt the wealth of expensive equipment, forced compromises). That's not meant as an excuse, but rather as an invitation to help me learn about what I could have done (and will do in the future) had I the time to view the world differently. &nbsp Posted: 01/04/2021 14:25:16
---
---
---
Thorro Jones
Stan that is what the study group is here for. To help each of us learn and grow as photographers. I have similar issues as you. I have been shooting photos for over 50 years. I even took a few photography classes in college. However it was not until the last 5 years that I have had a high resolution camera and only a couple years have I been shooting my photos in RAW and utilizing Lightroom and Photoshop for post production editing. Needless to say I have a lot of older pictures that are not up to my current expectations. I still have a lot to learn about photography and enjoy the monthly feedbacks about my photos. I try to focus on my current pictures for my learning and growth. Some day I will get to my older photos and treat them with love like the antiques they are.

My only suggestion for you is to look forward and take lots of new photos that satisfy your current vision. You can also look forward to revisiting some of the wonderful places you have been to so that you can recapture images based on your new photography skills. Good luck on this life long journey. &nbsp Posted: 01/04/2021 16:29:10
---
---
---
Jeffrey Pawlan
Beautiful scene. I wonder if the dehaze slider in LR would help with the fog? Or perhaps one of the several HDR programs?

&nbsp Posted: 01/09/2021 11:52:38
---
---
---
Please log in to post a comment