Stanley Selkow
---
November 2020 - Lesser Yellowlegs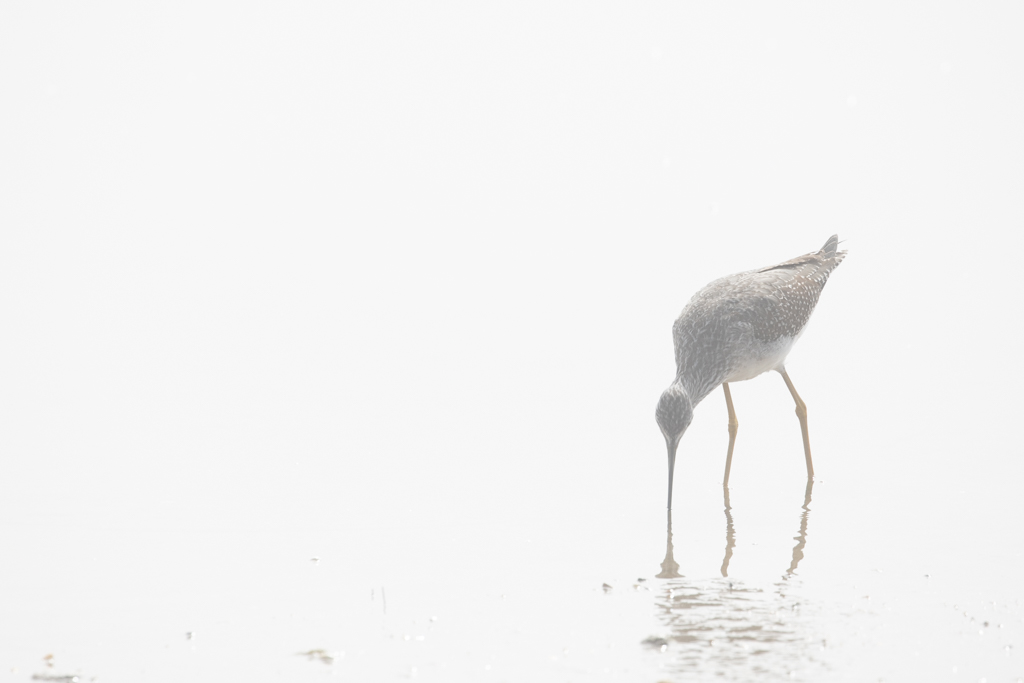 Original
About the Image(s)
The only explanation for the picture is that I'm fascinated by Yellowlegs. They are so elegant that it's hard to take a picture of them that doesn't please me. And, unlike flying dragonflies, they sit there and pose for you.
The handheld camera was a Canon EOS R, with an EF 100-400 f5.6 L IS USM lens. Other specs are ISO 200, 400mm focal length, 1/640 sec at f/7.1. Processing in Lightroom was
-Lens profile corrected
-auto basic settings and auto white balance correction
-serious dehaze (the initial pic shows fairly dense fog)
-cropping
-clarity and contrast adjustment.
---
5 comments posted
---
---
---
Thorro Jones
Stan I like the tight crop and the placement of the bird in the photo. It is perfectly placed for this photo. I also like the warm colors that you brought out in the bird during the post processing. The only thing missing is the bird's eyes to help me feel a connection to it. As shown the photo looks more like a study in form and texture. Have you thought about turning this into a B&W photo? I tried to see what it looked like. What do you think? &nbsp
Posted: 11/09/2020 07:48:30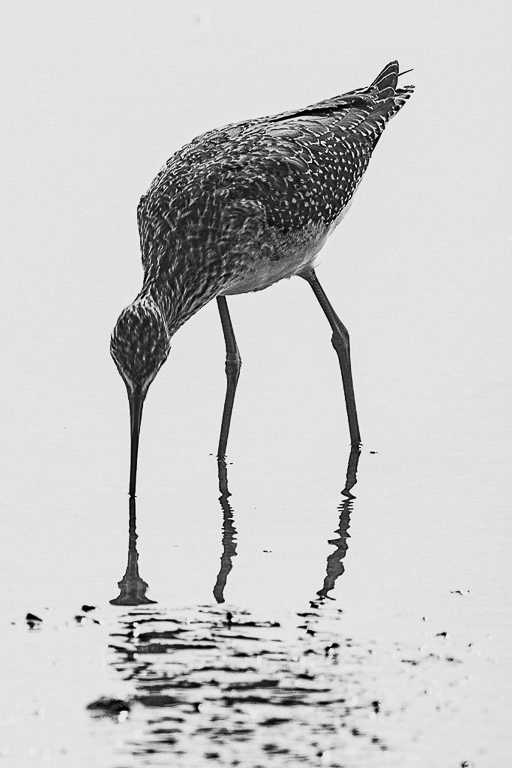 Stanley Selkow
Thorro, I know it's a tradition to praise the edits of other people. But I sincerely really like your edits. Then I come to the meaning of the picture.
-As a birder, the yellow legs of the shorebird are critical,
part of why I'm drawn to the bird.
-As a two dimensional image, I prefer your enhancement
of the tonal pattern.
The many meanings of a picture... &nbsp Posted: 11/09/2020 08:31:45
---
---
---
Else Seligmann
Hi Stanley, like both the colour and B+W versions, but the golden "trumpet" in the reflection at the end of beak tips the balance to the colour version. Love the detail that you managed to capture in spite of the fog &nbsp Posted: 11/17/2020 22:48:50
Stanley Selkow
Else, as much as I've played with this series of pics, I never saw the golden trumpet until your comment. I'm having this picture printed and mounted on a plaque for a holiday present for my son and daughter-in-law, and I'll make sure they see the golden trumpet. Thanks. &nbsp Posted: 11/18/2020 12:23:18
---
---
---
Sophia Schade
Hi Stan
Love photographing this bird. I agree with you the legs are very special. I really can't give you any feedback on how to make the photo better, Unfortunately the conditions were tough. The bird is not sharp and you are not able to see the eye. If you have the opportunity to photography it again. Try to get down to their level and adjust your f stop to f11 so the whole bird is sharp. &nbsp Posted: 11/20/2020 18:25:17
---
---
---
Please log in to post a comment