Sophia Schade
---
November 2020 - Sunset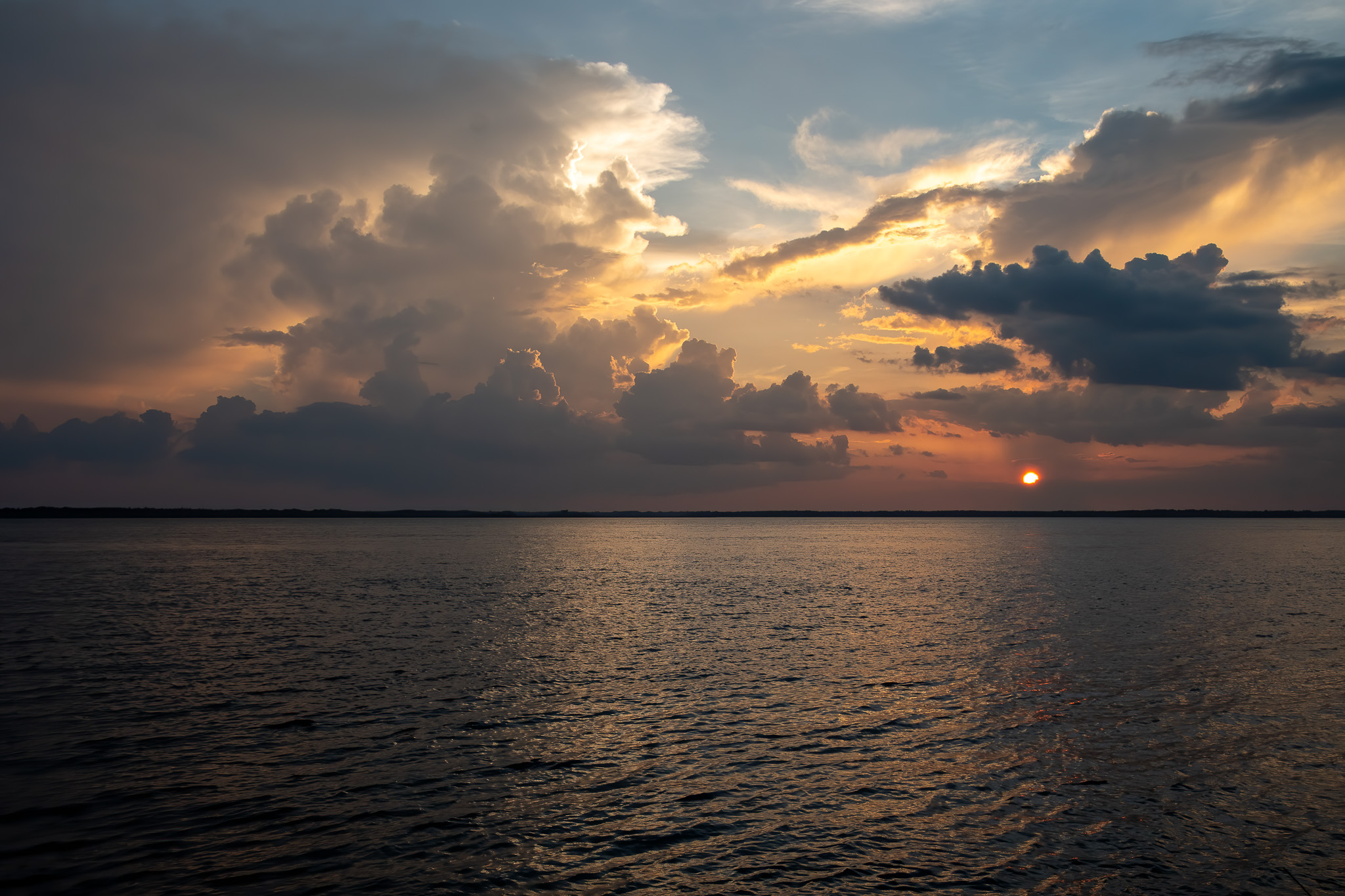 Original
About the Image(s)
This photo was taken on September 2nd, 2020 at 7:4Pm - That day Sunset was at 7:47
Used Nikon D500 ISO 125 Shot at 1/640 sec F9 with wide angle lens Tokina f2.8.
Location - Broad River bridge in Beaufort, SC
I am planning to submit this photo in one the monthly competition in SunCity Club. The theme will be magnificent skies. In your opinion what can I do to make this a better photo?
---
This round's discussion is now closed!
7 comments posted
---
---
---
Thorro Jones
Sophia what a beautiful sunset you captured. You did a great job enhancing the colors in the sunset that are shining off the clouds and water. What a great "hand of God" feeling to the photo. However, there are black lines circling the sun just inside the outer edge that do bother me when I look at it. They make the sun look a little fake. I do not see these black lines on the original photo. Is this something you can correct in post-processing? I know some of the sunset reflects on the surface of the water, but I think there is a little too much water shown in the photo. The real action is above the horizon line in the sun and clouds. I would recommend cropping the bottom edge of the photo just a little so that the bottom rule of thirds line is at the horizon, see attached edit. &nbsp
Posted: 11/05/2020 11:44:55
---
---
---
Sophia Schade
Thorro, Thank you. Great suggestion. I will go back and look at the black lines. I truly appreciate your feedback and i thoroughly enjoy reading your suggestion on each photo. You truly have a great eye. &nbsp Posted: 11/05/2020 19:15:26
---
---
---
Matthias Haug
Sophia Schade
Thank you Matthias for your feedback. I will play with this photo. Yes, I have photographed Long exposure before my fear that night was that the clouds were moving so fast and I wanted the texture in them. Again, thank you for the feedback. &nbsp Posted: 11/08/2020 13:25:21
---
---
---
Else Seligmann
It's lovely to see an impressive sunset with such magnificent colours. The dark cloud on the right looks like a giant hand, drawing one in. You are fortunate to have the topic at your club. I was disappointed when one of our club judges informed us that he would not give awards to photographers of sunsets, sunrises and pelicans! (We took him along on a recent trip, and he deigned to photograph a most magnificent sunrise, and some pelicans). Agree with the "too much water", but sometimes the reflections are such a big part of the picture that I would not consider it a general rule never to be broken. &nbsp Posted: 11/17/2020 22:32:17
---
---
---
Stanley Selkow
Sophia, I have only one new suggestion (beyond those made above). I'd consider cropping the upper about 1% of the photo. There's just the slightest suggestion of a white cloud around the center at top which for me detracts from the overall mood of the picture. And, speaking of mood, I REALLY like your darkening of the bright sky in the upper right of the picture. It offers a tension between the dark region (which had been bright) and the beautiful rest of the picture. In fact, following on Else's comment about the judge who would't reward "just another sunset", that tension puts this picture in another category. Good luck in your competition. &nbsp Posted: 11/18/2020 16:23:28
Sophia Schade
Thank you Stanley, I am still playing with the photo. Once I am done I will share it with everyone. Have a fabulous weekend &nbsp Posted: 11/20/2020 18:10:39
---
---
---