Stanley Selkow
---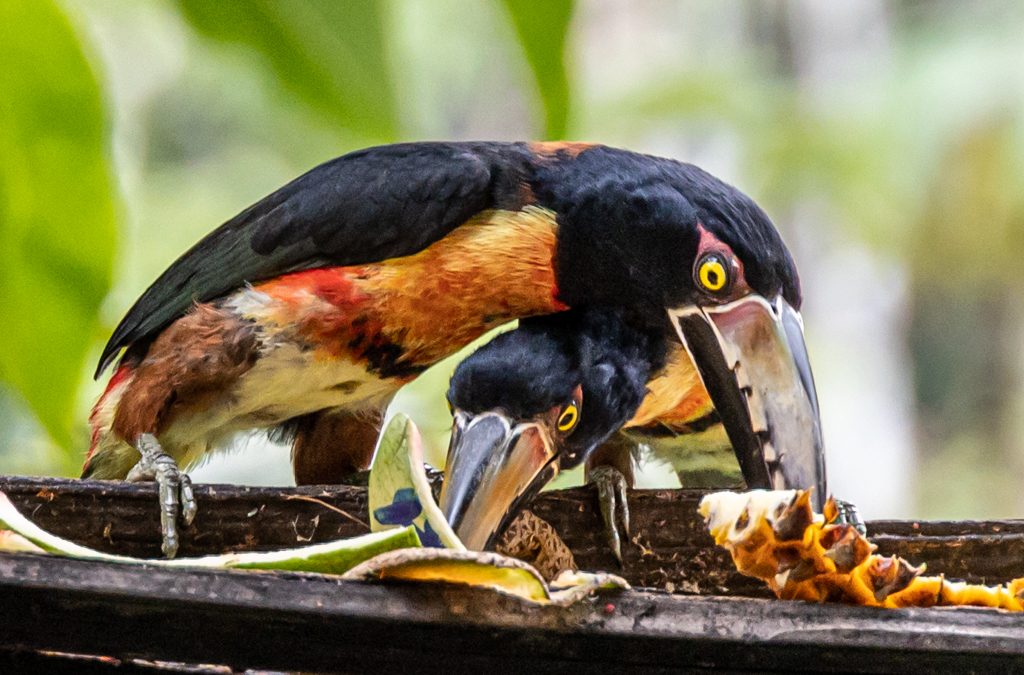 October 2020 - Collared Aracaris in Belize
Original
About the Image(s)
These beautiful birds are exciting no matter what they're doing.
The photo was taken March 13, 2020, just as we were all becoming aware of Covid-19.
The camera was a Canon EOS RP, with an RF 24-240 F4-6.3 IS USM lens
1/400 sec, f/7.1, focal length 213 mm, ISO 2500
The processing, all in Lightroom, consisted of cropping, changing white balance, clarity, texture, and luminance smoothing.
---
4 comments posted
---
---
---
Thorro Jones
Stan I like how you cropped the photo to get a nice close image of the birds and allowed the background to be blurred. The placement of the top bird's eye falls close to the rule of thirds gird. You also did a good job bringing out the bright colors in the bird's feathers and eyes. The only things that bother me are the birds looks slightly out of focus (especially the eyes) and there are some details lost in the black feathers of the top bird. I tried sharpening the Detail in Lightroom; sharpening amount 60, detail 50 and masking 50. See attached edited photo. This helped a little, but the lack of detail may be due to the high ISO. &nbsp
Posted: 10/12/2020 13:35:45
Stanley Selkow
I agree with Thorro about the lack of focus. I wish I were back in Belize to get the pic again! I have 2 more issues with the image, and I'm curious if they could be addressed in the Nature+ category. The less serious issue is that the melon skin between the head of the lower bird and the abdomen of the upper bird is the same color as the leaves in the background. Is there some ethical way to distinguish the hues, or saturation? A more serious problem for me is that the black feathers of the two birds merge (they are the same species after all!). Is there some way to process the picture to "distinguish" their feathers?
One other point to consider with the above issues is that the "hand of man" is clearly present in the fruits in the trough. So this picture would never qualify in a pure Nature category. &nbsp Posted: 10/12/2020 16:03:26
---
---
---
Sophia Schade
What a beautiful bird! Belize is on my bucket list. As beautiful as it is .. I agree with all the comments you have made.
You have a beautiful photo that is not sharp and the two birds are merging together. Some judges take away points for that, to your point it is the same bird. The focus is the big issue. &nbsp Posted: 10/13/2020 15:08:30
---
---
---
Matt Beyer
Hi Stanley. I'm super-jealous that you had the opportunity to shoot animals like this in Belize! The birds and their coloration are really wonderful and make for an interesting composition. I agree that the image would be better if the details were a bit sharper, but I can appreciate how difficult it can be to notice that slight softness "in the moment" and be able to get tack-sharp images of moving creatures.
The only way I can think of to draw out more detail in the feathers would be to try to use luminosity masks in photoshop to preferentially darken and lighten the tones in the feathers to help define where one stops and the next begins. &nbsp Posted: 10/15/2020 16:55:13
---
---
---
Please log in to post a comment