Stanley Selkow
---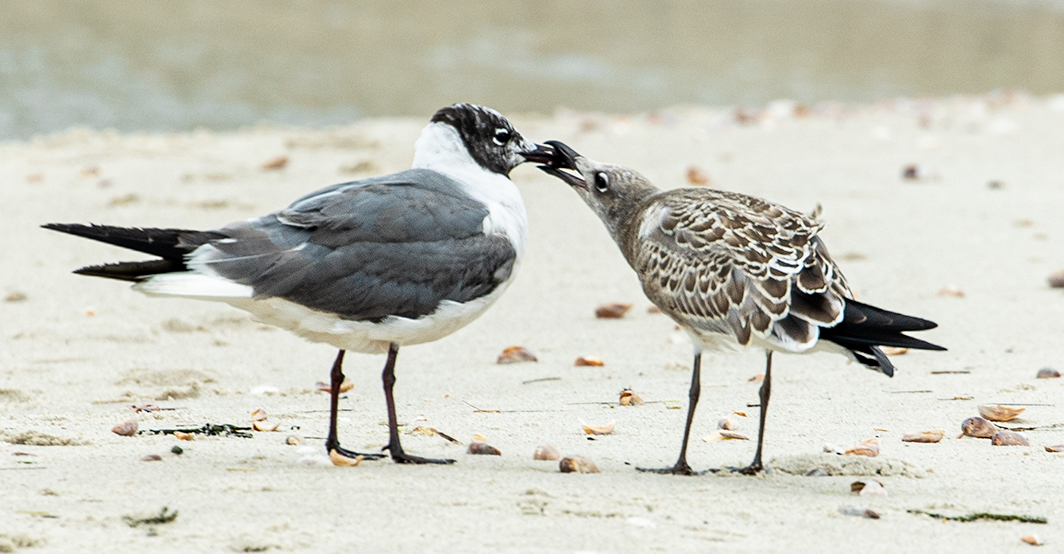 September 2020 - molting Laughing Gull feeding young
About the Image(s)
I find that photographing molting birds helps me understand their plumage patterns.

I took it in a marsh on Cape Cod 8/29/2020 at 9:18 am

It was handheld, and taken with a Canon EOS R with a Canon EF 100-400 F4.5 - 5.6 L IS II USM lens.
Exposure 1/160 at f/5.6 with focal length 400 mm
It was processed in Lightroom by White Balance adjustment to daylight, and then cropped with some
light brush adjustment to sharpen the feathers. Finally it was edited in Photoshop to reduce the
pixel count to abide by the PSA standards.

---
20 comments posted
---
---
---
Steve Sampliner
Hi Stanley. I have found photographing birds to be a true test of focal point determination. Something that still tests my patience. In this composition, I think that you have taken on one of the more difficult layouts in that the bird's heads are farther than their bodies.
The nurturing image is confirmed and highlighted through the neutrality of the background. Its soft natural tones don't cause friction or deviation from the central theme. &nbsp Posted: 09/01/2020 02:00:00
Stanley Selkow
Thank you Steve. What luck that being witness to this nurturing act should also yield some nice images. Stan &nbsp Posted: 09/01/2020 06:40:46
Jeffrey Pawlan

(Group 94)
Dear Stanley,

Very nice photo. I really like it. I also think it is in focus. The problem is the shutter speed was not fast enough for handheld plus a 400mm telephoto lens. That is what I see with the rocks on the ground. I would try a minimum of 1/500sec even when they are not flying. Just let your ISO float. If the animals are moving, then use between 1/1500 and 1/3000 sec.

Best Regards,
Jeffrey Pawlan group 94



&nbsp Posted: 09/10/2020 16:04:21
---
---
---
Steve Moss
Stan,

A couple of stories here. Circle of life, nurturing young in the, but also of the refreshing of a birds plumage. Well done sir.

The focus appears to be just beyond the birds. I wonder if they moved their heads in the action of feeding after you established the focus.

May I ask what focus mode you are using. Did you say you're shooting Canon R?

&nbsp Posted: 09/01/2020 07:14:42
Stanley Selkow
Thanks Steve. I use a Canon R (I'm anxious to hear about your new R5!), and I use point focus - no excuse for the lack of focus on the birds. In fact, one nice things anout gulls is that they're quite slow and stable. My real challenge is my love of dragonflies, especially tiny damselflies which really challenge my AF. &nbsp Posted: 09/01/2020 07:35:33
Steve Moss
Just got the R5 yesterday and also popped for the RF 100-500 f/4-7.1 L IS.

OMW. I got the battery charged up and took some test images this morning. Color me impressed.

There's a lot to learn with the camera, but it's already sharper and better quality images than my 5d m4 w/70-200 mk III.

This may have been my best camera decision since the Digial Rebel so many years ago. &nbsp Posted: 09/01/2020 11:07:33
Steve Moss
Are you using Servo AF? Does the R have Animal and Eye tracking, or is that just on the new one? &nbsp Posted: 09/01/2020 11:08:59
Stanley Selkow
I use Servo AF, and I can't find anything about a "finer" servo, such as Animal or Eye tracking. &nbsp Posted: 09/01/2020 13:25:19
Steve Moss
I think it's a new feature on the R5. I played with it some last evening, and it's pretty cool. &nbsp Posted: 09/02/2020 10:16:23
---
---
---
Thorro Jones
I love taking pictures of the birds at the beach. You do not have to worry about trees and bushes blocking the subject. You did a great job capturing the interaction between the two sea gulls. The blurred background keeps the focus (no pun intended) on the two gulls. Maybe a slightly greater depth of field might have helped with keeping the entire body of gulls in focus. I did notice that you chose to display the two subjects in the middle of the image. I feel that this creates a more stagnant feeling to the image. Since the original photo was not included in the posting I do not know if you have room to crop the two gulls off-center to create a more visually interesting photo. &nbsp Posted: 09/01/2020 13:44:17
Steve Sampliner
The lack of sharpness on the gulls does detract from the image a bit, especially right where the beaks meet. I think that if that was in focus, the impact of the image would increase and firmly direct the eyes to a fixed point.
My feeling on placing subjects in a central position might be bit different than others. The rule of thirds is more of a suggestion to me :). I see the geometry in an image in layers, and sometimes that illuminates something you had not seen before. Layers of triangulation create a central void. If that void is free of distraction, eye movement around the image will follow the triangles again and again, and will want to find the defining point of where movement begins and ends. The black line is dead center. The act of affection caught in the photograph is dead center - the point from which all things radiate from. I would argue that if you move the gulls off frame, the impact of that action would be decreased. And for what narrative value?
Does any of this make sense hahahhaa? &nbsp
Posted: 09/02/2020 00:50:48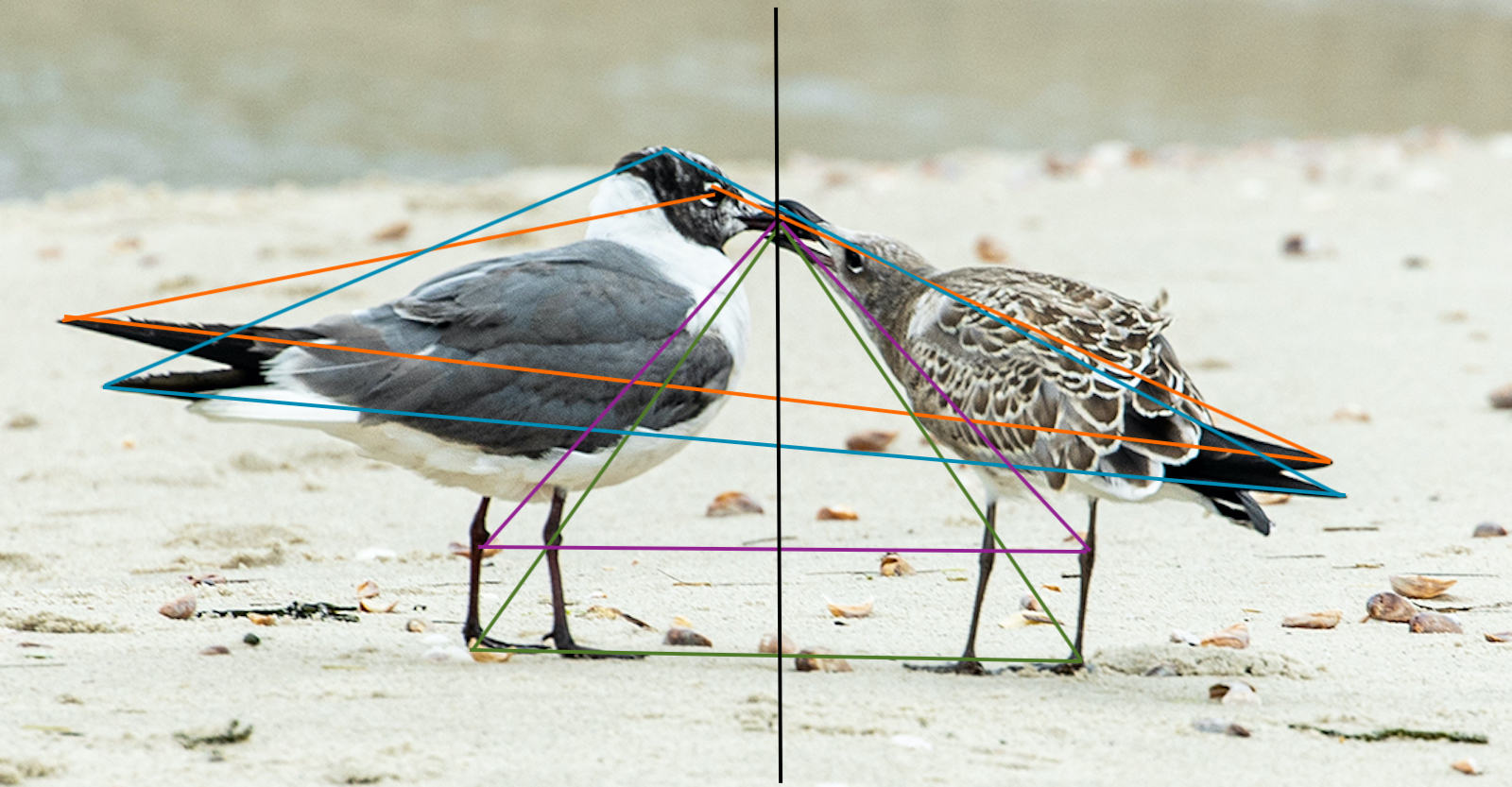 Steve Moss
I am 100% in your camp re: Rules...

I tend to let the subject dictate where in the frame it wants to be.

These gulls are perfect for me.

Any images with live subjects, I check what direction the subject is looking and or facing. The more it's looking to the side, the more to the side I place it. Facing direct at me, it's going to be dead center.

The gulls here work well center frame. With subjects facing each other there's more balance center frame.

But if you look, the eyes, beak, head is still roughy on the top third.

Well done Stan.

&nbsp Posted: 09/02/2020 10:21:56
---
---
---
Stanley Selkow
As a life time educator, I love critical feedback. Of course my ego embraces a smattering of praise (hard to deny), but I deeply hope that the level of criticism/advice doesn't abate. What a great group! How pleased I am to learn from everybody. &nbsp Posted: 09/02/2020 10:32:42
Steve Sampliner
I was thinking the same thing, what a great start to a great group. &nbsp Posted: 09/02/2020 10:37:03
---
---
---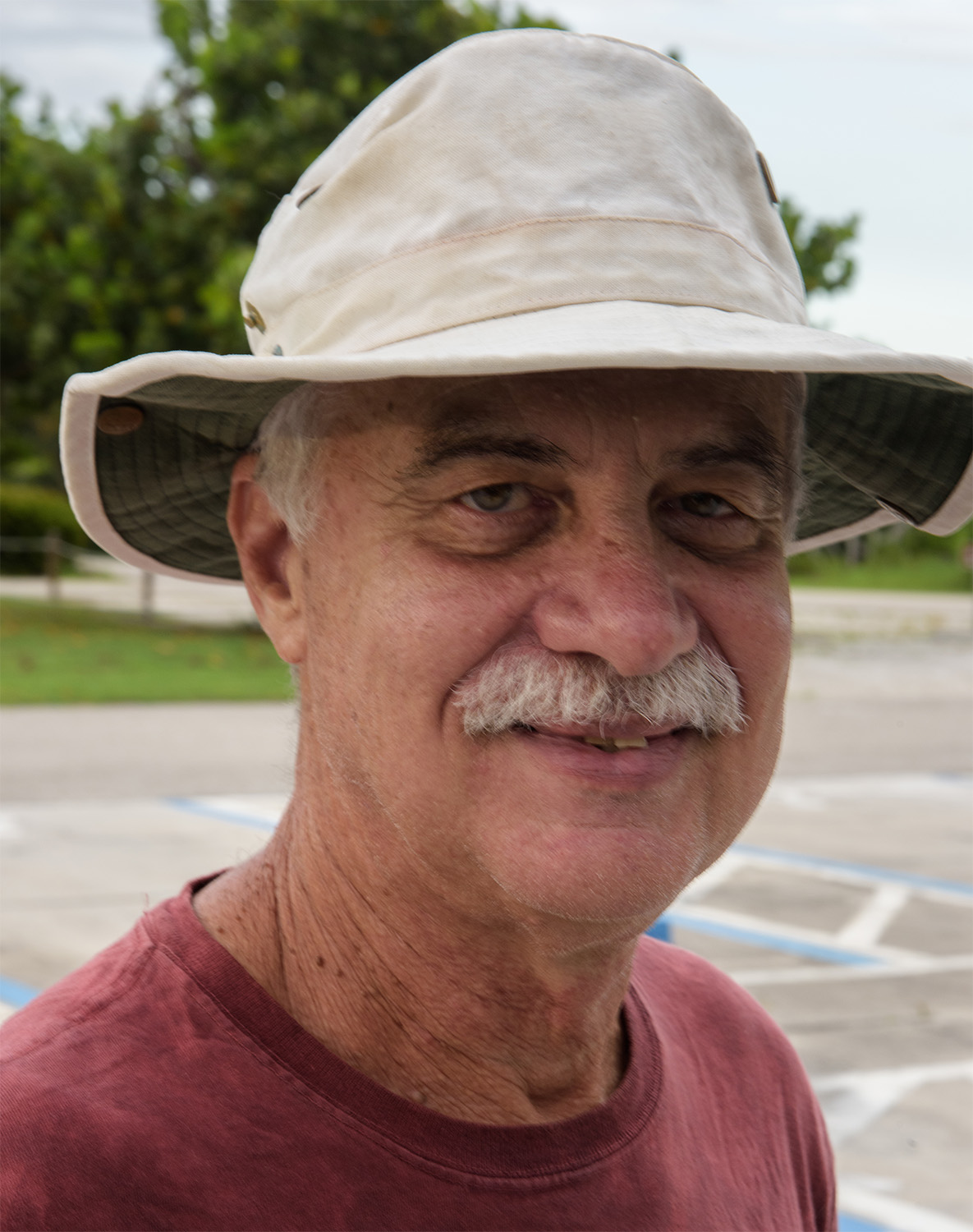 Larry Treadwell

(Groups 36 & 67)
Hi Stanley
Just dropping by from the DD Management Team to see how the new group is doing. You all seem to have everything under control.

If I may offer a suggestion in regards to shooting birds. If you want sharp images you really need to pump up that shutter speed. I would suggest for a shot like this that your shutter speed be at least 1/1000. If you are interested in my shutter speed rules, let me know and I'll be happy to send them along. &nbsp Posted: 09/04/2020 20:55:23
Thorro Jones
Larry I would love to get your shutter speed rules. I am always interested in getting new photo tips. &nbsp Posted: 09/09/2020 10:58:10
Stanley Selkow
Like Thorro, I would like to see your shutter speed rules. If they're not too long, would you be willing too post them here? &nbsp Posted: 09/09/2020 13:13:22
Stanley Selkow
And since my first adaptation would be to reduce the aperture (increase depth of field), I'd like to hear how you handle that trade-off. &nbsp Posted: 09/09/2020 13:17:07
Stanley Selkow
And since my first adaptation would be to reduce the aperture (increase depth of field), I'd like to hear how you handle that trade-off. &nbsp Posted: 09/10/2020 12:17:19
---
---
---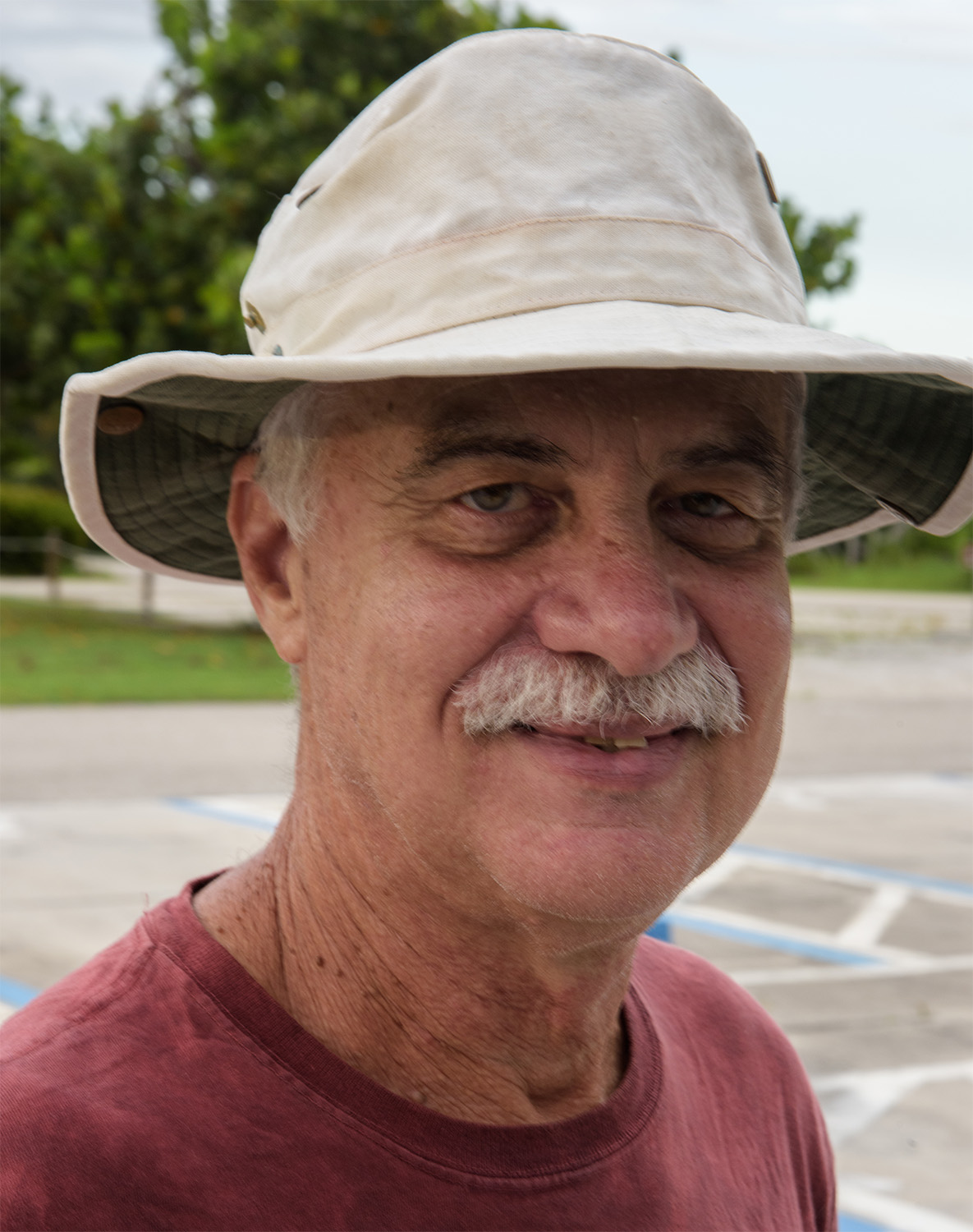 Larry Treadwell

(Groups 36 & 67)
OK you guys asked--so here it is. If you still have questions---please ask, I'll be happy to answer.

Larry


I do a lecture series on photography for camera clubs throughout Florida. The content shown here is from a program titled "Creating Tack Sharp Images".

Subject Standing, Perching, no movement:
This is the Basic. In this instance all the potential motion come from you and your handling of the camera. Under ideal conditions, if I am really careful, I can manage 1/60, so in the field I will double it to 1/125. I will go higher if possible.

Creatures in Purposeful Motion:
This is for situations where the subject is walking normally, at a steady trot (NOT running), large birds in slow flight and generally into the wind. In these situations between 1/750 and 1/1000.

There They Go. . . ((on the run):

If the subject is in flight either on the land or in the air, then I want a shutter speed between 1/1000 and 1/2000. If the subject is well known for reaching high speed then 1/3200 is necessary.

Fast Motion - Small Creatures:
Here, I'm really thinking about small birds. This is hard because you are generally closer to the subject and you will likely be panning the camera at a faster rate of speed than if the creature were to be further away. Thus I am looking for shutter speeds between 1/2000 and 1/4000.


Note: birds are twitchy creatures and even if you think they are not moving there actually is a lot of movement. They breathe, turn their heads to check surroundings, are subject to wind. The issue becomes even greater when there are multiple subjects in the frame. Therefore I will error on the side of faster shutter speeds.

How to I manage to get high shutter speeds? When shooting birds, I first set the necessary aperture to get the DOF I require. Next I set the shutter speed that I feel necessary. The I bump up the ISO to make it all work. If your exposure is on with most modern cameras shooting at ISO 1000 to 1600 is not a problem. You should note that my numbers are for full frame cameras. If you are using a crop sensor camera I would reduce the ISO to somewhere between 800 and 1000. With good light you might get 1250. I have used these setting for images and get awards in contests.

If possible mount the camera on a tripod----you will get more keepers. I know you can handhold the camera because you have very steady hands. However, my suggestion of mounting on a tripod stands. I use mine about 90% of the time.

&nbsp Posted: 09/09/2020 15:37:03
---
---
---
Please log in to post a comment