Dan Mottaz
---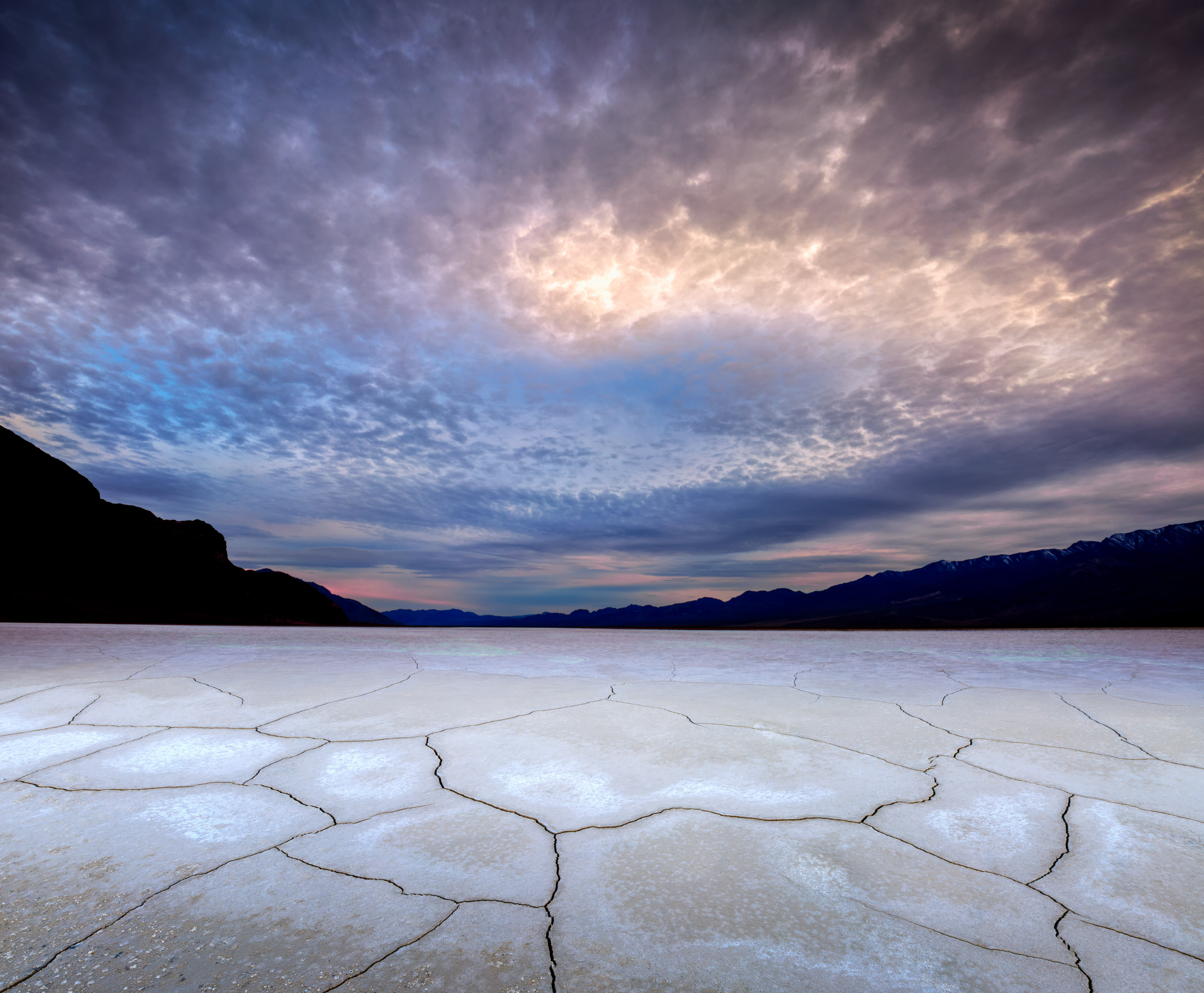 April 2021 - Worlds Collide
About the Image(s)
I have been to Death Valley so many times that photographically I was starting to get repetitive. On a recent visit there, I wanted to see and capture the landscape differently. This trip was a breakthrough for me. I felt that I accomplished what I aimed to do.

Badwater, south of Furniss Creek is an extremely magical place for me. However, it's hard to make a unique capture of the place. The three elements to work with there are the salt pans, mountains and sky - that's it. If you're lucky and happen upon some great cloud action during the golden hours, you have the makings of a spectacular image. The challenge is to go beyond luck and create something of your own.

Technical: Shot with Canon 5DMKIII, 0.4 sec., Lens: Canon 11-24mm at f/22, ISO:50. Steadied on a RRS tripod. Post processing was my usual workflow: ACR, PS and NIK.
---
9 comments posted
---
---
---
Gerard Blair
Dan - you have great locations and you certainly make the best use of them. I particularly like the patterns in the middle of the sections of the ground which seem almost to reflect the clouds. I do not find your images repetitive, I think rather that you have a distinctive and recognizable style for which many photographers are striving.
Good title.
It is hard to find ideas for productive feedback ... I wonder if a second shot with a longer exposure might have given you options in filling in some details on the rock faces. &nbsp Posted: 04/07/2021 09:04:36
---
---
---
Robert Atkins
Dan, this is AMAZING light. If you don't consider this unique, you must truly be blessed when you show up on location.
I think the image is spectacular as is. But it also has so much potential to take in other directions. Below is a little different interpretation (hope you don't mind - I couldn't help myself) that focuses more on the light in the clouds - you might title this version "Dragon".
Brilliant capture of an amazing scene.
&nbsp
Posted: 04/08/2021 17:10:15
Dan Mottaz
Thank you, Robert. I very much like your interpretation. You gave it an interesting crop. Also, it looks like you applied a blue tone in the foreground. I would like to replicate what you did here. Thanks again. &nbsp Posted: 04/10/2021 18:37:29
---
---
---
Cheryl LaLonde
Hi Dan
I really love this image. The sky has such beautiful color and detail and the foreground has very interesting shapes. I am curious as to why you used F22. Was it because it was so bright?

Beautiful image. &nbsp Posted: 04/17/2021 13:34:40
Dan Mottaz
Hi Cheryl, many thanks for the complimentary words. I suppose I could have shot this with a more open aperture, But with the foreground inches away from the lense, I wanted to be sure I got a sharp capture from front to back. f/13 probably would have done the trick, or even focus stacked. However, the light was changing way too fast. f/22 allowed for a speedy capture before the show disappeared. &nbsp Posted: 04/18/2021 10:18:33
---
---
---
Dale Yates
Dan - this is a very good landscape image! I like the detail throughout and the foreground/background contrast. The color of the sky, especially the background reds adds to the quality of the photo. Well done. &nbsp Posted: 04/19/2021 15:55:20
---
---
---
Emily Kawasaki
Wow, I can only imagine how cool it must be to take photos at this location. The contrast between the cloudy sky, the perfect silhouette of the mountains in the distance, and the cracked salt pans give the image a very surreal quality. I like how the clouds are an array of colors. Amazing image and great edit. Great job! &nbsp Posted: 04/20/2021 10:04:58
---
---
---
Russ Butler

(Group 32)
Oh my Dan, another pristine image. The detail, color, contrast & composition is awesome &nbsp Posted: 04/21/2021 16:30:57
Dan Mottaz
Hey Russ, it's great to hear from you. Loads of thanks for the nice words.
&nbsp Posted: 04/21/2021 17:55:12
---
---
---
Please log in to post a comment