Emily Kawasaki
---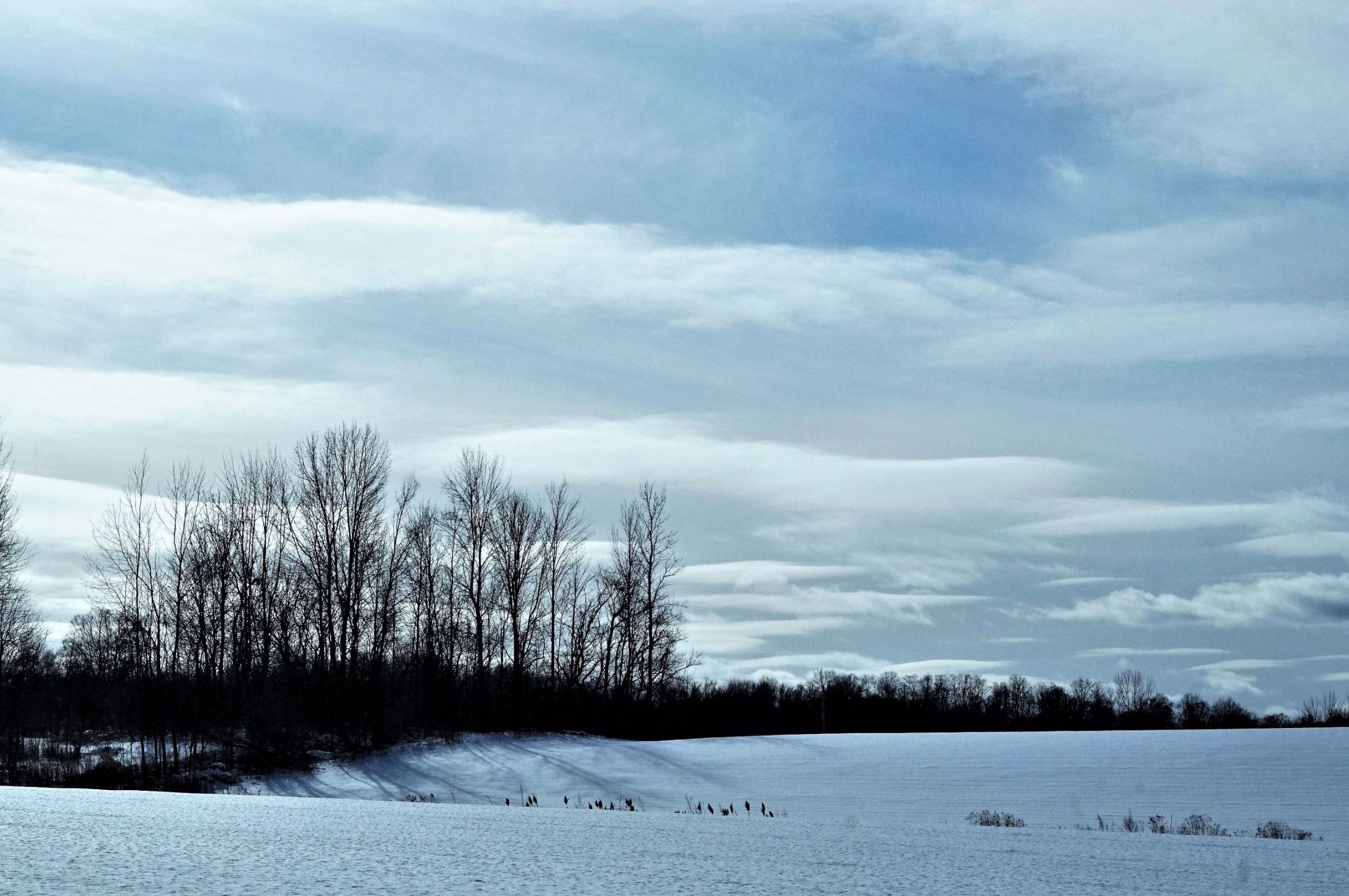 February 2021 - Lonely Winters Day
About the Image(s)
This image was taken on January 24, 2021 at 2:12 p.m. ET. The photo was taken on Maple Street Road in Lyons, NY. It shows the snow-covered fields in the foreground, silhouettes of trees in the mid-ground, and the cloudy sky in the background. The photo was taken with my Sony a5000 and Sony FE 50mm f1.8 lens. The ISO is 1250, exposure time is 1/4000 sec., the f stop is 16, and the focal length is 50mm. Post-processing edits in Lightroom include slight changes in highlights, clarity, and contrast.


---
16 comments posted
---
---
---
Robert Atkins
Hi Emily, what strikes me about this photo is the repeating motif of horizontal sloping layers - the crests of both near and far snow covered fields, the tree line, and then the layered clouds. All are sloping back and forth, one layer on top of the next. The image is also about luminosities vs. color, so I wonder if it wouldn't look even nicer as a black and white?

It is in interesting that you gave it the title "Lonely Winter's Day". I get calm, cold, still, and winter from the image, but not lonely. I am not sure how to make it impart more of a feeling of loneliness. &nbsp Posted: 02/10/2021 20:17:11
Emily Kawasaki
Hi Robert, great suggestion. Thank you. Here's the image in B&W. I agree that the B&W tones really bring out the different layers and elements, especially the silhouette of the trees, the shadow on the snow, and the layers of clouds and snow on the fields.
In terms of context (which many photos generally lack), this field is usually full of animal life (including deer, birds, people etc.) in spring and summer. So, driving past it in other seasons shows a flurry of activity. In contrast, the scene in winter is calm, still, and cool. But it is also a bit lonely by comparison, at least for me. But, it's completely valid that you see the image as calm and still. I agree, it definitely is. It is many things.
In terms of titling images, this is one area in which I struggle both artistically and philosophically. I was trained in and taught VTS (Visual Thinking Strategies), which goes against established artistic convention. In VTS, one core tenet is that titles limit and unduly influence what/how viewers view and understand images. I think that titles can be useful depending on the context (i.e. to provide a short explanation of a photo to explain an abstract image, like the close-up view of a microscopic cell in a science textbook).
So, I prefer to NOT title my images whenever possible and let viewers decide what they see/feel/think about an image. Or, if titles are required, I tend to stick with utilitarian titles.
So, your response is helpful for me. I wasn't trying to make an "lonely" image per se. This was more my attempt to come up with a title that is more PSA-ish. In hindsight, I should have just titled it "Winter". It's a scene that evokes different feelings for everyone, which is totally normal and okay. In future, I think I will stick with my preferred titling strategy (i.e. non-descriptive, utilitarian titles), which allows images to be more open to interpretation. &nbsp
Posted: 02/14/2021 21:03:50
---
---
---
Dan Mottaz
Hi Emily, projected in your photography is a sense of fun, wonderment and adventure. To me, this makes your images exciting. That is critically important in any form of art - your ability to express who you are through your images. It is something that I have seen in your work from the beginning of my being in this group. I realize this is a conceptual review of your body of work rather than a critical analysis of the detail of this month's picture, which I believe is equally important. Carlos Santana is not an exceptional quitarest because he can play fast and hit all the notes perfectly. He has the rare talent to project his emotion through his guitar. Most of us struggle hard to make that happen. You do such a fine job with this. We can all learn the technology and learn the accepted rules that make a good composition; but, certainly in my case, expressing who we are and what's in our heads that influence our art is very difficult. &nbsp Posted: 02/20/2021 11:58:47
Emily Kawasaki
Thank you Dan, your words are truly appreciated! I always have found that whatever art medium I am working with, creativity, fun, and self-expression are all crucial ingredients. I also agree that one of the joys of photography and viewing other people's work. Viewing other photographers work really provides new ideas/inspiration, is a learning tool, and shares some interesting clues and insights into their personality, perspectives, and interests. Agreed, like everything, photography takes practice, and some things work better than others, I have found. I think it's also important for everyone to remember that anything in life, be it photography or whatnot, the not-successes aren't failures - they are learning experiences. &nbsp Posted: 02/20/2021 22:54:42
---
---
---
Dale Yates
Hi Emily...very nice photo! I like the overall composition with the near horizontal lines which, along with the treeline form a triangle. I especially like the cloud structure. The blue tint to the image gives the feeling of being cold, which is more than appropriate for this image. A couple of things to consider...perhaps lighten up the treeline to show some detail of the trees. Also, the slight appearance of vegetation along the lower snow line appears somewhat distracting. A suggestion is to remove this vegetation and bring more emphasis to the snow line itself or change the angle of the photo slightly to include more of the vegetation in view.

In my opinion this photo will look good in either color or black & white. With the limited color palette, black & white will do well.

Relative to putting a title on your images, here is my opinion...I believe it was Ansel Adams who said that there are 2 people in every photo, the viewer and the photographer. The viewer will interpret the photo relative to what they see. The photographer has a story to tell with each photo and will produce a photo based on this story. While I completely agree with the non-descriptive title approach, sometimes putting in a descriptive title gives the viewer a hint or glimpse of the story being told by the photographer. The viewer can then either agree with the photographer, or can come up with their own interpretation of the image, or a combination of both. Just some thoughts...excellent work! &nbsp Posted: 02/20/2021 12:11:34
Emily Kawasaki
Thank you Dale. I agree that this image works in both color and b&w. Ansel Adams' words are so true, the photographer can tell a story and yet the viewer will interpret it as they choose. I edited the photos and lightened the shadows of the treeline, both in b&w and in color. I also did a cropped version of both, to remove the lower level vegetation. &nbsp
Posted: 02/20/2021 23:51:14
Dale Yates
Hi Emily...the additional images you provided are excellent! In my opinion, I like the last one the best. It has great cloud structure and composition. The black & white image fits the scene very well. Well done... &nbsp Posted: 02/23/2021 12:03:56
Emily Kawasaki
Hi Dale, thank you. I like how the cropped version brings the focus to the treeline silhouette on the left, the sky, and snow. I agree that this photo really is suited for b&w. &nbsp Posted: 02/25/2021 07:40:33
---
---
---
Gerard Blair
although I am late to the comments this month - I thought about your image before reading any of the other comments. And below is my version which seems close to some your your own developments. I think this photo screams B&W. We could talk about the subtle shades of blue - and its reflection in the snow - but I see wonderful textures and I worry that the color masks it.
FYI I used the Nik software with tonal contrast and bleach bypass with zero saturation - and cut off a sliver of tall trees on the left &nbsp
Posted: 02/21/2021 12:54:08
Emily Kawasaki
Gerard, I like how your edit really brings out the subtle shades of the sky and clouds, as well as cropping out the tree on the left (so the tree silhouettes form a kind of triangle-shape). I am looking into photo editing software that isn't Adobe Photoshop. Would you recommend Nik as a good option? I have Lightroom, but it's just on my phone (so it's limited in how well I can actually edit in detail). &nbsp Posted: 02/22/2021 17:48:42
Gerard Blair
Yes I like my Nik collection - it is an addon to photoshop (not a replacement). They have a 30 day free trial. I would not buy it after that however, I would probably wait until they send a "special offer" :-) &nbsp Posted: 02/24/2021 21:39:03
Emily Kawasaki
Hi Gerard, thanks, that's good to know. I did some research into different options and ended up getting Luminary 4 (not the annual subscription, just the one-time cost). So, I'm looking forward to playing around with that now. &nbsp Posted: 02/25/2021 07:42:41
Gerard Blair
And I am looking forward to seeing what you will do with it &nbsp Posted: 02/26/2021 06:09:36
---
---
---
Please log in to post a comment