Cheryl LaLonde
---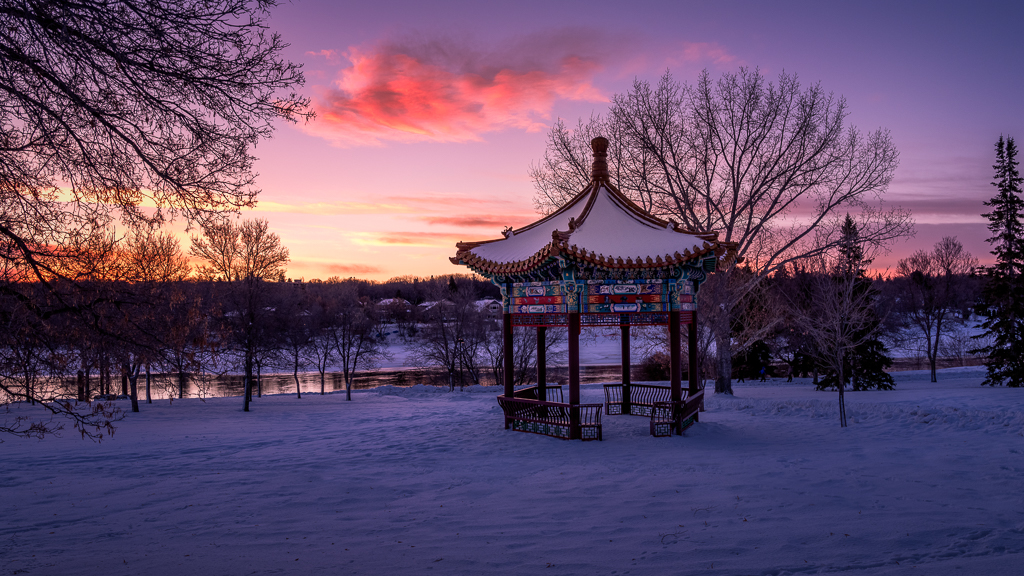 February 2021 - Winter Pagoda Sunrise
About the Image(s)
I took this image of a Pagoda in one of our local parks at sunrise. In keeping with discussions last month I thought I would try handholding at a higher ISO so I used the following settings

ISO 320
F8
1/100 second
32mm

I love the look of the pagoda and the colors in the sky were nice. I tried several angles and finally settled on this one. What I did not like were the debris and tracks in the snow making it look too busy so I tried to clone some of that out. It would of looked much nicer after a fresh snowfall. My usual editing is as submitted but I also edited it with a softer focus and a little additional fog created using Nik Color effects Pro.

My usual edit includes

Lightroom color balance, highlights, shadows, white and Black adjustment then to Photoshop for cloning and healing then to Nik color effects pro for Pro contrast and brilliance and warmth then back to lightroom to crop.

The Edit 2 includes adding some fog and soft focus in NIK

I am interested to know if you guys prefer the softer version or my usual edit and if you think I still need to tone down saturation of my usual edit. I sometimes think I over saturate my images. I don't use the saturation slider at all but achieve it by using black and white point instead. I think sometimes I take the black slider to the left too far creating a too saturated look. Your opinions would be welcome.
---
This round's discussion is now closed!
10 comments posted
---
---
---
Robert Atkins
Hi Cheryl. I think this is a beautiful image - I really love the strong complementary colors. I am perhaps not the best judge of whether saturation has gone too far as I struggle with this, but for what it is worth I think you have it just right here.

I am not a fan of the softer focus and fog added version. I think one of the things I love about the "usual edit" version as you call it is how amazingly sharp it looks. I particularly like the very sharp rendering of the fine shadowed tree detail against the sky. The soft version looks to me like "it just isn't sharp" if that makes sense. I also don't like the way the fog essentially brightens the whole image. I think the exposure in the "usual" version is spot on in terms of making the most out of the beautiful colors both in the sky and on the Pagoda (maybe lighten the details on the Pagoda just a bit).

Only a couple things come to me in terms of improvement. One would be perhaps to crop a little from the right edge - like you have in the softer version or perhaps a hair more. I find the tree right at the edge a little distracting, and I think the composition is also a little stronger and balanced coming in a little on the right. The other would be to see if you can't further bring out the "pink" reflection in the snow. It looks like it is there, and maybe a little tonal contrast could separate the sky reflections from the colder blue shadows, and tie the whole image together a little more. Just a couple thoughts. Very nice shot as it stands in any case. &nbsp Posted: 02/08/2021 19:27:12
Cheryl LaLonde
Thanks Robert.

I definitely agree that I should crop more from the right as in the other image.

Yes the pink on the snow might be interesting! I think I may have been too concerned with the fact that there was too many footprints etc in the snow and it might be too noisy.

&nbsp Posted: 02/27/2021 13:43:00
---
---
---
Emily Kawasaki
Hi Cheryl, this is a beautiful shot and it was interesting to see your process/different edits. I agree with Robert that I'm not so much a fan of "original". "Original 2" is a lovely, deep color. But, I think that the final version works nicely because it is a bit brighter, you can see a bit more detailing on the snow, and clouds and sky in the sky have more color variety. Lovely winter composition and great shot! &nbsp Posted: 02/20/2021 10:40:29
Cheryl LaLonde
Thanks Emily. It seems that the softer effect does not work, at least for this image. &nbsp Posted: 02/27/2021 13:44:52
---
---
---
Dale Yates
Hi Cheryl...Excellent photo! The final version of your image is the one that I would prefer. I like the soft shadows of the early morning along with the bright cloud and sky. This provides an excellent contrast which emphasizes the sunrise. As far as your last question regarding soft focus and saturation, I personally like the sharper, detailed image more that a soft focus image. My personal opinion is that your saturation level is spot on. I don't recall any of your images being over saturated. &nbsp Posted: 02/20/2021 11:53:31
Cheryl LaLonde
Thanks Dale. I worry that I tend to oversaturate sometimes. &nbsp Posted: 02/27/2021 13:45:34
---
---
---
Gerard Blair
Cheryl - the subject and its time of day are so well selected resulting here I think in a lovely composition. Like you, I love the Nik color effects. For your consideration, here is your image with a further pass through the bleach bypass (saturation set back to unadjusted and higher local contrast). &nbsp
Posted: 02/21/2021 21:54:35
Cheryl LaLonde
Bleach bypass is something I have never used. It looks interesting. I will give it a go sometime.

Thanks! &nbsp Posted: 02/27/2021 13:46:30
---
---
---
Dan Mottaz
Hi Cheryl, I think it's safe to say that the overwhelming consensus is that your main image is the one. I certainly feel that it's the best. I commend you for braving the early morning cold in order to capture an planned out photo. I love the colors and tone. It sets the mood perfectly. I am a stickler about footprints, but in your picture, they don't bother me. I agree with Robert about cropping the right tree out. Other than that, I can't think of anything I would change. You have an eye for seeing interesting subjects and composing your shots wonderfully. It's a very peaceful image with a hint of loneliness. &nbsp Posted: 02/26/2021 11:40:34
---
---
---
Cheryl LaLonde
Not so brave in the cold. Here in Saskatchewan it has been -32 to -40 for a few weeks this last month so I have been staying inside. Not much chance to take images in weather like that although I bet I could get some really interesting ones if I was brave enough.

I hate footprints too but worked with what I had.

Thanks Dan &nbsp Posted: 02/27/2021 13:48:52
---
---
---