Member Bios
Haru Nagasaki
My interest in photography started at the same timing of moving to Salt Lake City from Japan in 1998. I was so impressed with the colors of rock formations when the sun (sun set/sun rise) hit the object in national parks. Since then, landscapes became my key interest.
I am also influenced by Ansel Adams. My theme is to show lights and shadow and gradation of colors effectively in B&W.
As for my equipment, I recently switched to Nikon D850 from D700. I am using 3 lenses; 1. 14-24mm, 2. 24-70mm, and 3. 70-200mm telescope lens. I have mostly shot with #2 lens, and started wide lens, #1 last month.
I use Photoshop to brush up images.
---
---
---
Ye htut Naung
I m 43 yrs old, Burmese, male. I was born in Yangon, Myanmar. Currently I live in Singapore and work here as Software Developer. Photography hobby was started when I was 30 yrs old (2010) in Cyprus. I started with Nikon D90 and kit lens 18-105 f4.5. From 2014 to 2020 I was stopped for photo-shooting due to some other matters. Before Covid-19 pandemic outbreak, I was thinking to look back my long lost hobby. Then I restarted to shoot photos by buying Nikon Z5 mirrorless in 2020 December. But again I was away from my camera from 2021 April to 2022 Feb due to Covid-19 Delta outbreaks and family matter. From 2022 Feb, I tried again to shoot photos. Since then, I've been photo-shooting at every month. Now I feel that photography is part of my life. I love seeing photos. And I love all kind of photos from nature to creative AI.
Every month I take photos (Landscape, cityscape and portraits). You may see my photos at this links. I hope you will enjoy my photos.
https://www.facebook.com/yhnPhotography/
https://500px.com/kohtut
Thanks & Regards,
Ye

---
---
---
Robert Atkins
Bob Atkins is an amateur landscape photographer, living in the Northeast of the United States, and specializing in large format color images. Self-taught, his journey in photography started as a teen, developing B&W film in a basement darkroom "under the stairs". He put aside photography in college, only to reconnect with it later in adulthood as part of a continuing love for exploring the outdoors.

An engineer by training, Bob brings an aptitude for precision and problem solving to his photography. The former is reflected in a choice to photograph with large format 4x5 film, allowing him to convey the full detail and tonality of grand and intimate landscapes alike. It is no surprise he is influenced by past and present color large format photographers, including Charles Cramer, David Muench, Michael Fatali, and Ben Horne.

Bob photographs to bring to others the unique moments in nature where light and land have conspired to touch his heart. He revels in the journey, the opportunity to adventure in nature with hopes of discovering that special place or moment. He also enjoys, strangely enough, the waiting which is often required in the search for great light. He describes it bringing a calm connection with nature, as well as a child-like anticipation. His photographs are witness to the power of exploring, patience, and hope, suggesting that remarkable things are possible if only imagined, sought, and creatively teased out of the world. As J.R.R. Tolkien said well, "Still round the corner there may wait, a new road or a secret gate." Bob seeks to round those corners, and to bring to all of us the joy of the discoveries which lay beyond.

---
---
---
Dan Mottaz
First I was a painter, then a photographer, then after a long career in the motion picture/video business I went back into photography. Now I'm retired in Idaho. I'm the former President of the Boise Camera Club. My photography is mostly landscapes, but I occasionally shoot macros, abstracts and architecture.
---
---
---
Cheryl LaLonde
Hi, my name is Cheryl Lalonde. I am a pharmacist, but I have always enjoyed taking pictures for as long as I can remember. I used the automatic mode on every camera I owned until 2016 when I visited a photography gallery with many large, beautiful landscape prints. That was when I was truly inspired and began learning what it would take to print such large, perfectly composed images with beautiful color and clarity.
I am constantly learning and believe that as soon as I begin to think I know enough, that is when I need to reassess my skills. It will be at that point that I will find out, I really know next to nothing. Photography is a vast and changing field. I know that I will never learn enough and my style and expertise in the craft will evolve and change continually.
My first passion is landscape photography, but I do enjoy drop photography, macro photography and some portrait photography. For me photography is an adventure. It gives me a reason me to explore our beautiful world, reconnect with nature and capture those moments in time. I try to capture beautiful moments in time so that they can be enjoyed again and again. I share these moments on my website at www.cheryllalonde.com.

---
---
---
Gloria Grandolini
I recently moved to Miami Beach from Washington D.C. I will also spend part of the year in the pacific coast of Mexico. I am originally from Rome but have lived in the US since graduate school. I retired 2 years ago from the World Bank Group after 27 years working on development. Photography has been my passion for many years and finally I now have the time to improve my skills and develop a portfolio.

When I photograph, I feel free to view the world and the people around me beyond set boundaries, with new eyes. After being guided by rules and frameworks for so many years... I am now diving into a new chapter of spontaneity and searching. I am drawn by the explosion of colors of sunsets, by the ocean - from the regularity of tides to the forces of nature, and by the human body immersed in or blending into nature. I am also fascinated by macrophotography - as it allows me to discover the unseen in everyday life. I also love geometric forms. I am just beginning my photographic journey and look forward to learning from PSA colleagues.

I am using a Canon EOS 80D and a variety of lenses.
---
---
---
Group Admin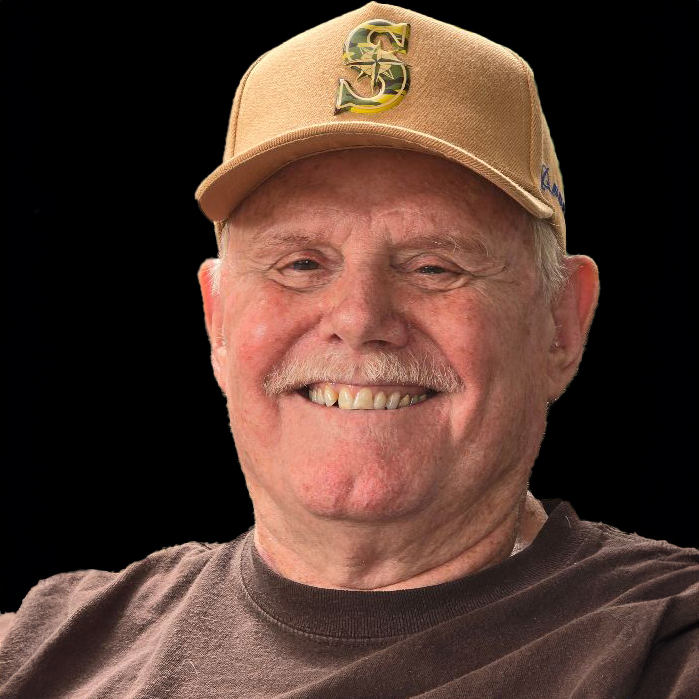 Bob Wills
I am a Retired US Navy Senior Chief Petty Officer. I worked on both missile and gun fire control systems, learning electronics and electricity along the way. I also picked up a great deal of Information systems knowledge and experience too, which I used to work for the state of Washington. My service-related injuries and growing list of illnesses finally made me retire completely. I could no longer actively play sports, so I found my hobby in photography.
I haven't found my artistic vision yet, but like my technical training, I am full bore into the learning process. I enjoy image taking and making and strive to learn more.
My wife, Dorinda and I loved golfing together, and now since my withdrawal from sports, we play photography. Dorinda and I both enjoy the challenges and camaraderie in PSA and especially the Digital Dialogue Groups. No greater joy have I than to be associated with my wife, Tom Pickering and especially Barbara Miller. I miss Larry Beller.