Keith Au
---
March 2023 - Jade Plant Model_stacked30
Original
About the Image(s)
Title: Jade Plant Model_stacked30
This is my first try of focus stacking images using camera built-in
focus shift function. It will be compared with similar setup using focus shift rail.
I bought this model jade plant (plastic) for the purpose of testing PS focus stacking
macro images captured with focus shift functions on my Nikon D850.

It was shot indoor with 2 light sources: 1 main LED light and 1 side light
reflected from the ceiling. Background is a yellow paper cardboard, as I thought
yellow gives good contrast to the red flower pot and green plant. Thirty focus-shifted images were taken.
This is part of my learning process. Please provide comments or suggestions for improvement.
Thanks.

Gear:
Nikon D850 105mm/f2.8 macro lens
1/100s f/5 iso@400 on tripod
Post-processing: PS focus stacking (Auto-Blend Layers); No image adjustment except cropping.
---
7 comments posted
---
---
---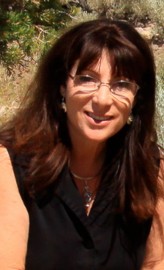 Carol Sheppard
Your stacking is really getting everything in sharp focus throughout! And your lighting feels very nice--even but not flat. Good white balance and clarity on the plants. The crop feels appropriate, and I see you are lined up on the right top edge of the pot itself; for some reason, it still feels slightly tilted to me. That is an easy fix in post, but just moving the whole picture won't work as well as a perspective fix, in my opinion. My only other suggestion is the yellow--it feels too saturated of a yellow to me, overpowering your subject. You can select the subject or the background in Lightroom and play with the hue, luminosity and saturation to find a more pleasing background that lets your image stand out as the main subject. Your subject is really well done! &nbsp Posted: 03/17/2023 20:40:04
---
---
---
Tom Pickering
You did a great job with the in-camera focus stack. I see what Carol is talking about regarding the tilt, but it's not really a distraction.
I do agree with Carol about the background color. Here's a rendition where I ran an HSL filter on the background and lowered the saturation and luminance slightly. Thoughts? &nbsp
Posted: 03/19/2023 15:15:14
Keith Au
Thank you, Carol and Tom.
Yes, my camera was mounted at an angle, looking down onto the subject. That's what I got puzzled how (where) I should line up the starting focus point for the in-camera focus stacking to work properly. I put the focal point at the top rim (edge) of the flower pot. Guess the auto focus stacking function would go over the whole subject anyways..? Please advise if this is not a good approach.. I will be try using the focus rail instead.
As to the yellow background, I did not adjust the colour during my post-processing. I guess the problem is.. my two light sources are 1 LED and 1 florescent.. it may have fooled the camera's auto-white balance function? I should have adjusted the colour with hue or filtering with ACR. As you brought it up, the yellow cardboard paper (background) do look 'un-natural'. It's my oversight as I only focused on checking the focus points over the subject.

Thank you both for your assessment.
&nbsp Posted: 03/19/2023 21:04:34
---
---
---
Stuart Ord
I don't know how your Nikon's internal focus bracket function is set up. In my Olympus, you have to guess the "step length" setting and it uses that. The actual amount of focus shift depends on the focussing distance and the aperture in use as well. It's pretty much guesswork, a bit of a let-down considering how good the camera's other functions are. I usually deliberately take too many frames so that the "far" focus limit is too far, and I cull all the frames that are not needed. Is yours any better than this?

If not, have a look at Helicon Remote, which I use with my Canon, it's such a good way to set up stacks. I'm trying to persuade them to do an Olympus version of it at the moment, then I can buy the new Olly macro lens!

Whatever, you've nailed the bracket, well done.

Mixing light colours can lead to odd results! Tom's edit is an improvement I think.

Personally, I am very sensitive to pictures that are tilted, and this definitely needs a few degrees clockwise of the subject in my view. You have plenty of space to do it in the original.I'd prefer a bit more room round the subject. &nbsp Posted: 03/20/2023 16:12:49
Keith Au
Hi Stuart, you hit the nail in the head.. The Nikon focus stacking function (on D850) is about the same as your Olympus. The step length and the number of shots are all guess work, although the user manual has some suggestions (sounds practical). The outcome of my best try-out setting (after a few test runs) still has a few out-of-focus shots where the shift goes off the subject onto the background. I now have a bit more confidence in setting the stacking parameters. Anyway, PS merging does recognize the off-focus shots and dump them anyway. The outcome looks reasonable.

Btw, Does Helicon Remote support Nikon?
&nbsp Posted: 03/22/2023 20:36:09
Stuart Ord
Keith Au
Got it. Thanks, Stuart. &nbsp Posted: 03/23/2023 10:28:23
---
---
---
Please log in to post a comment