Barbara Asacker
---
September 2020 - Black Eyed Susan
About the Image(s)
Settings: 90 mm Macro lens; f/11; 1/8 second; ISO 100
Equipment used: tripod; focus rail; remote release
I shot this flower near a window with natural light. I used a focus
rail and shot 8 stacked images at 1:1 magnification. Manual focus was
used. All settings were maintained in manual mode. The stack of images
were stacked in Helicon Focus. I know there are a spots out of focus,
and I will keep trying. All your comments are welcome.
---
10 comments posted
---
---
---
Stuart Ord
How odd, I was photographing one of these in a local garden a couple of days ago. Quite striking, aren't they?

Of course most flowers are too big to take true macros of them if we fill the frame, even for full frame cameras. Taking just a part of the flower is a good way out, and relieves being repetitive. So I like this as a subject. The light is nice with no blocked shadows.

Your composition is interesting, but I would query what you found the real point of interest. I would normally assume that the sharpest part is the part you intended to emphasise and concentrate on. Here we have the centre of the pistil sharp, but also the petal above and to the left of this area. The sharpness is a bit varied as different parts are in and out of the composite depth of field. So I'm not sure what your focus (in the thinking, not in the camera sense) was.

If the subject was the pistil, then I'd have given a little more in view, say 3/4 of it or even all of it. Then I'd have made sure it was all sharp including its fringes, which here are soft. The petals could be sharp, blurred or both as suited your artistic intent. In terms of why your bracket failed to do this, I'd suggest that your steps were perhaps too large, and more, smaller steps would have rendered a sharper stack.

&nbsp Posted: 09/12/2020 01:43:37
Barbara Asacker
Hi Stuart
Thank you for your advice. This was my first attempt at focus stacking using a focus rail. I just turned the rail at measured steps until it started to blur.
Barbara &nbsp Posted: 09/12/2020 09:23:39
Stuart Ord
Hi Barbara,
The key thing is to move the camera an appropriate amount each
time.If
you take too few so their sharp regions don't overlap, then you get an unusual result and i suspect tthat's what has happened here. With digital, it's best to take too many photos and discard ones focussed too close or too far away when you inspect them. There's no such thing as "too many" in the area you want to be sharp, although obviously there's little point in taking many times more exposures than are needed. Ideally you find the depth of field and move the camera say 50% of that each time. how to do that? Well experience is one way from trial and error, but there are charts and software on the internet which can calculate the depth of field. here is one which I like -
https://www.dl-c.com/DoF/
Sorry if you are Mac, they only do Windows and Android, but there are plenty of others.
This site has lots of good information and some tutorials -
http://extreme-macro.co.uk/focus-stacking/
Another way to decide how much to move the camera is to take a single frame of your setup and then look in its EXIF. The following is again Windows, but Macs can show the EXIF as well of course. Get this program
https://exiftool.org/
then install it and put a shortcut to it on your desk top. Then after putting your photo onto you computer, drag it onto this shortcut icon and by magic the program gives all the EXIF information. Look in there and you'll probably find DoF information (depending on what your camera saves into its EXIF data). Here is some from the EXIF of a photo I chose at random, taken by my Olympus -
....
Shutter Speed : 1/30
Aperture : 4.0
Extender Status : Not attached
Circle Of Confusion :
0.015
mm
Depth Of Field :
0.002
m (0.294 -
0.296
m)
Field Of View : 13.6 deg (0.07 m)
Focal Length : 60.0 mm (35 mm equivalent: 120.2 mm)..........
This is just a small part of the output, and was some of the information near the bottom of the results. As you can see hidden in there is the line "Depth of Field 0.002m" (ie 2mm)and the range in focus for this photo is
0.294
-
0.296
m.
(As an aside, this photo was less than 1:1. You can see it was focussed on about 300m (0.3m), and for a 60mm focal length lens, the focus distance at 1:1 is 120mm),so the photo was only about 1:2 or 1:3. At 1:1 the depth of field would have been under 1mm, all other things being equal. Alas my EXIF doesn't go down to under 1mm.)
Any of these can give you a good idea of the amount to move the camera each time. But trial and error is also good since digital photos cost very little!
&nbsp
Posted: 09/12/2020 15:05:37
Barbara Asacker
Hi Stuart
Thank you so much for your explanation. The information will definitely help me.
Barbara &nbsp Posted: 09/12/2020 16:16:43
Stuart Ord
You're welcome. Tom and I are always happy to explain when we can! I hope you don't mind if I tell you things you already know, enthusiasm can carry me away sometimes! &nbsp Posted: 09/13/2020 05:08:44
Barbara Asacker
Hi Stuart
I appreciate all your valuable information. Your comments have always helped me.
Barbara &nbsp Posted: 09/13/2020 08:08:08
---
---
---
Tom Pickering
For your first attempt at a stack, you did really well - much better than many of my initial attempts. You have much that is in focus and that is the goal.

As Stuart has noted, your composition is a bit odd. This can be compensated for in post by cropping, but it's best to mindful during the framing of your shot before capturing the stack.

Stuart has given you lots of tools and methods for determining the number and distance of each slice of the stack. With a low-end rail, like I have and I think you purchased, it eventually comes down to as small a movement you can manage with each shot. I often have over 50 images for a very small distance and Helicon and Affinity Photo both don't seem to mind how many images there are in the stack. Even then, I sometimes have to do some cleanup work because some areas that should be in focus are just a bit off.

Macro can be so challenging, but when everything comes together, the results can be so satisfying. You're on the right track. Keep practicing and honing your skills. You'll get there, probably sooner than I did. d;¬{D &nbsp Posted: 09/18/2020 15:58:19
Barbara Asacker
Thank you, Tom. I appreciate your help. You set me on the right track.
Barbara &nbsp Posted: 09/18/2020 18:21:39
---
---
---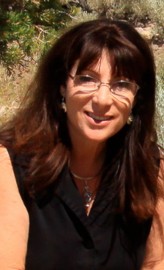 Carol Sheppard
Barbara, I like how crisp and fresh your capture feels. The crop was a little uncomfortable for me, and I'd like to see more of the center, but I still find it to be a nice image. It has a great feel to it of a flower at its very peak of freshness. I do see the blurry areas, and it looks like you've gotten loads of input for that, so I will just say I like the lighting and the overall cleanliness of it. &nbsp Posted: 09/18/2020 23:00:49
---
---
---
Barbara Asacker
Thank you Carol. &nbsp Posted: 09/19/2020 07:55:41
---
---
---
Please log in to post a comment