Stuart Ord
---
August 2020 - Echeveria secunda Booth ex Lindl
About the Image(s)
A plant with a very pretty flower was given to us a couple of months ago, and when it came out it was really lovely. I hadn't a clue what it was, but there are great web sites for identifying plants, and the one I use came up with this name. It didn't seem to have a simpler "common" name. Once we are discussing I'll upload a 1:3 photo which shows how pretty it was. However this is a 1:1 photo of a single flower. The plant was in its pot close to my study window.

Hardware and software

Olympus OM-D E-M1ii, 60mm Olympus macro, 1/40 sec at f4, blue card background, Velbon focussing rail, Benro tripod, Benro gear drive 3-way head (new kit which is a boon!), radio shutter release, natural light. Camera manually incremented over the flower depth, leaving the background blurred. Focus merged from 59 raw files using Affinity Photo. The raw files EXIF say the depth of field was 1mm so I could have done it in much fewer exposures.
---
4 comments posted
Barbara Asacker
Hi Stuart,
I love the colors against the blue background. It's beautiful.
Barbara &nbsp Posted: 08/01/2020 18:12:43
---
Stuart Ord
Thanks, Barbara. There's a quality in the colour which is delightful I think. I've been trying to do it again with a different plant and failing! Sometime a nice photo seems to emerge. Just lucky I guess. I must practice more to get luckier! Here is the promised pic showing a bit more. &nbsp
Posted: 08/02/2020 07:22:30
---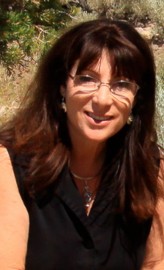 Carol Sheppard
Your capture of the bloom is spot on...sharp, with vibrancy and depth. The water droplets really enhance the depth quality, and that's important because the shadows are quite subtle. I like the texture of the lines toward the back leaves. Having said this, the crop feels very uncomfortable to me. The out of focus and inelegant stem detracts heavily. Did you consider a tighter crop? The one shared below shows gracefully curving stems, so I feel personally that the better way is to eliminate it completely on yours? &nbsp Posted: 08/02/2020 23:17:48
Stuart Ord
Hi Carol,
Thanks for your comments. Trying to stick close to 1:1 to maintain our "macro" name can be a nuisance, but I'm treating it as part of the challenge!
I suppose the stem in view is rather straight and less interesting. I'd not noticed that, but I do like out of focus elements in some macros to give context and depth. There's a PSA webinar done by Charles Needle which got me thinking this way - many of my photos follow some of his examples of the majority being out of focus. If you've not seen it, I think it's worth a look. Also he has a web site and a good book -
https://charlesneedlephoto.com/creative-macro-photography.html
Anyway, copying this style is not easy or a recipe for a good picture, and I agree the stem is not a good example of the style. I was just wowed by the colour.I've tried cropping and removing the rear leaf and forward stem, but the main flower stem still appeared straight so I wasn't keen on it. Next time I'll look harder at the blurred bits! &nbsp
Posted: 08/04/2020 07:05:37
---
Please log in to post a comment