Dawn Gulino
---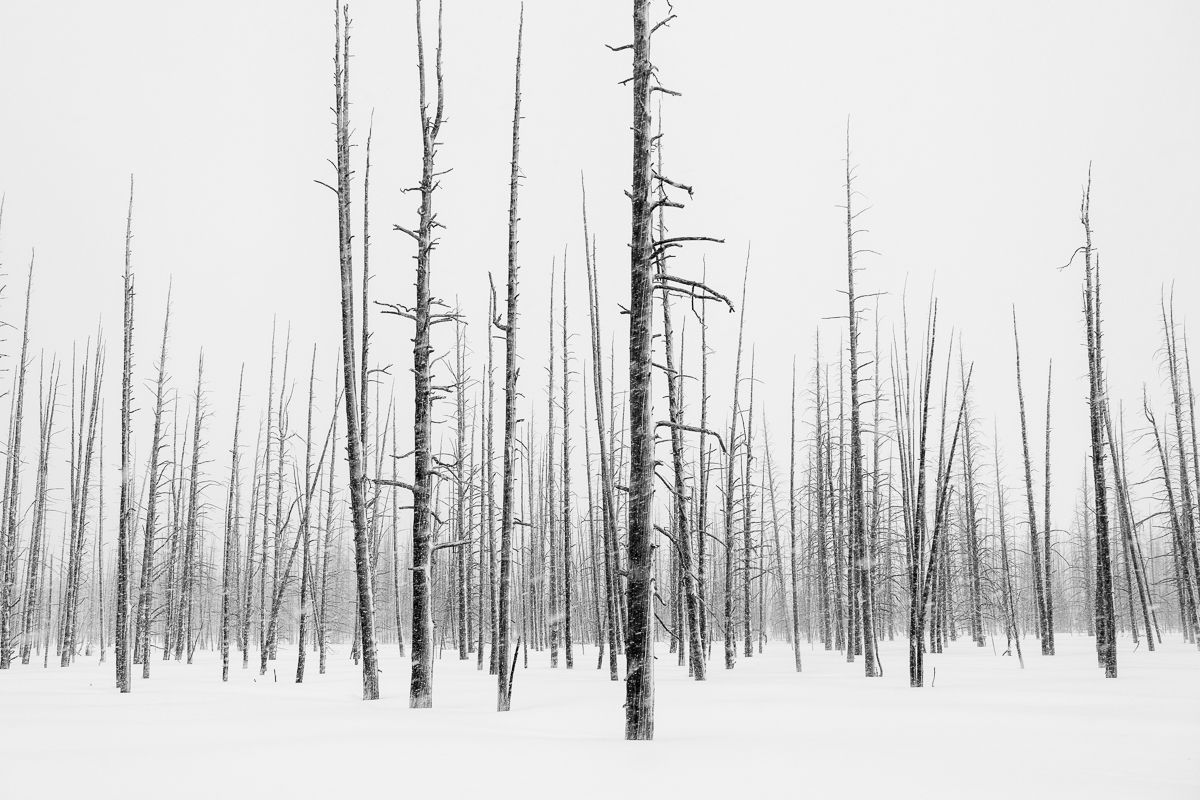 March 2023 - Yellowstone in Winter
About the Image(s)
Trees in Yellowstone. We were driving during a storm and this great field of trees were right off the side of the road. I looked for a composition I liked and settled on this one. I wanted the taller trees centering it with the fallout of each side to show the depth of the field.

Taken with a 24-70 at 29.5mm. 1/400th of a second at f/8 and ISO 400. I brought the color image over to PS and converted it to BW via Silver Efex Pro. I then added a luminosity mask to darken the black in the trees a bit. That's about it for this one.
---
This round's discussion is now closed!
15 comments posted
---
---
---
Mark Bargen
Stunning, Dawn! I can almost hear the snow. Very well done.

At first I thought I regretted the missing tops of the close trees, but after studying the image for a while I changed my mind. I now feel that clipping the top of them gives them an immediacy, a sense of them being very close and REAL. Again, well done. &nbsp Posted: 03/05/2023 18:23:01
---
---
---
Dawn Gulino
Thanks Mark! &nbsp Posted: 03/06/2023 08:15:38
---
---
---
Darcy Quimby
Dawn
Stark and majestic at the same time. I love this picture. It makes me want to sit and wait for a deer or moose to walk through it.
On a side note. Do you ever frame your work? The first thing the photograph screamed at me was put me on a wall and make me a triptych. I hope you don't mind I split them up in PS the way I would do it.
&nbsp
Posted: 03/06/2023 15:30:22
Paul Smith
...great idea, Darcy &nbsp Posted: 03/06/2023 16:30:27
Dawn Gulino
Thank you Darcy! I hadn't thought of breaking it up in a triptych, it looks great! thanks for giving me the idea!
&nbsp Posted: 03/06/2023 16:39:39
---
---
---
Paul Smith
Dawn, I am a fan of B/W images. I am a Big Fan of this one! This image says, "cold". That you have nothing in the background, but more trees, makes for a great composition! &nbsp Posted: 03/06/2023 16:36:37
Dawn Gulino
Thanks Paul! Appreciate the kind words! &nbsp Posted: 03/06/2023 16:40:07
Paul Smith
"added a luminosity mask to darken the trees"...what tools/products do you use to perform this step(s)? &nbsp Posted: 03/06/2023 17:48:55
Dawn Gulino
I use Lumenzia for my luminosity masks. I'm still not great with them, but keep practicing and know the basics. &nbsp Posted: 03/06/2023 17:51:26
Paul Smith
I have Lumenzia! I am working (slowly) through his basic / beginner tutorials. These lessons are kicking my...backside! &nbsp Posted: 03/07/2023 13:48:16
Dawn Gulino
I hear you! They lessons are really good, but you have to do it alongside or bring in one of your images to work on them. I still haven't gotten through them all and then go back as I forget what to do! &nbsp Posted: 03/07/2023 13:49:57
Paul Smith
stay tuned! &nbsp Posted: 03/07/2023 13:51:34
---
---
---
Ed O'Rourke
Dawn, I really like this image and I'm impressed by the way it makes me feel as if I'm in the scene, not just looking at it. I think you have done a great job of capturing what winter is like in that environment. And for someone who struggles with B&W I'm extra impressed with what you produced. I think you lighting is good with the way you can see the depth of the grove of trees while having them fade into the background.
Like Mark I wonder about having the tops of the trees in the foreground cut off (and I'm still unsure about that in my mind). Darcy's idea of making a triptych for me is a nice additional decorative idea.
&nbsp Posted: 03/15/2023 09:47:34
Dawn Gulino
Thanks Ed! &nbsp Posted: 03/30/2023 10:32:10
---
---
---