Paul Smith
---
March 2023 - Bayfield Marina Just Before the Storm
About the Image(s)
Canon 80D, Canon 85 mm lens, f/8, 1/250, NIK s/w
Weather has kept me from spending time, outdoors. So, I decided to revisit older images and see what I could do with them…how I might alter them. I find it amazing how the "look" of an image changes when converted to B/W. In color, this marina is inviting, attractive. In B/W it becomes ominous, gloomy, serious,. A "serious" look is what I am trying for, here!

---
This round's discussion is now closed!
9 comments posted
---
---
---
Darcy Quimby
Paul
When I look at this I'm drawn to the reflections in the water. I think the BW brings a depth to the photograph. I see a pensive picture. &nbsp Posted: 03/03/2023 18:03:08
Paul Smith
pensive...good word! &nbsp Posted: 03/04/2023 12:02:18
---
---
---
Neil Bellenie
Paul, great shot of foreboding skies and boats waiting for what the storm brings. Very evocative - it looks so cold and the sky looks positively livid.

I would be very nervous at that time if I owned a valuable boat in Bayfield Marina!
&nbsp Posted: 03/04/2023 15:15:34
Paul Smith
...I wish I had thought to use "evocative" ! &nbsp Posted: 03/05/2023 10:52:19
---
---
---
Mark Bargen
Nice and ominous, Paul! I like moody scenes like this.
The B&W conversion was well executed, as usual.
I like the repeating verticals, especially the ones in the distance on the right.
There may be a bit more on the right than necessary. I tried cropping in a little bit, resulting in the main mast landing on the golden ration division instead of the rule-of-thirds line, but I'm not sure I like the result. On one hand it feel more balanacved, but it loses some of the foreboding feel.
I'd be curious what you think? &nbsp
Posted: 03/05/2023 08:22:44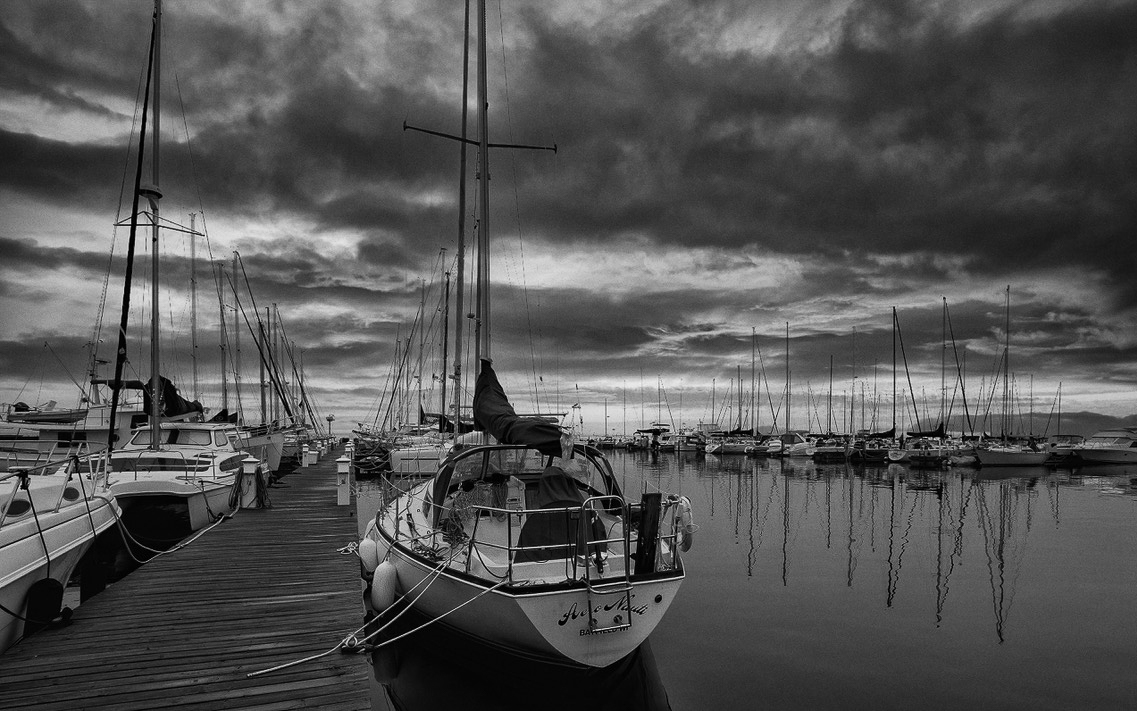 Paul Smith
My image shows a broader, wider view of the harbor. IMO, your crop devotes more attention to the sailboat, directly in from of me. I was trying to capture a wider view of the harbor. &nbsp Posted: 03/05/2023 10:55:22
---
---
---
Dawn Gulino
Nice job in your BW conversion here, you did a great job of enhancing the clouds. The reflections in the water are really nice and really nice tonal ranges here! &nbsp Posted: 03/06/2023 17:06:23
Paul Smith
Thank you...and I need you to teach me how to use luminosity masks!! &nbsp Posted: 03/06/2023 17:50:24
---
---
---
Ed O'Rourke
For me another one of your impressive B&W shots that encourage me to work more at improving my luck with B&W. I think your darkening of the clouds works well in creating an ominous mood for the image. In my opinion the focus is very sharp with good depth of field which I think adds a lot to the photo. I also appreciate the high level of contrast present. This image, in my mind creates a "story" about a incoming storm, and I like it.

Having read Mark's comment about the space on the right side I share his ambivalence about should it be cropped in from the right, thus highlighting the boat in the center, or is it just fine the way it is. Either way I think you have a great shot. &nbsp Posted: 03/23/2023 14:48:25
---
---
---