Mark Bargen
---
March 2023 - The Narrows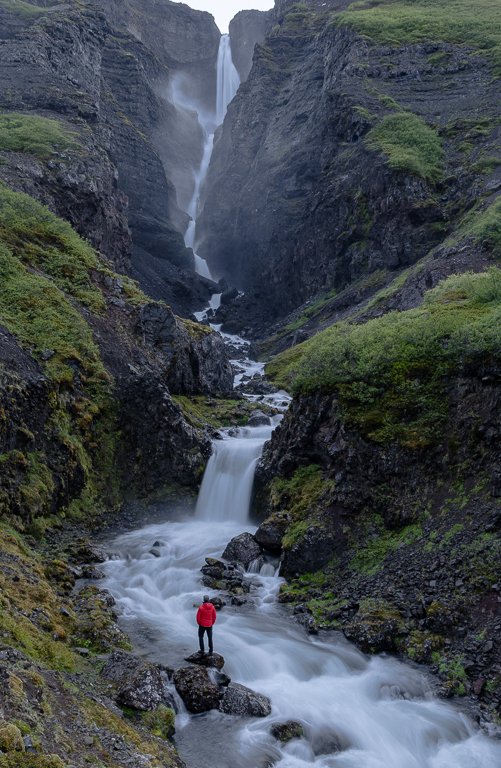 Original
About the Image(s)
Okay, back to Iceland. One of my favorite images from last Summer's trip.
As I think I've already told, we slept in the morning, traveled in the afternoon, and made photographs all night.

The midnight hike to Valagil (literally, "Seeress' Gorge") is relatively easy across rather wet terrain. One knows the gorge is there, but can't see it 'til one is practically at the foot.

The "original" image isn't the original for this one. I just provide it to give some context. On arrival I took the two customary conventional "heroic stance" shots, but I knew the image I needed to make was of the narrows way up high.

Canon EOS R5, 1.6 second, f/11, ISO 100
Canon RF100-500mm F4.5-7.1 L IS USM at 186mm

I chose the aperture to be confident of my depth of field at that focal length. Might have gotten away with opening it up a bit but I'm still learning when it comes to longer reaches. Tried a couple different exposure times and I liked this one best, as it smooths out the water while retaining a little bit of texture as it cascades, but also preserves some of the mists. With a longer exposure the mists become indistinct and sort of fade away.

Post-processing went through several iterations and restarts. Ultimately, it was pretty much all about reintroducing some sense of depth, as much of it was lost due to the compression of perspective. That, and sculpting the texture of the water and the mists. Oh, and I'm fond of the subtle color variations, and worked to bring them out a bit.

---
This round's discussion is now closed!
10 comments posted
---
---
---
Darcy Quimby
Mark
As always, your pictures have so much depth to them in many ways. Here's a question for you. Can a photo be warm and cool at the same time? For me that is what this picture has. The subtle greens and brownish reds bring the warmth to the picture and the curtain of white water plus the mist brings the coolness to the picture. &nbsp Posted: 03/02/2023 12:51:32
Mark Bargen
Thanks, Darcy. An interesting question. In my opinion, definitely YES, and I believe it can really add something to an image if well handled. It can add energy or drama to an image. What I like most of it, though, is that it can be used to subtly guide the eye and heighten the sense of depth. In general, all other things equal, cool colors tend to recede and warm ones advance. &nbsp Posted: 03/05/2023 08:27:57
Mark Bargen
Also: greens and violets are very interesting colors. In this image, you'll notice the green mosses up high. Juxtaposed against the coolor tones, the greens feel warmer, more alive. The same color, had it been surrounded by yellows and oranges, would have felt calmer and more serene.

Analogously (though not present in this image) violet can act as either a warm or cool tone, depending on where it is placed.

One thing I've only recently started to grasp is this;: when the general level of saturation is relatively low, it takes only a very small shift in hue towards warmer or coolor hues to create a big difference in feeling. &nbsp Posted: 03/05/2023 08:35:30
---
---
---
Neil Bellenie
Mark, both the original and the final image are great shots for different reasons. The original shows a spectacular water feature in a harsh environment - the grass is struggling to establish itself on the rocky terrain as the water cuts through the (presumably) young rock.
The Narrows section selected shows wonderful subtle colors in the rocks and vegetation (can't tell if it is grass or lichen) as the water rushes by creating a misty microenvironment. You state that this image (The Narrows) was the important one, it would be interesting to hear how you came to that decision.
&nbsp Posted: 03/04/2023 15:10:07
Mark Bargen
Thanks, Neil. Most of the "green stuff" is moss. There is a variety of moss that grows only in Iceland that has this really vivid color. And, yes, the rock is (geologically speaking) very young. Possibly less than a million years old.

How did I know I had to make *this* image? It was intuitive. I was astonished by what I've dubbed the Narrows; it was sooo beautiful and dramatic. I looked at it and imagined being there. I'd not have forgiven myself had I not made this image. &nbsp Posted: 03/04/2023 16:16:13
Mark Bargen
If I dissect it, I suppose I can point to a few characteristics that made it so appealing to me. Alister Been speaks of the five evocative "triggers" luminosity, contrast, color, atmosphere, and geometry. This has all five. &nbsp Posted: 03/04/2023 16:20:01
---
---
---
Paul Smith
I prefer your "original". I am drawn to the courageous hiker and the wonderful motion you have captured just below him! Further, The red jacket is attention getting, bringing my eye to the water motion. This is good! &nbsp Posted: 03/05/2023 11:12:30
---
---
---
Mark Bargen
Thanks, Paul, yes, it is exciting and energetic. The guy was a co-leader of the workshop. He was the one who got these "man in the image to provide drama and skill" assignments. For me, it's a bit cliche. &nbsp Posted: 03/05/2023 11:17:12
---
---
---
Dawn Gulino
I have to agree with Paul on this one -- I prefer the original. To me, it tells more of the story and I like how the green frames the entire image. That said, your submitted image is quite nice as well. I like the shutter speed selection to capture the power of the falls. &nbsp Posted: 03/06/2023 17:11:19
---
---
---
Ed O'Rourke
Mark, in my opinion you always seem to have a way of bringing out the "dramatic" of a scene, and this is no exception. I think the original is pretty good by itself but then your final image highlights the dramatic aspect of the falls. I prefer the final image a bit more because of its directly showing us the power of the water as it falls. By minimizing the green and only having the two dominate tones of the black/gray of the rocks contrasted with the white of falling water I think you have created a stronger image. In my opinion the technical aspects are pretty good and I think the impact of the image would override any technical items, if I could find them. Great job I like it. &nbsp Posted: 03/14/2023 16:08:20
---
---
---