Jeff Coyle
---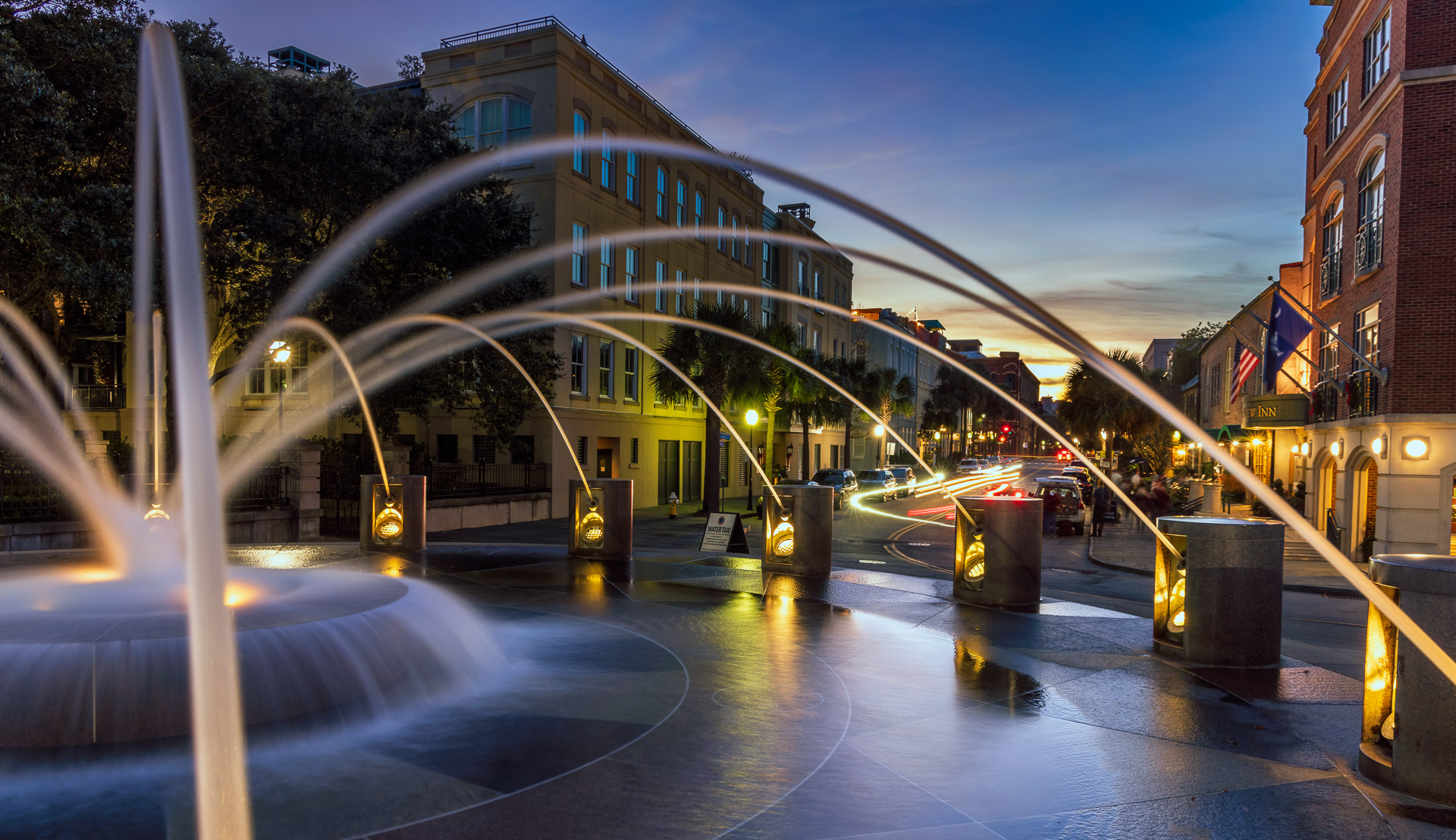 April 2021 - Charleston @
About the Image(s)
Taken in a December evening in Ravenel Waterfront Park in Charleston, SC. 6 second exposure, F11, 24mm, ISO 50, Used Guidded Transformation in LR to straighten building edges.
---
4 comments posted
---
---
---
Jerry Paskowitz
Jeff, I like this one. The composition is OK and the exposure time is good. I'm not sure, but I feel like the image is a bit cramped and may have benefitted from taking a few steps back. Alternatively, a couple of steps forward to eliminate what I see as distractions on the left and right. That would frame the light trails with the arcs. I have (taken the liberty of) cropping the image to illustrate my vision for the image. &nbsp
Posted: 04/06/2021 09:48:31
---
---
---
Michael Nath
Interesting city scene where the arcs of water draw my eye in. Having the water close and the buildings far away is the opposite of what is more commonly scene. I like the juxtaposition of the two. &nbsp Posted: 04/11/2021 11:39:44
---
---
---
Mark Bargen
I like what you do with long exposure and evening lights. Makes something special out of what is rather mundane by day. I also like that you captured the blue light reflected in the building windows. You also were very successful at conveying the wet sheen of the surface.
I find the image confusing, though: am I viewing the fountain, with the receding street that happens to be in the background? Or looking down a city street in the evening, towards a nice sunset, and an interesting fountain that happens to be in front? The receding perspective and headlight/taillight trails suggests the former. The brightly lit fountain, with the lines the lead to the heart of it, would suggest the latter. To me, this creates a tension that is inconsistent with what otherwise seems to be a serene image. Jerry's crop reconciles this in favor of the receding streetway. I tried cropping to favor the waterfall, but I don't think the result was particularly successful. &nbsp
Posted: 04/11/2021 15:29:01
---
---
---
Ed O'Rourke
This photo really captures my interest. I like the use of a slow shutter speed with the effect it has on the arcs of water and the smoothness of the water coming off the fountain. I am also impressed with the way you have used the city lighting lighting for a dusk picture. I think the focus and depth of field are very good.

As I think the fountain is the primary item of interest I would have liked to see it moved in more toward what would be the left line on the "rule of thirds". I'm also a bit distracted by the light line created by the cars, as they seem to be drawing my eye away from the fountain instead of toward it. Still, I do like this photo. &nbsp Posted: 04/18/2021 13:47:47
---
---
---
Please log in to post a comment