Jeff Coyle
---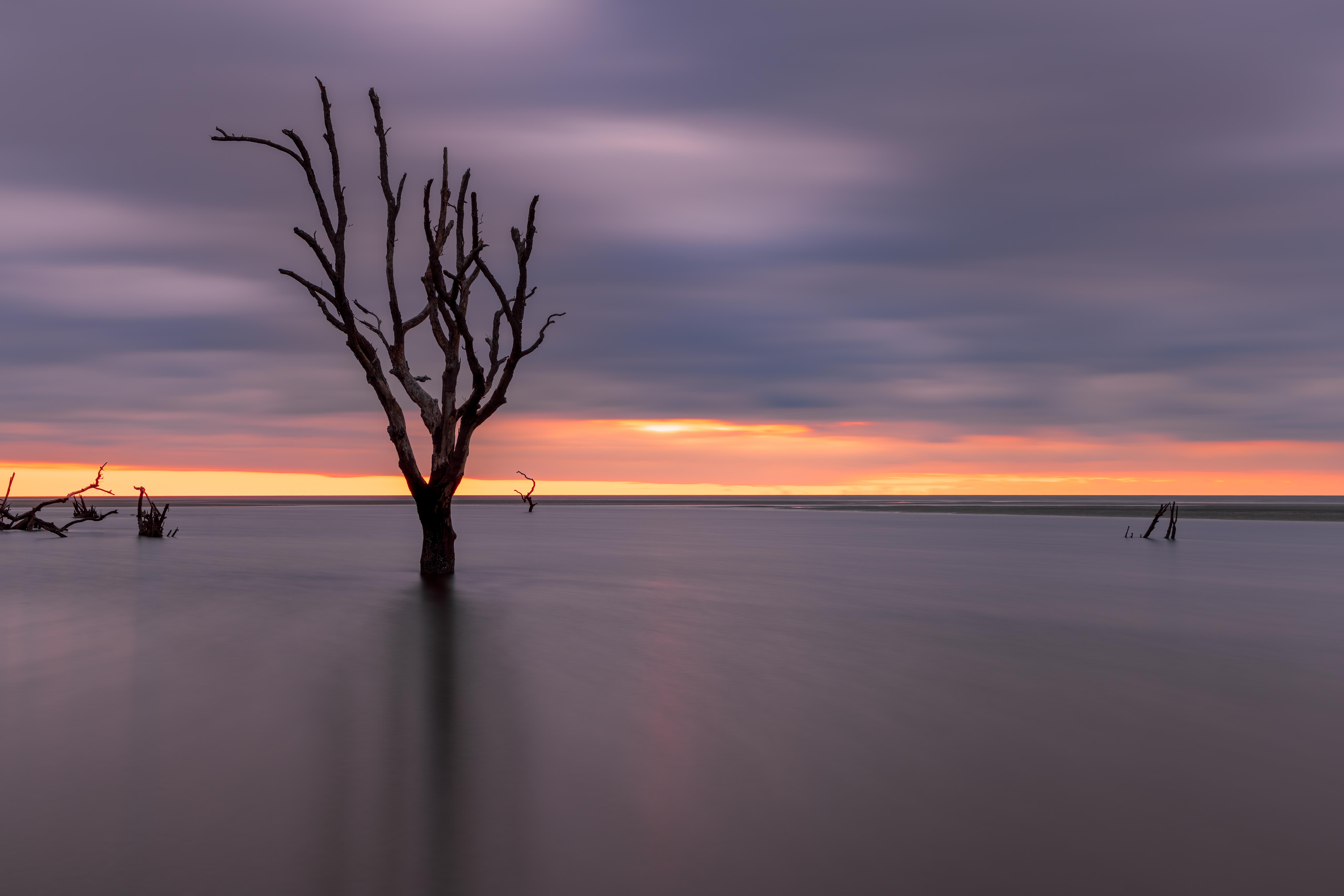 February 2021 - Hunting Island Sunrise
About the Image(s)
Took the shot last month at Hunting Island, SC, shortly after sunrise. 1 minute exposure, F11, ISO 50. Used a variable ND filter to get the long exposure
---
6 comments posted
---
---
---
Michael Nath
I like how the silhouette of the tree has enough color remaining that it is not solid black. The long exposure really smooths out the water allowing for a soft reflection. To me, this is a very introspective image that calms the mind. Well done. &nbsp Posted: 02/01/2021 11:07:37
---
---
---
Paul Smith
Great use of the long exposure! Beautiful color. Well done. &nbsp Posted: 02/01/2021 11:21:18
---
---
---
Ed O'Rourke
I consider this a very captivating photo, and I like it. The composition is done well in my opinion with the tree as the main interest point and positioned on the left side which I see as leaving lots of open space to the right which highlights the tree. I think you've incorporated lots of simplicity in the image which helps to keep my eye on the tree. The colors work well for me with the subdued clouds which are complimented with the same colors in the glass like surface of the water and I like the way you have them separated with the band of orange from the sun. The long exposure is, I think very effective in creating a great texture for this image. &nbsp Posted: 02/16/2021 15:39:18
---
---
---
Jerry Paskowitz
Hi Jeff, this image is very well done. However, there are two elements that distract me, one is the negative space on the left and the other is the small dead tree to the right of the central tree. With respect to artistic integrity, I have made two modifications, firstly a crop to isolate the large tree and second to remove the small tree. Otherwise Ed has given a very thoughtful analysis of the image. &nbsp
Posted: 02/17/2021 09:10:09
---
---
---
Mark Bargen
Hi, Jeff, glad to meet you. What a haunting island image! (I actually misread, at first, the title.) A full minute exposure, even at ISO 50. With the light changing as fast as it does at that hour, it take a leap of faith to commit to a shot like that. The results are great.
The long exposure serves to create a serenity *and* a certain sense of the surreal, which to me is quite fitting for dead trees standing in a (possibly endless) sea of stillness. That's gotta be a metaphor for something deep! It's a really evocative image.
I beg to disagree a bit with Jerry. I don't find top negative space on the left a problem. Neither do I find the little tree in the far distance to be distracting; to me, it repeats the main subject, and reinforces the sense of endlessness receding into the distance. I do find very distracting, however, the tangle of branches which I surmise to be part of a larger tree off-frame to the left.
I took the liberty of "fiddling" with your image, and customized it to suit my tastes (which might not be to your tastes at all). I did the work on Photoshop; I cloned out the messy branches on the left; I did a tiny bit of light-handed dodging in the lighter clouds to the right of the subject tree, toned down the bright orange (just cuz, what can I say), and then masked in a bit of brightening (via curves) in the central zone. Finally, I went with a "letterbox" 16x9 crop; I know, lots of folks don't care for that format, but with this image I enjoyed emphasizing the vast emptiness.
Hope you don't mind my enjoying myself messing with your image …
&nbsp
Posted: 02/22/2021 14:05:44
---
---
---
Darcy Quimby
Jeff
I love the peacefulness of this photograph. The reflection of the tree draws my eye straight into the frame and stops at the tree then progresses across the frame. I myself am a fan of negative space. I give you kudos for long exposure I'm not there yet but am looking to explore it. &nbsp Posted: 02/22/2021 14:38:19
---
---
---
Please log in to post a comment