Jeff Coyle
---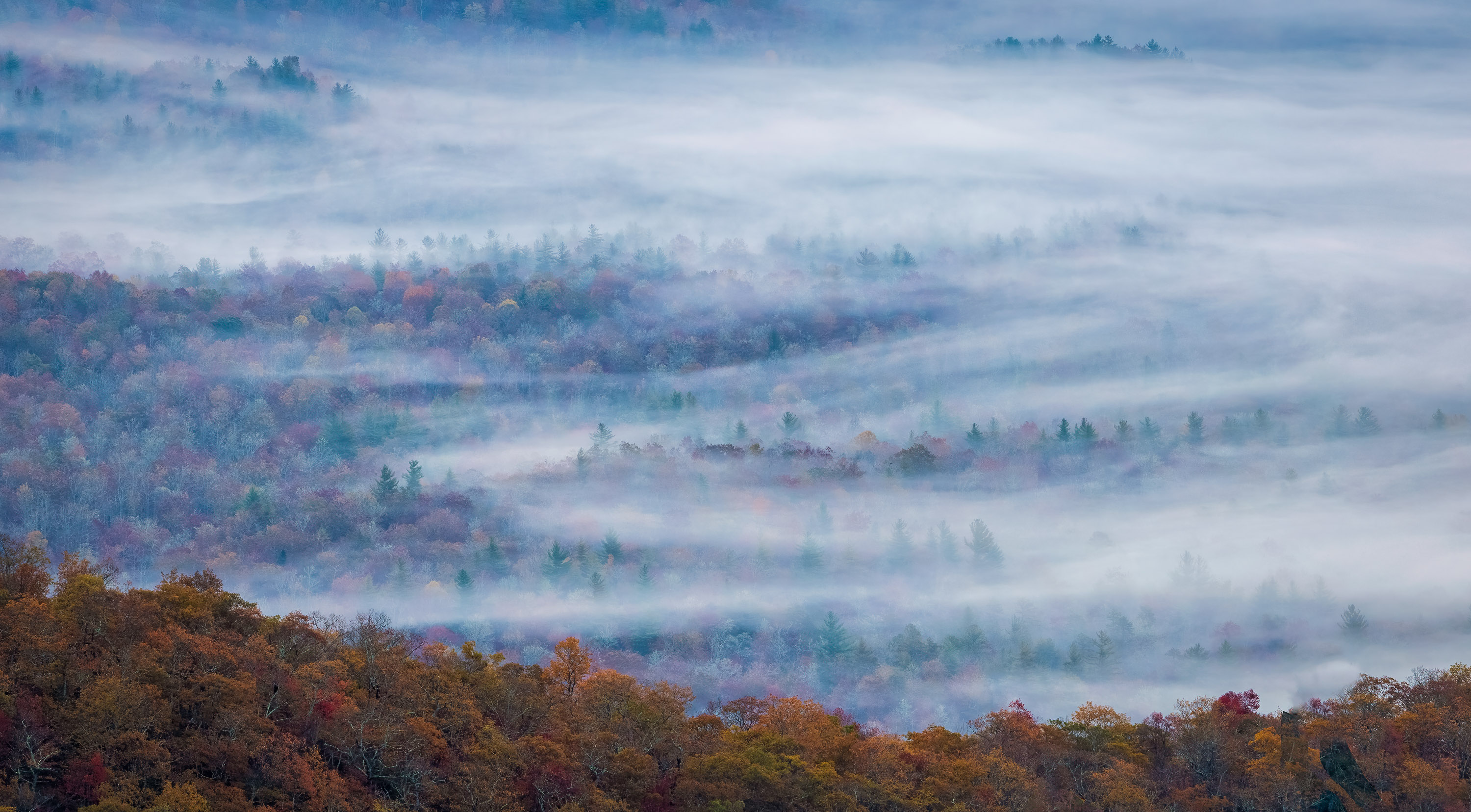 January 2021 - Blue Ridge Parkway
Original
About the Image(s)
This is a shot from a trip I took to the Blue Ridge Parkway this October. The shot is heavily cropped and I used Content-Aware Fill to remove some distracting branches in the foreground.

Canon R5 EF 70-200mm at 145 mm. F11. .6 sec

I used Nik Color Efex 4 to increase contrast and Topaz DeNoise.
---
6 comments posted
---
---
---
Ed O'Rourke
For me the mist flowing in across the tree tops is what makes this an interesting photo. I like the softness of the scene with the interspersion of the greens with the fall colors of the trees in the fog. I think that having the trees on the ridge at the bottom of the frame out of the fog accentuates the effect of the fog on the rest of the image. In comparing it to the original I believe the cropping is well done and enhances the photo &nbsp Posted: 01/02/2021 18:20:37
---
---
---
Paul Smith
I'm with Ed...the cropping has improved this image. I love the fog! This reminds me of the opening scene in movie "Paint your Wagon" &nbsp Posted: 01/03/2021 10:35:22
Ed O'Rourke
You're dating yourself Paul, Most people wouldn't even know that there was a musical movie in which Clint Eastwood had the leading role. &nbsp Posted: 01/05/2021 00:33:38
Darcy Quimby
Ed
I'm one of those people :) I am going to have to find that movie.
&nbsp Posted: 01/11/2021 12:37:36
---
---
---
Michael Nath
Very well done Jeff. To see the fog settling in the trees in the background with the contrasting clear view in the foreground is an effective compositional tool. I like it. &nbsp Posted: 01/11/2021 09:43:34
---
---
---
Darcy Quimby
Jeff
Moody is the one word that describes the picture for me. I like it. I agree the trees in the foreground adds to the picture, makes almost a natural frame. &nbsp Posted: 01/11/2021 12:40:06
---
---
---
Please log in to post a comment