Ed O'Rourke
---
November 2020 - Driftwood Logjam
About the Image(s)
Deion: This image was taken at the end of Cape Creek at Cape Perpetua on the Central Coast. It just caught my eye with the jumble of weathered driftwood in contrast with the colors of the vegetation and with the stream running through. The only post processing was to decrease highlights and jack up the shadows so we would get more detail throughout. It was shot with my canon R; RF 24-105 lens at 43mm; shutter speed 1/125; f/13.0; ISO 250.

---
This round's discussion is now closed!
6 comments posted
---
---
---
Jeff Coyle
An interesting location, but maybe too chaotic, especially in the upper third. Might have been worthwhile to zoom in more to a particular set of logs, and maybe convert to B&W.

&nbsp Posted: 11/03/2020 14:38:15
Ed O'Rourke
Jeff, I appreciate your criticism and I've taken a second look at the image. I've tried isolating on one of the two log groups but I really didn't like that. I did crop in to make it a bit tighter on both groups and I worked a little on intensifying the green. Thanks for encouraging me to take a second look. &nbsp
Posted: 11/04/2020 12:47:17
---
---
---
Jerry Paskowitz
Ed, I wasn't sure about the image when I first saw it. Now that I've had some time to consider it, I agree with Jeff concerning the chaotic nature of the bleached driftwood, however from a 'statement' point of view, the chaos works. This an environmental image. There is a randomness and disorder to the driftwood, and erosion on the banks of the stream. I see this image as a comment on the erosion of civility and moral values, the destruction of our environment and a wake up call for the work ahead of us to leave something better for our grandchildren to inherit. If I was doing a photo essay, this image (as seen by me - attached) would be in it. &nbsp
Posted: 11/09/2020 16:50:36
Ed O'Rourke
Again another helpful comment Jerry, I wasn't thinking of it as an environmental statement, but I should have thought of that as I do have an advanced degree in Environmental History. I have started to re-think how I'd want to use this image. &nbsp Posted: 11/10/2020 15:41:06
---
---
---
Michael Nath
Interesting image Ed. If you replace all the greenery with red rock and sand, you would have an image reminiscent of many of the dry washes in southern Utah after a flash flood.
I tried a tighter crop to remove the light triangle at the top left of the image which was distracting me and concentrate the view on the drift wood. &nbsp
Posted: 11/11/2020 13:34:46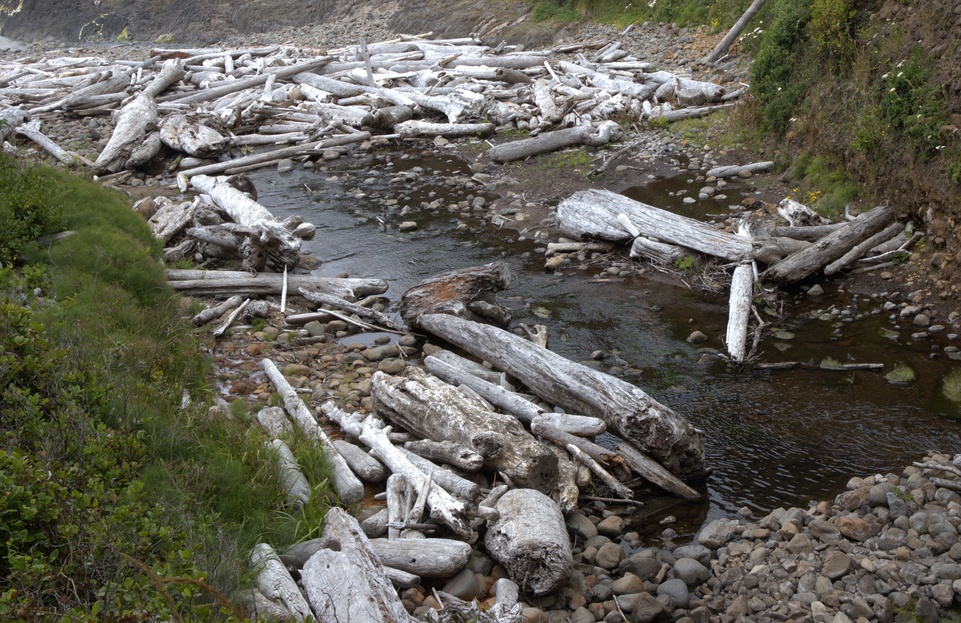 ---
---
---
Darcy Quimby
Ed
I love the chaos of the picture. you have also captured the rainy feeling of the coast perfectly. The leave or wood that is hanging in the back right of the picture is a distraction. This is just my opinion. &nbsp Posted: 11/11/2020 16:20:57
---
---
---