Jerry Paskowitz
---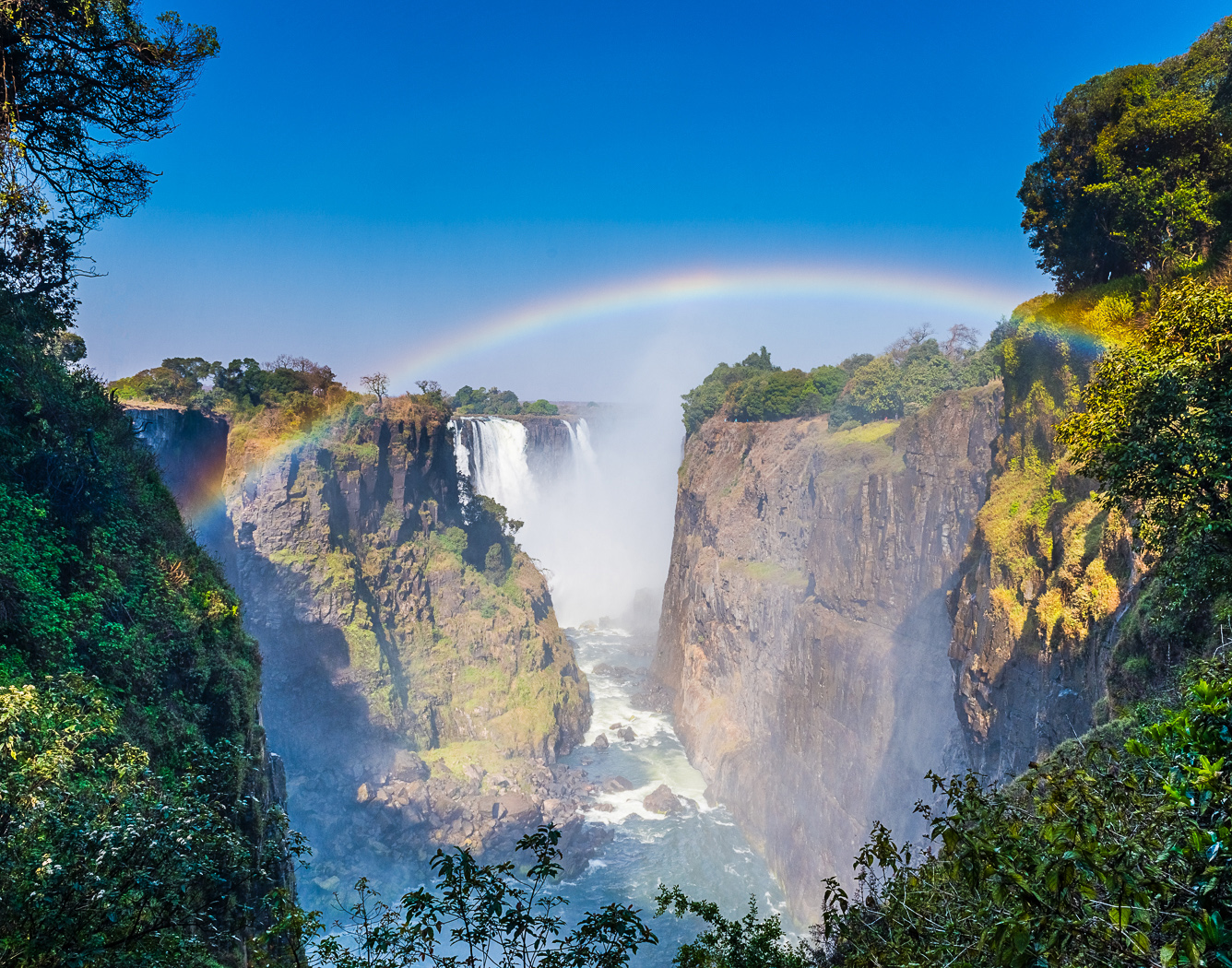 March 2020 - Victoria Falls PM
About the Image(s)
This image was captured at Victoria Falls, Zimbabwe (Viewing Point #2) in the late afternoon. The mist from the Falls and the oblique light provided perfect conditions for the rainbow.
Exposure information is: 1/5000s, f/10, ISO 125, 24mm Nikon D810 & Nikkor 24-70mm f/2.8 The image was a RAW capture and developed using LR6. In addition to some cropping, clarity and colour saturations were enhanced and foreground exposure improved. An errant branch on the left side was removed using SnapHeal CK. The specific location was chosen to provide natural framing for the image.
We spent the late afternoon shooting at the Falls and then went back the next morning to capture the sunrise. We chose the timing of our excursion (September) to be there before the heavy rains in the Congo swell the Zambezi River to the point where the heavy mist from the Falls makes photography all but impossible.

---
9 comments posted
Paul Smith
Jerry, please take this with a grain salt...the rainbow is perfect, but the canyon beneath could benefit from exposure and dehaze adjustments. Please consider "selected area" exposure reduction, then dehaze in same area. I use NIK Collection for that sort of surgery! Hope that helps &nbsp Posted: 03/01/2020 12:58:45
Jerry Paskowitz
Hi Paul, Thanks for the comments and suggestion. Your mods were considered (but not for long) since I was interested capturing the scene in a manner as close as possible to what I actually encountered at the site. There is a great deal of mist at Victoria Falls (in the language of the first people to live there, it is called Mosi-oa-Tunya, "The Smoke That Thunders") so I did not think it appropriate to eliminate the haze. Had I done so, it would likely have been critiqued as "over-processed" when I submitted it to assessment by RPS. &nbsp Posted: 03/01/2020 13:46:52
---
Michael Nath
I agree with you Jerry, a waterfall without the ever present mist just does not look natural to me. For most of my own photography I try to produce a print that looks as close as possible to what I saw. The only "fix" I would attempt would be to rotate the image slightly counterclockwise to get the rock surface of the escarpment level (not the trees growing on top). That change though may require the resulting image to be cropped slightly tighter due to loss of image in the corners. Well done. &nbsp Posted: 03/01/2020 14:50:57
---
Jean Wu

Beautiful image. I know it is a challenge to take photo of rainbow with waterfall in the background, and the light source angle in this image. However, I kind of agreed with Paul. My personal preference would reduce exposure at the bottom part. &nbsp Posted: 03/02/2020 15:52:07
---
Jerry Paskowitz
Thanks for the comments. Since art is art and subjective, I am satisfied with the image and will not be making any alterations. &nbsp Posted: 03/03/2020 17:50:02
---
Darcy Quimby
Jerry
I Love it. The photo comes alive for me I have a soft spot for rainbows. &nbsp Posted: 03/03/2020 23:17:17
---
Dan Mottaz
If I were Jerry, I would be reluctant to alter the image. I agree with him that any reduction of "Haze" would lose the mist effect. Also, I don't see any level issues that Michael referenced. The image is beautiful as is. Keep up the good work, Jerry. &nbsp Posted: 03/04/2020 13:08:17
---
Ed O'Rourke
I like the composition and framing of this image with the canyon and waterfall framed by the rocks and foliage in the foreground. I think the rock walls in the center of the frame might be a bit over exposed, along with the yellow/green portion in the sun on the right side of the picture. i also believe that the greens of the shrubs in the foreground are a bit intense and could be toned back a little. With all that said, I think it is a great picture. &nbsp Posted: 03/09/2020 13:54:17
Jerry Paskowitz
Thank for the CC, Ed. That's why we're all here. &nbsp Posted: 03/09/2020 14:32:29
---
Please log in to post a comment