Albert Lee
---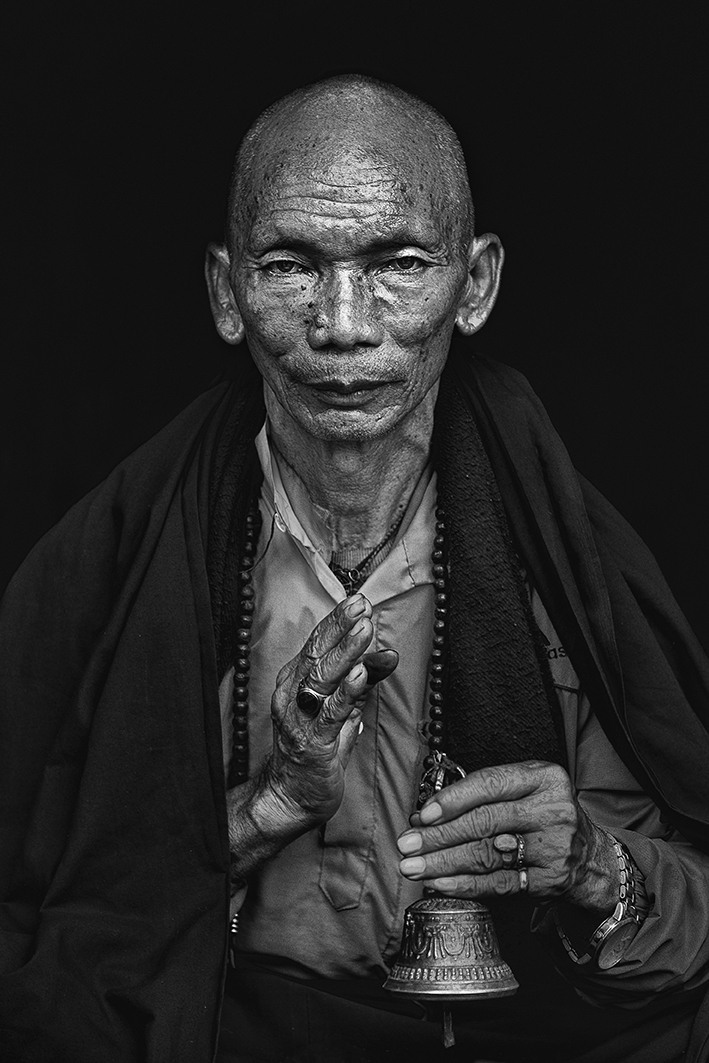 November 2020 - Buddhist Monk of Nepal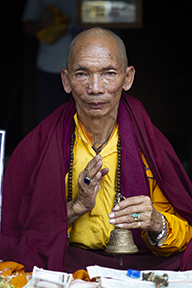 Original
About the Image(s)
I took the photo in 2016 during a photo tour with my camera club members to the Himalayan kingdom of Nepal. It is a beautiful country and offers tons of photo opportunities. While I was strolling along one of the ancient Buddhist sites with history dating as far as 2,500 years, I chanced upon this Buddhist monk (Nepal is 90% Hindu and 9% Buddhist) counting money from the day's collection at one of the temples. Since it was almost noon and the sun was shining brightly outside while he was in the shade, I quickly adjusted my camera settings and when I was about to snap the photo, he suddenly turned his face away from the camera. Not wishing to offend him, I started to leave and while passing by the donation box, I dropped a few dollars. Suddenly, he called me back and using sign language , he told me I can take his photo and gave me this fantastic pose. Today, this remains one of my favorites .
In post processing, I started with Camera Raw and increased the Clarity, Hues and Saturation. Going to Photoshop CC and using Silver Efex Pro , I created two (2) Monochrome images, one focusing of the subject's face by adjusting the brightness, contrast and curves and the other on the subject's colorful wardrobe. I increased the tonality of the subject's wardrobe using the gradient map conversion. I then merged both images using luminousity mask. I removed the distracting backgound by cropping the image and darkening it. Finally, I sharpened the image a little bit using High Pass set at overlay at 50% opacity.
I used a Canon 1D Mark IV and a 24-70mm at f2.8, , 1/160 sec., ISO 100 , Camera Raw, Photoshop CC, Silver Efex Pro of Niks Collection and Raya Pro 5.0.
---
This round's discussion is now closed!
12 comments posted
---
---
---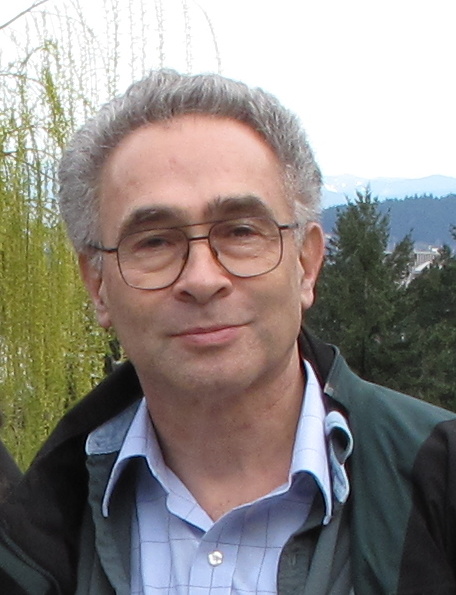 Stephen Levitas

(Group 32)
Thanks for telling us a great story of how you took this wonderful photograph.
I think the monk is gesturing a blessing on you.
Technically, you did a great job to black out all background and make this a perfectly centered image--this has some resonance with religious portraits in western traditions. &nbsp Posted: 11/02/2020 23:24:03
Albert Lee
thanks Stephen &nbsp Posted: 11/08/2020 16:27:10
---
---
---
Lou McLove
I think this is a wonderful image. I love the composition and the way you removed the distracting elements from the background. The black and white rendering is great, I think you have handled it well, you have captured all the details in his face as well as in the shadows of his robe. &nbsp Posted: 11/04/2020 17:33:16
Albert Lee
thanks Lou &nbsp Posted: 11/07/2020 07:01:34
---
---
---
Jill Edwards
Great image handled beautifully. &nbsp Posted: 11/06/2020 22:28:47
Albert Lee
thanks Jill &nbsp Posted: 11/07/2020 07:02:02
---
---
---
Chuck Carstensen
A wonderful image captured with skill. You certainly did the right thing by dropping a dollar into his box. A lot of computer work to get this done and I commend you for the high technical skill level. Your color original is very small. &nbsp Posted: 11/07/2020 14:35:27
Albert Lee
thanks Chuck &nbsp Posted: 11/07/2020 18:40:54
---
---
---
Marianne Barnhardt
Love the black and white, it allowed me to see his eyes first and not be distracted by the beautiful colors. Such a "deep" photo, thanks for sharing! &nbsp Posted: 11/07/2020 20:00:28
Albert Lee
thanks Marianne &nbsp Posted: 11/08/2020 16:27:54
---
---
---
Brandon Montgomery
Wonderful shot that really captures the subject and a great story that goes with it. I love the black and white on this shot as well. &nbsp Posted: 11/08/2020 11:13:11
Albert Lee
thanks Brandon &nbsp Posted: 11/08/2020 16:28:14
---
---
---