Jill Edwards
---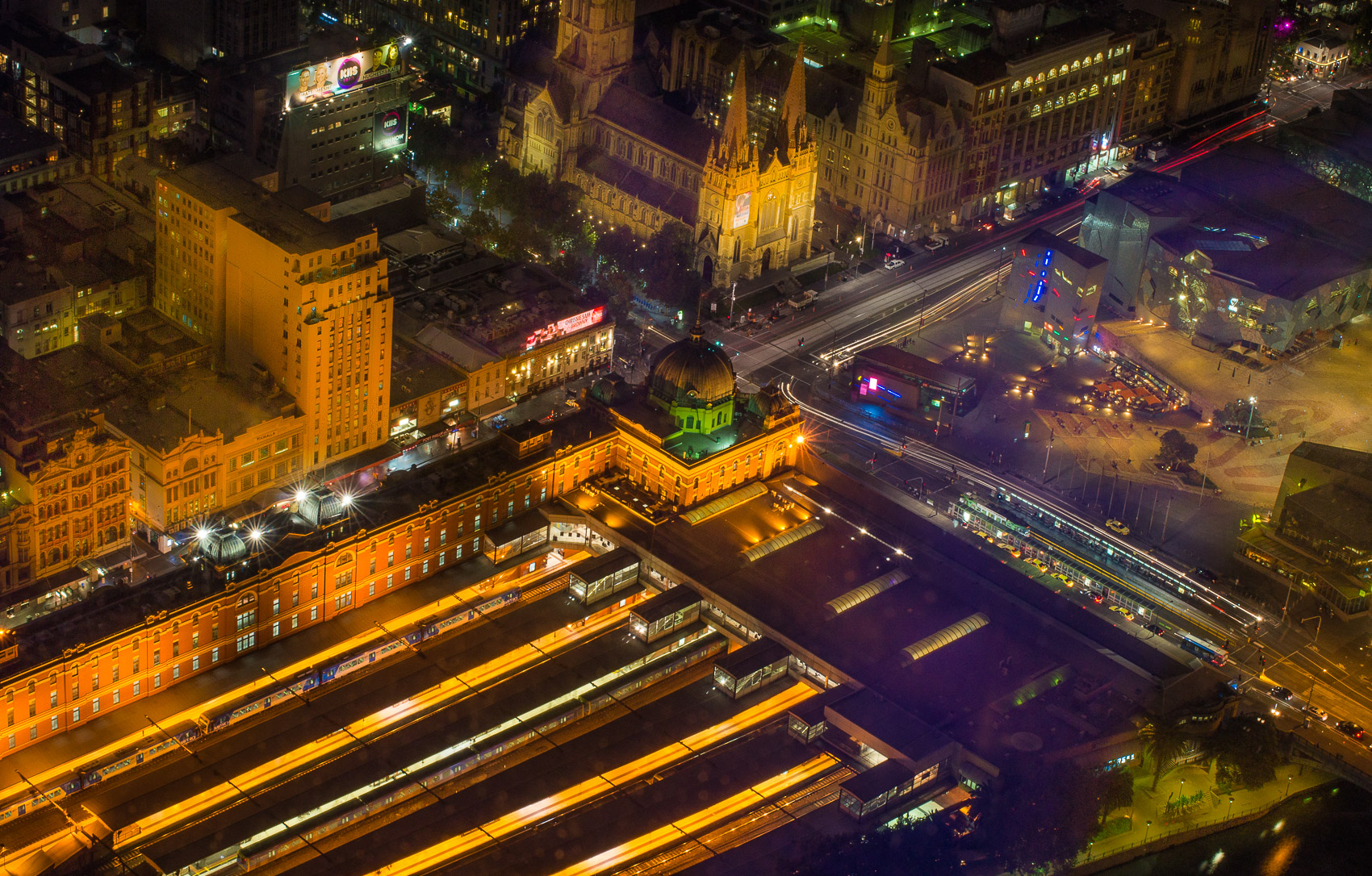 October 2020 - Eureka Tower
About the Image(s)
View from 91st Floor of Eureka Tower in Central Melbourne. I enjoyed the effect of the lights in the 19th century train station, Eureka Tower is on the other side of the river to the station, the cathedral and a modern city square to the right. Bottom right is the riverside entrance to the station. Interesting effect of angles of view from height. Another issue to be dealt with was reflections from windows in viewing area which is a bar. Spent a couple of hours there from before sunset to full darkness. A great activity if visiting a tower to watch the changes in light. Taken with 50mm, 200 iso, f16 , 15 secs.

---
12 comments posted
---
---
---
Marianne Barnhardt
Amazing views! Melbourne is a gorgeous city from above. You really got an surprising amount of viewing area. I found this rubber lens cover that shapes to any lens that you can put on your camera and it stops reflections from windows. I like the idea that it is small and you can carry it in your pocket. But still, even with the window you got an unbelievable capture from every angle. &nbsp Posted: 10/05/2020 09:58:10
Jill Edwards
Thanks for your idea. &nbsp Posted: 10/07/2020 07:21:11
---
---
---
Geoff Shaw
Nice image that captures some of the colour and light of night-time Melbourne. I had a play in PS to see what I could do to reduce the appearance of flare/reflections from the window - The attached has a lot of Camera Raw dehaze (100% applied twice) and a bit of clarity, plus a small amount of split toning to slightly shift the blue shadow tones to a slightly more neutral tone. What do you think?
Marianne's suggestion of a rubber lens hood is another approach. I usually don't have one but cupping a hand to form a light shade between the window and lens can do the same thing. A polarizing filter is also useful for minimising reflections when shooting through windows. &nbsp
Posted: 10/05/2020 19:18:04
Jill Edwards
That looks great, love it, I just have lightroom and tried various things but you have really nailed it. &nbsp Posted: 10/07/2020 07:16:59
Geoff Shaw
Hi Jill
You can do much the same thing in Lightroom. Play with the dehaze slider in the Develop mode. If you want you can also apply the dehaze filter locally using the gradient/radial/paintbrush local adjustment tools (so you can increase the dehaze effect by applying dehaze with multiple local filters, if needed - though probably don't want to go too overboard). Also the split toning tool in LR does exactly the same thing as in Photoshop, so you can adjust the tone in the shadows, and tune the intensity of the change using the saturation control, and the balance slider in split toning lets you adjust the density range of the shadows that are affected by the tone change.
Let me know if this is not clear and I will try to elaborate more. :-) &nbsp Posted: 10/07/2020 16:19:54
Jill Edwards
Thank you for that I will do some experimenting. Always something to learn! &nbsp Posted: 10/07/2020 21:07:51
---
---
---
Brandon Montgomery
I love the angle on this shot and it works well at night. The long exposure also helps show life on the move in a city. Night photography in a city is always an excellent experience. Great work! &nbsp Posted: 10/06/2020 07:39:12
Jill Edwards
Thanks, I love night photography lots of opportunity for beautiful effects. &nbsp Posted: 10/07/2020 07:19:20
---
---
---
Chuck Carstensen
Jill, great capture. Spot on exposure, composition, and sharpness. Interesting and the Green lighting on the dome really makes it. For me, the slight window reflection is not distracting. &nbsp Posted: 10/06/2020 08:11:54
Jill Edwards
Thank you &nbsp Posted: 10/07/2020 07:20:00
---
---
---
Albert Lee
Fantastic bird's eyeview shot of an iconic landmark. Spend a few days there last year on our way to Tazmania. Unfortunately I wasn't able to do night photography. &nbsp Posted: 10/06/2020 12:50:32
---
---
---
Lou McLove
I think you have done a great job capturing this image. The light and colors are vibrant and I really like the composition with the diagonal lines, it adds to the interest. &nbsp Posted: 10/12/2020 06:07:19
---
---
---
Please log in to post a comment