Marianne Barnhardt
---
September 2020 - Ship Happens
About the Image(s)
This was taken in Greece 2018. It was a full dock from land to ocean inlet. There were boats parked against the dock. I took this with my Samsung on Auto in color. The rest of the look was done with several different programs by hand. It is one of my creative entries.
---
12 comments posted
---
---
---
Jill Edwards
Love the reflections, I had a play with increasing the contrast which I think makes a stronger image, see what you think. &nbsp Posted: 09/07/2020 07:29:24
Marianne Barnhardt
I would love to see your version. Thanks so much for the advice. &nbsp Posted: 09/07/2020 20:55:22
---
---
---
Geoff Shaw
Yes, definitely creative. As Jill metioned, a bit more contrast might give the image more bite (a quick edit in PS attached for reference, thought I suspect Jill's edits would be better).
On the creative side, having a sharp horizontal line across the image where you overlaid the reflected water does not look too convincing. perhaps you could mask out some of the reflections to fit it around the structures of the dock and boats. Also, the difference in textures between the outer water and inner water expanses needs to blend at the far right where there isn't a dock/boat to split the two areas. The stark transition at present looks unnatural. Hope these comments help. &nbsp
Posted: 09/08/2020 00:36:28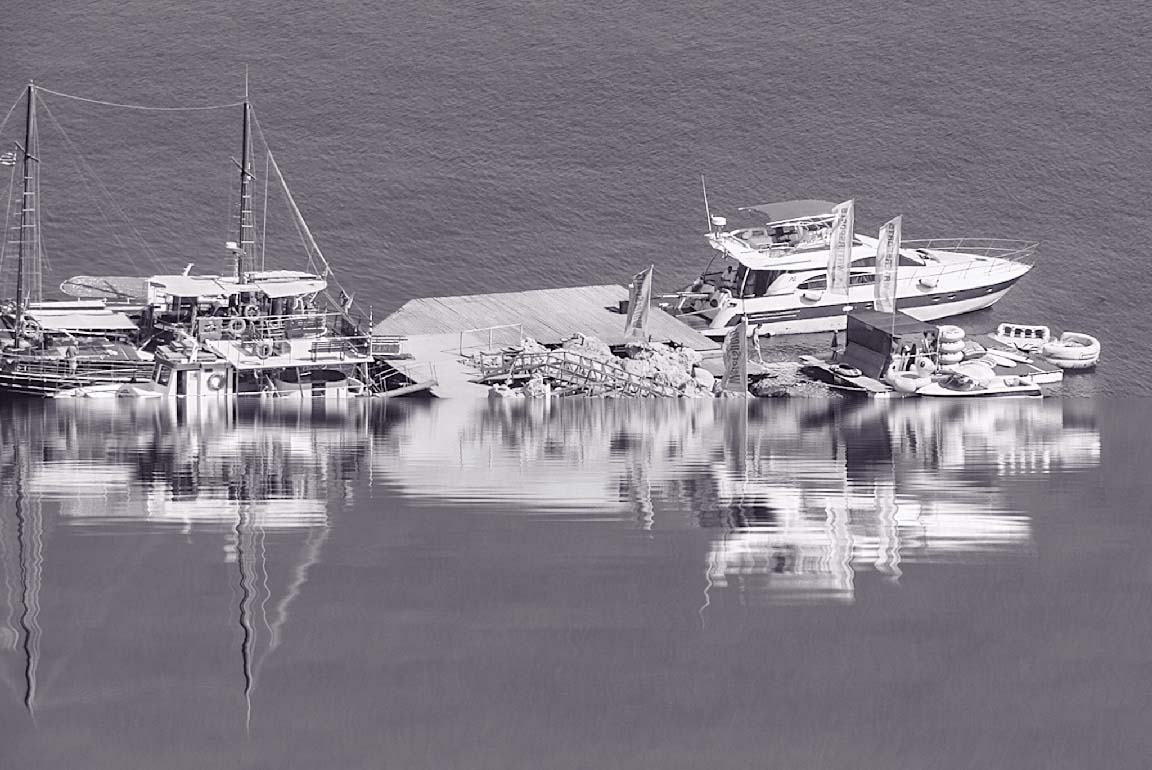 Jill Edwards
Yes I agree, the increased contrast is good but it exacerbates the difference in texture in the water. Have a play around Marianne and see what you think.

How do you attach a new image to the file? &nbsp Posted: 09/08/2020 02:19:21
Geoff Shaw
Hi Jill
At the bottom of the Comment/Reply text box is an Image BROWSE button where you can browse and select a file to attach. Note the text at the bottom states that images larger than 1 MB will be rejected, as will filenames with funny characters (only letters numbers spaces dashes and underlines allowed)
:-) &nbsp Posted: 09/08/2020 02:26:03
Jill Edwards
Thank you &nbsp Posted: 09/09/2020 09:17:17
---
---
---
Marianne Barnhardt
I see what you mean by the contrast. It definitely splits the work with a lot of question. I will play around some and see what I can come up with. Attached is the original. It was just my first time really playing around with several programs. Thanks for the advice! I greatly appreciate it!Geoff and Jill! &nbsp Posted: 09/09/2020 10:24:35
---
---
---
Marianne Barnhardt
I see what you mean by the contrast. It definitely splits the work with a lot of question. I will play around some and see what I can come up with. Attached is the original. It was just my first time really playing around with several programs. Thanks for the advice! I greatly appreciate it!Geoff and Jill! &nbsp
Posted: 09/09/2020 10:25:00
---
---
---
Brandon Montgomery
I like the composition of the photo. I also see a few stories here and the black and white adds to the effect. &nbsp Posted: 09/10/2020 08:47:45
Marianne Barnhardt
Thanks so much! &nbsp Posted: 09/21/2020 10:05:53
---
---
---
Lou McLove
I think this is a very interesting image, it took me a while to figure out what I was looking at. I think you did a good job of creating you own image, working with various programs can be fun and produce some wonderful results. &nbsp Posted: 09/17/2020 17:15:21
Marianne Barnhardt
I like the creative side of post processing. Thanks. &nbsp Posted: 09/21/2020 10:06:27
---
---
---
Please log in to post a comment