Jeff Fleisher
---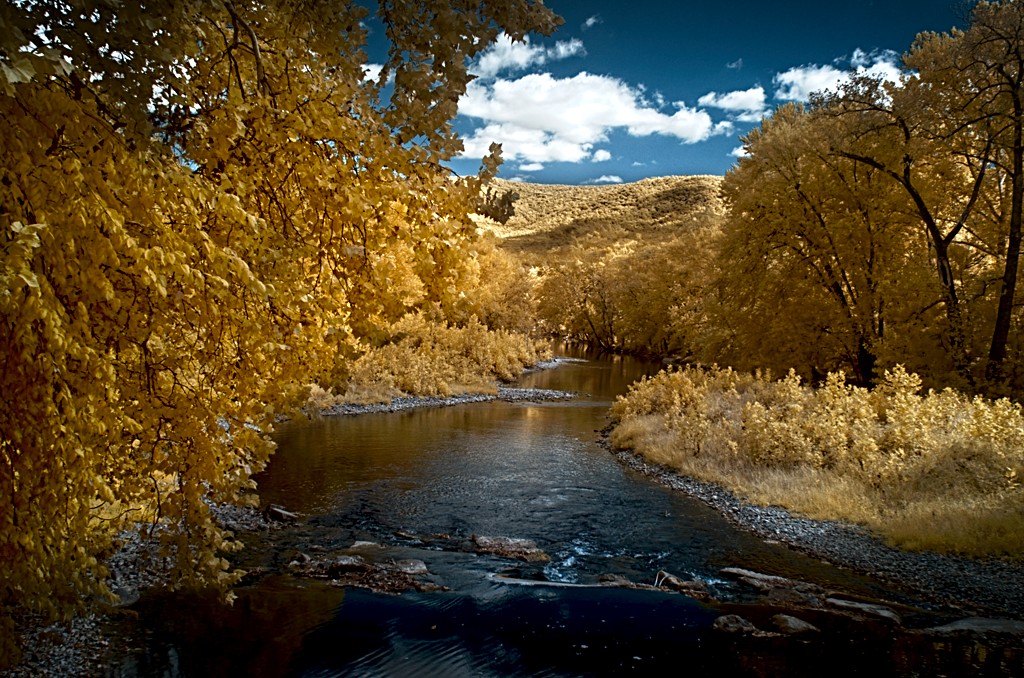 November 2019 - Solitude
About the Image(s)
This small stream is located near my house that is always quiet and you can hear the water flowing over the small rocks. I tried to capture that same feeling in this picture along with the unique vegetation colors with IR.

Specifications: Nikon D7000 ISO 100 1/160 f/16
In camera white balance set on auto
Gray card photographed in different image under similar lighting

Processing:
The raw NEF image was opened in Nikon ND-X for white balance correction. I used a second image with a gray card and the eye dropper in ND-X to capture the white balance correction settings and then applied them to this image. It was saved as a tiff file and is provided here as an intermediate image.

The tiff file was opened in Photoshop to do a channel swap. I did a channel swap of the red and blue channels. After processing the image was again saved as a tiff file.

This second tiff file was opened in On1 Photo Raw 2020 for post processing. My workflow in ON1 is typically:
 adjust exposure if necessary
 crop the photo if necessary
 adjust highlights/midtones/shadows
 do noise reduction processing
 adjust the image white/black points to stretch the dynamic range
 adjust vibrance/saturation as necessary
 Perform any localized processing to adjust exposure, hue, tint etc.
 add a 'Dynamic Contrast' filter which is a filter to add contrast and really makes the image 'pop'
 add a vignette

ON1 has a variety of other filters and effects that I'll sometimes play with but I really don't do a lot of post processing in addition to the basic stuff mentioned above.

As an aside, the new version of ON1 Photo Raw 2020 has a channel mixer capability but I'm not very happy with the results. The image as a very strong reddish tint as opposed to the yellow/orange coloring that comes out of Photoshop's channel swap. I've used a trial version of Luminar and get the same results as Photoshop so I'm assuming there is something different going on with ON1's version.
---
2 comments posted
Lisa Cuchara
thank you for a thorough description of what you did in camera and in post-processing. Information like this really helps us all learn!! More is better as we try to master IR photography -- thank you Jim! &nbsp Posted: 11/05/2019 09:06:13
---
Lisa Cuchara
Jim, I love the yellow trees here, it is a very good demonstration of what IR can do1 The juxtaposition of the trees against the sky works well.

I like the camera angle and composition as it feels as if you are part of the river.

The only constructive criticism I can give is that I feel that the water at the bottom of the image is too dark -- perhaps crop off the bottom underneath the rocks &nbsp Posted: 11/05/2019 09:08:30
---
Please log in to post a comment